Do you want to create attractive MS-Word documents? Are you searching an ideal theme for your Word document files? Then use World Flyer templates to rejuvenate boring documents. A colorful Word Flyer will enhance user-experience and attract the readers. World Flyer templates are available for every kind of business, niche and events. It offers high-quality print-ready designs. You can also see Modern PSD Flyer Templates.
Flyer templates in PSD format require Adobe Photoshop, and let's face it, not every computer has the software installed. In this scenario, a Word-compatible flyer template is your best bet because Microsoft Word is pre-installed in most systems. Whether the templates are premium or free of cost, you can download and use them in MS Word.
Beauty Spa Saloon Flyer Design
Business Conference Flyer
Business Conference Flyer Template
Church Flyer Template
Dental Care Flyer Template
Interior Design Flyer Template
Valentines Day Flyer Template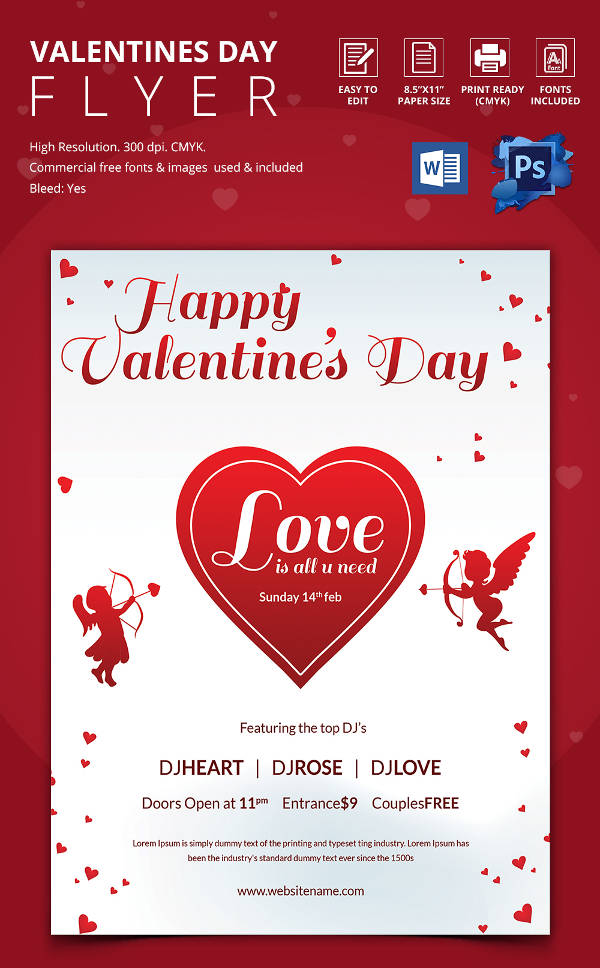 Interior Flyer Design
Restaurant Flyer Design
Tourist Travel Flyer Template
Valentine Flyer Template
Cool Nature Word Flyer Template
Cool nature word Flyer template includes a natural background. The template allows you to edit the text and images as per your business needs. Add a logo to the flyer template to make it more professional.
Pregnency Word Flyer Template
The pregnancy word flyer template is available in both USA and international page sizes. Include your high-quality graphics, artwork, backgrounds, and logo inside the template.
Heart Model Word Flyer Template
Heart Model Word Flyer template allows you to insert Logo, Tagline, Slogan, images and contact details in a formal manner. The template is easy to customize.
Chrismas Party Word Flyer Template
Christmas Party Word Flyer is available in three sizes A4, A5, A6 with no folds. It allows you to customize background color and text easily.
Best Halloween Word Flyer Template
Halloween word flyer template has a yellowish background with Halloween images. The theme is easy to customize and allows text customization. You can also get newsletter, ad, and business card Halloween template
Motel Word Flyer Template
Motel word flyer template is available in 8.5x11 A5 size page. It has no folds. Customize the template with your own text and images. Customization does not require any special skills.
Pet Day Word Flyer Template
The template offers 3 variable sizes including 7x10, ½-page, ¼-page. Pet Day word Flyer template allows you to customize the text and logo.
Casino Word Flyer Template
You will get 8.5x11 paper size casino word flyer template. The template includes a Casino theme based background. It has separate text space to insert Logo, Casino name, event date etc.
German Flag Word Flyer Template
The template comes with a German flag background. The template has covered text column in every color section. Use matching text color to make your document attractive.
Independance Day Word Flyer Template
Independence Day template contains American flag and Statue of Liberty in the background. You can write company name, address, and other contact details in the lower right section of the template.
Furniture Store Word Flyer Template
Get access to three variable sizes A4, A5, and A6. The use of high-quality images, multi-color background and font make it catchy and professional. The variable pages have the same background with a minute change in the design.
Ecommerce Word Flyer Template
The e-commerce template has semi-transparent background with a cart image in the lower right section. The template is easy to customize. You can enter the company details in the lower left section.
Beauty Spa Word Flyer Template
The template is available in A4, A5, and A6 page size. The template is divided into three sections. Add slogan in the first section, use the second section for description, and write contact details in the third section.
Valentines Word Flyer Template
This Valentine's Day theme includes a white border frame and red background. It comes with a heart graphic in the center. Add your logo in the lower right section and customize your message in the lower left section. Text content on a simple white paper cannot attract the readers, but a colorful design can. Word Flyer does the same and gets the attention of the viewer. High-quality images and perfect text alignment hold the reader.
Landscape Word Flyer Template
Mexican Word Flyer Template
Food Bank Word Flyer Template
Telecommunication Word Flyer Template4
Estate Planning Word Flyer Template
Nail Saloon Word Flyer Template
Cool Abstract Word Flyer Template
Flower Shop Word Flyer Template
Business Analyst Word Flyer Template
Thanks Giving Word Flyer Template
Internet Marketing Word Flyer Template
Cool Holiday Party Word Flyer Template
Money Word Flyer Template
Family Dentistry Word Flyer Template
Secretarial Word Flyer Template
Children Education Word Flyer Template
Ego Boost Word Flyer Template
Awsome Corporate Word Flyer Template
Word Flyer Templates are User-Friendly
As the flyer templates are in MS Word format, users do not have to experience much trouble editing them as they are highly modifiable already. You can replace textual and design elements in the template. If minimalistic flyer design is what you're after, then MS Word flyer templates are the best!
Word Flyer Templates are not Setback Free
MS Word flyer templates may be very easy to edit, but they have shortcomings. For instance, it is difficult not to disturb other embedded elements in the template, while you're trying to move others. It's quite an uphill task to navigate or replace elements in an MS Word flyer template.
If you're planning to use unique and specialized fonts in your MS Word flyer template, be informed. This category of flyer templates does not have wide font support. You will have to make sure that whichever specialized font you wish to use is first installed in one or more systems on which the template is going to be edited.