Magazine
21+ Real Estate Magazines
The real estate industry can be both profitable or fruitless. It heavily depends on rigid economic studies and professional management. Amidst the rise of other industries and jobs, several wage earners are now capable of purchasing their desired residential units. Businessmen are now keen on grabbing this opportunity, and part of their efforts is through strategies that involve creative advertising. One way is through simple magazines, which are still useful because it opens the opportunity to maximize visuals for a complete reading experience. The point is to inform people that will lead them to either invest or purchase. Maximize your business opportunities by making a real estate magazine right now!
Table of Content
21+ Real Estate Magazine – InDesign, MS Word, Pages, Photoshop, Publisher
1. Editable Real Estate Magazine Template
2. Creative Real Estate Magazine Template
3. Basic Real Estate Magazine Template
4. Advertising Real Estate Magazine Template
5. Real Estate Magazine Ads Template
6 Steps How to Create a Real Estate Magazine
The real estate business nowadays is booming, and people are finding ways to have a decent home to live. Cater to the curiosity of those hardworking citizens by publishing your monthly magazines. Inform the people about the latest updates and features inside the real estate industry. Follow these steps below to help you jump-start the people's timely subscriptions.
Step 1: Think of a Theme
Of course, it is a real estate magazine, but what are you going to feature? Getting the details right is one thing, but having an idea that binds them all needs careful thinking. Plus, you need to aim for variety in your releases. That is why you need to have themes because your magazine should not be the same. So, grab a cup of coffee and start thinking!
Step 2: Organize the Flow
The technique here is to get the table of contents done first. Your content organization, especially those derived from the theme, needs to stack over the others smoothly. So get your pen and start making a comprehensive outline on the entirety of your release.
Step 3: Divide the Tasks
A magazine is not a solo effort, so better gather the most able staff for the layouts and content. Excellent teamwork and compatible skills need maximization to get the job done. Collect the profile of the people you know and start the division of labor.
Step 4: Snap Some Scenic Photos
Stunning visuals need to be present in your output. People can relate more if they can see it. Plus, if you are planning to upscale the promotion of your real estate business, then show the buyers what they can spend on. You can even cap it off with an impressive magazine cover to catch the much-needed attention while your magazines appear on the shelves.
Step 5: Apply Appropriate Design
A variety of designs are present. Take your pick! Whether you go for simple, creative, artistic, or minimalist, the choice should match your target. It is also imperative that the design should be friendly for your audience. Make it easy for them to navigate, and it should complement the theme as well.
Step 6: Use Excellent Printable Materials
Go for materials that feel nice to touch and are also durable. You do not want to see your hard work easily torn or discarded because the quality of the paper gets easily damaged. A touch of something glossy should bring about the temptation to flick the pages. Print it on durable yet presentable materials.
6. Commercial Real Estate Magazine
Open the business opportunities for investors and the showroom for customers with this template. You can always insert a business card along with this magazine. The sample file is compatible with InDesign, MS Word, Pages, and Publisher. It comes with a professionally designed layout and impressive graphics. Download now, and start promoting your industry!
7. Simple Magazine Template
There is beauty in simplicity. Keeping your magazine simple makes it easy to read and navigate. You can use this template in InDesign, MS Word, Pages, Photoshop, and Publisher. Choose any software format you prefer. It also includes ready-made designs fit for a simple, minimalist style. Download now, and have a simple start for your growing business!
8. Marketing Real Estate Magazine Template
9. Layout Real Estate Magazine Template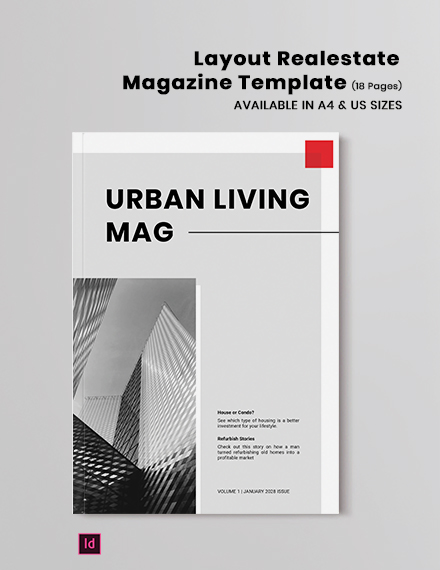 10. Luxury Real Estate Magazine Template
11. Real Estate Agency Magazine Template
12. Real Estate Guide Magazine Template
13. Real Estate Magazine Template for Agents
14. Real Estate Magazine Template for Clients
15. Professional Real Estate Magazine Template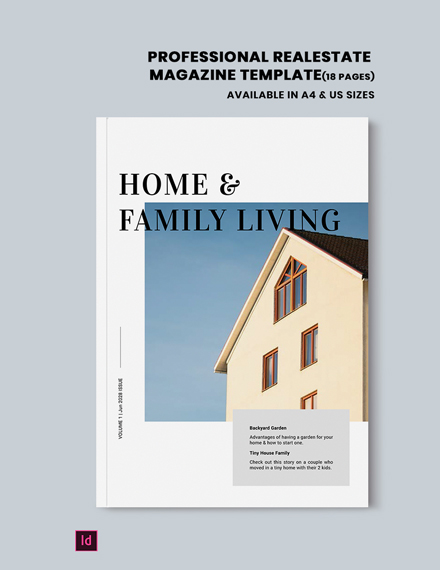 16. Real Estate Magazine
Showcase various real estate properties with matching banner ads inside to maximize product promotion. Get this template which is flexible to use with InDesign, MS Word, Photoshop, and Publisher. Its versatility is for your convenience in editing. So click that download button and commence the publication!
17. A4 Google Magazine Template
This template is a standard for modern-looking magazines. It comes with well-crafted layouts fit for showcasing dream houses and affordable properties. The template is editable and easy to use. Get this file by clicking the download button! You might as well pair it with a complimentary brochure for a complete package.
18. Advertising Magazine
Promote your properties and business spaces through this advertising magazine template. It has generic advertisement features, allowing you to lay out photos and content easily. Grab one now and enhance your real estate marketing strategies through this template!
Double the efforts and add variety to your monthly releases with another advertising magazine! It comes with a unique design and imagery fit for your publication variations. Edit it through InDesign, MS Word, Pages, or Publisher. Get this template now and start promoting those decent homes for decent people!
19. Free Sample Real Estate Magazine Template
20. Free Simple Real Estate Magazine Template
21. Printable Real Estate Magazine
There is nothing like an easy-to-print magazine when you have a tight schedule. This prefabricated template is suitable enough for satisfying your quick needs for your much-needed releases. Grab one today and deliver an impressive release to your subscribers!
22. Origami Real Estate and Travel Magazine
Take your readers to an excellent virtual tour of your properties through this magazine. The layout is suitable for a perfect blend of travel and real estate. Grab this creatively designed template now and start catching people's attentions.
More in Magazine