487+ Banner Templates
Quickly Create Banner to Promote your Product & Business and Impress your Audience. Professionally Made to suit any Business, Brand Marketing Needs. Download, Edit and Print!
Launching new products consist of vast marketing strategies. To top it all, making a banner should be in your primary option because it is accessible for many audiences to see wherever. Lots of business people prefer this cost-effective strategy when promoting their products and services. That is why we offer a wide selection for banner templates that are ready-made and 100% customizable. It was professionally designed, editable, and print-ready at your own convenience. Moreover, it was also available to download in many file formats like Microsoft Word, Publisher, Illustrator, Adobe Photoshop, InDesign, and Apple Pages. Get the design you prefer and download it now!
What is a Banner?
A banner was often used for business marketing strategy a long time ago and is still applicable nowadays with the help of advanced technology. Among its many uses include the promotion of new products, the announcement of upcoming events, and online advertisements like the ones seen on platforms like Twitter and YouTube. It shouldn't come as a surprise that this tool has stood the test of time, and it is likely to continue to do so for years to come.
How to Make the Best Banner?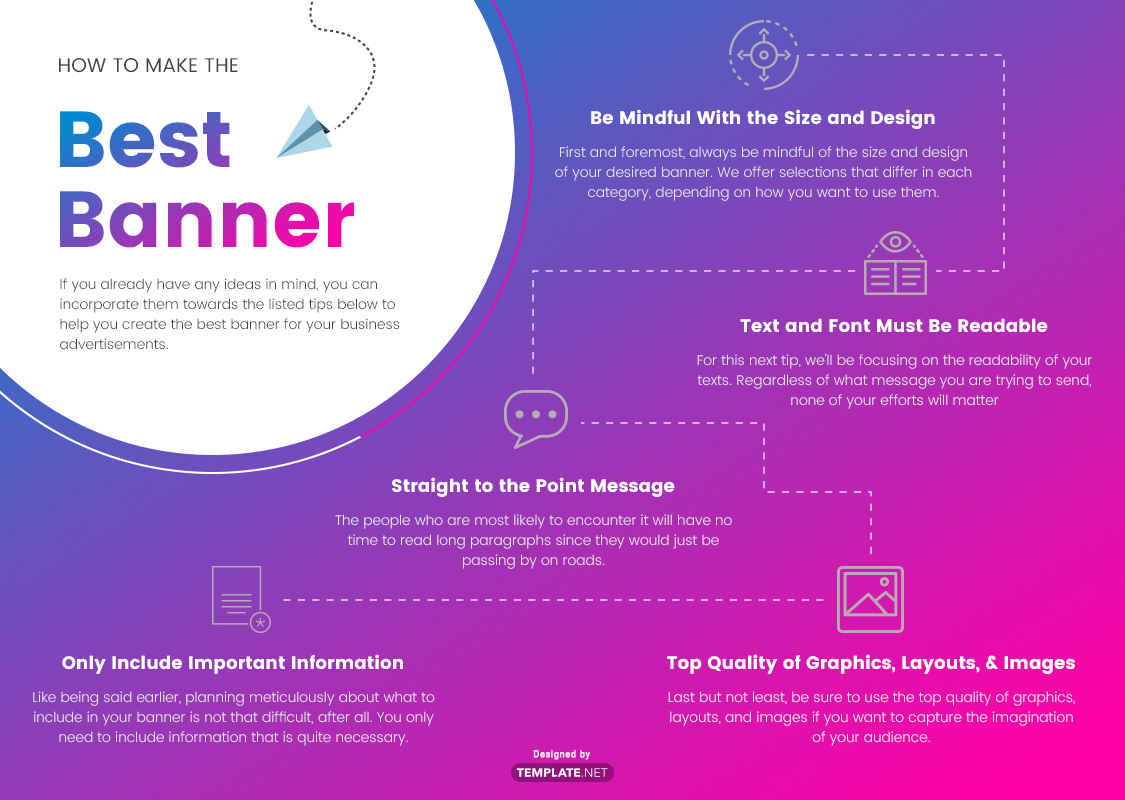 If you already have any ideas in mind, you can incorporate them towards the listed tips below to help you create the best banner for your business advertisements. There would be no need to worry about making high-quality banners for a birthday party, banner graphic design for online games, and many more. Below are some of the more useful methods to give you more ideas and bring your projects into life.
1. Be Mindful With the Size and Design
First and foremost, always be mindful of the size and design of your desired banner. We offer selections that differ in each category, depending on how you want to use them. Some are fit for web ads, others for magazines, billboards, and roll up banner. To sum this tip up, being precise with everything must always come first.
2. Text and Font Must Be Readable
For this next trip, we'll be focusing on the readability of your texts. Regardless of what message you are trying to send, none of your efforts will matter if your audience cannot read it clearly. Pay enough attention to how your written content comes across visually and make adjustments to your creative banner whenever necessary or possible.
3. Straight to the Point Message
As much as possible, you need to cut off longer paragraphs and go straight to the point with your message. For example, you intend to use a certain banner for billboard advertising purposes. The people who are most likely to encounter it will have no time to read long paragraphs since they would just be passing by on roads. Be clever in creating your simple banner, complete with witty slogans that can catch the attention of many in just a single glance.
4. Only Include Important Information
Like being said earlier, planning meticulously about what to include in your banner is not that difficult, after all. You only need to include information that is quite necessary and surely serves its purpose in all aspects. So, always plan cleverly about what to consider that will be going to play a very important role in order to catch your prospective clients.
5. Top Quality of Graphics, Layouts, and Images
Last but not least, be sure to use the top quality of graphics, layouts, and images if you want to capture the imagination of your audience. Upon using our available templates that fit perfectly for your needs, you only need to make simple edits. Always review your sample checklist to see if you have written down every bit of information being needed for your banner.
General FAQs
What is a Roll-Up Banner?

A Roller or Pull Up banner means the same Roll Up banner best used for exhibition or trade show purposes. For its colossal size and magnetic structure, it leaves a significant impact on the onlookers and boosts sales and marketing attempts.

What is the Purpose of the Banner?

A banner is an essential source of advertising and marketing a brand. Dominated with attractive graphics, these banners promote products and services and impact spectators' minds to go through the brand's website or services at least once. Its primary purpose is to attract human attention and interest in a specific thing.

Why Do Businesses Use Banners?

Banners are enormous and always catch human attention. Thus to grab this attention and impact their minds with a need for some services and products, businesses often use banner ads. It is also used to impart some vital information on any sale, events, shows, etc.

What Information Should a Banner Have?

For a successful banner design, highlight the following components:

Relevant graphics to represent your subject or message.
Use high-resolution graphics.
Use extra-large texts than normal.
Use bold and readable fonts.
Keep the message short and straightforward.
Add only the vital information.
Highlight your brand logo.

What are the Most Common Banner Ad Sizes?

120 x 600 – Skyscraper
160 x 600 – Wide Skyscraper
250 x 250 – Square
300 x 250 – Inline Rectangle
336 x 280 – Large Rectangle
300 x 600 – Half-Page Ad
468 x 60 – Banner
728 x 90 – Leaderboard
970 x 90 – Large Leaderboard
Read More