Rental agreement forms are forms that are printed and handed out to individuals or groups of people to fill, who seek interest in occupying a premise on rent. The tenant(s) are expected to pay the amount of rent on a monthly basis. As the name suggests, these forms are filled only when all terms and conditions are agreeable to both the parties. You can also see Payment Plan Agreement Template.
Rental Agreement Template forms vary country to country. So individuals looking for forms are advised to be quite sure about the type of form they hold onto. The great collections of these forms are available online in the format of Word, Excel and PDF.
Equipment Rental Agreement Form Template
dcnr.nv.gov
Download our rental agreement sample form template that is made according to the different laws that each state applies. The template will make know you about the different rights of the lodger and the owner. With our sample template you will exactly know about what can be included in a agreement.
Residential Rental Agreement Form Template
dca.ga.gov
Our template is free of confusing terms and policies that can be wrongly interpreted if any situation of crisis arises. The template avoids poor written styles and uses terminology that is easily understandable.
Rental Agreement Form Template
biggerpockets.com
Our template discusses about the additional responsibilities and repairs if there are any to be undertaken by the resident. This will give a clear idea to your tenant about the results that will take place if he fails to maintain his responsibility.
Agreement Form of a Vehicle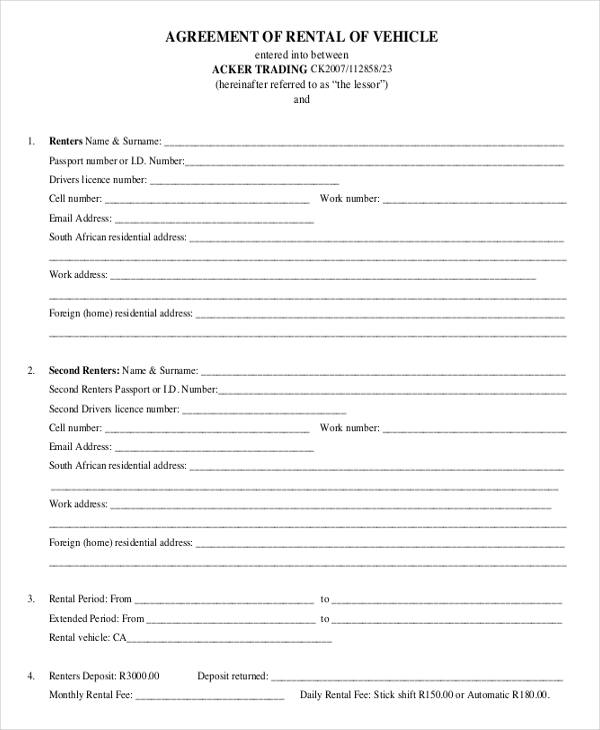 ackercarrentals.co.za
Land Rental Agreement Form Template
rentalsonline.com
> What should be included in the Rental Agreement?
It is to be kept in mind that a rental agreement always should be in writing, be he a family or friend or a person whom you met recently. If you are a property agent, then you should be well acquainted with the rental agreement. What if you are not? You need not to be troubled about the fact, as we always stand by your side to guide you.Below we have penned down some important points that must be included while drafting a rental agreement.
Full name and address of the occupant and the agent or the manager or the property owner.

Be specific about the days as when to start and when to end the agreement.

Mention about the how much is the rent amount and the mode of payment.

Any additional terms you would like to add of your own.

Don't forget to state the date when the agreement needs to be signature.
Equipment Agreement Form Download
rsoinc.com
Motor Vehicle Rental Agreement Form
mghcgh.org
Cropland Rental Agreement Form Template
map.co.door.wi.us
Month To Month Rental Agreement Form Template
kingstonlandlordsupport.org
One Page Rental Agreement Form Template
aoausa.com
Remember you as a tenant or a landowner, the best way to protect your interest is to have a written agreement. A well-structured contract can provide you with the benefit of not getting stuck into a problem and having a legal alternative way out to safeguard your possessions. Try to check out with a professional about the points mentioned in the contract and also your legal privileges that you are permitted with.