Our wide range of vendor agreement templates comes in Word, Excel and PDF formats. These templates have space for the user to add the name of the vendor, the name of the company, address details of the vendor, contact details, event information and other important data. You may also see agreement samples.
The templates can be quickly downloaded, customised or edited, and even printed or emailed. You can also visit Sales Agreement Template. From third party vendor contracts, to supply agreements, food vendor contracts, there are several kinds of templates available for the user to choose from. These Agreement Templates are intelligently drafted, have a legal agreement format and are extremely useful for vendors of all kinds.
Vendor Contract Agreement Template
Vendor Confidentiality Agreement Template
Printable Vendor Agreement Template in Pages for Mac
Conditional Sale Agreement Template in Google Docs
Sales Agency Agreement With Trademarks Protection Template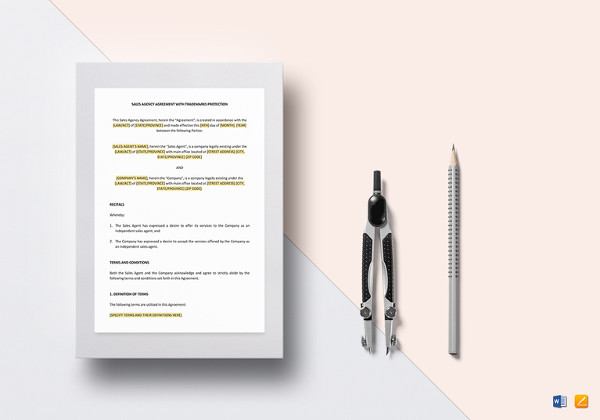 Outsourcing Services Agreement Template
Service Level Agreement Template in iPages
Master Professional Services Agreement Template
Non Disclosure Agreement Template
Simple Financial Support Agreement Template
Vendor Service Agreement Template PDF Format Free Download
kellyservices.com | This vendor service agreement template is designed to contain the vendor and client information, the descriptions of the items to be supplied and terms of the agreement. Download it in the available PDF format.
Master Service Agreement Template Free Download
kioga.org | This kind of service agreement template is created professionally and contains the terms of service organized in sections including work order, requirements among others. Download it today in the editable Word document.
Northgate Vendor Agreement Template PDF Format Free Download
first5la.org | With this vendor agreement template anyone can make their own agreement. Our PDF template includes the client details, vendor details, the work specification and the price agreed upon by the parties.
Vendor Contract Agreement Template Word Document Free Download
albany.edu | This vendor contract agreement is necessary for any type of organization. It contains the contract terms for the supply, like payment, product or service to be supplied and duration of service. Get the template in Word format.
Security & Business Vendor Agreement Template Word Document
dot.gov.in | This security and business vendor agreement template helps in formulating customized agreements between a vendor and client. The template can be downloaded here in Word format and edited as desired.
Services for Contract Agreement Template Word Document Free Download
ftp.asce.org | Any service rendered should be done after signing an agreement with the client. Our Word vendor agreement template takes into account the vendor details, the agreed price of service and the specific details of service.
Vendor Contract Agreement Addendum Word Document Free Download
ftp.asce.org | With this vendor contract agreement there are clauses on the supply to be made and the confidentiality the vendor should observe. Download the Customizable Word format template here for free.
Pro-Vendor License Agreement Template PDF Format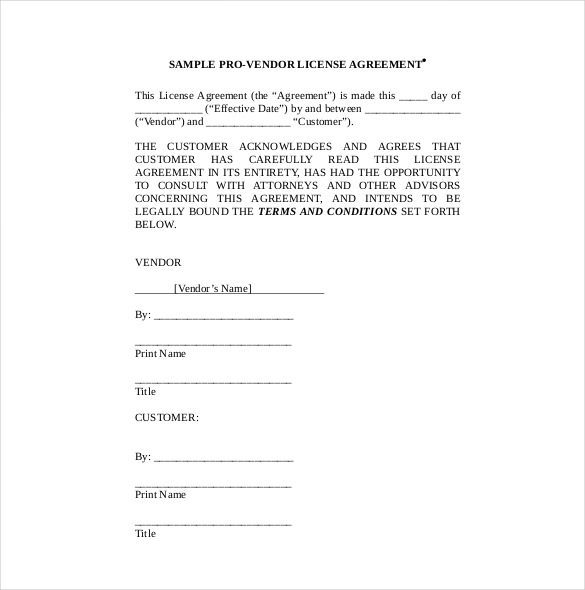 nachc.com | This agreement is issued by the vendor to the customer as an agreement with the terms of service. It can be downloaded in a PDF file format and printed for signing. It is simple and easy to understand.
Project Vendor Contract Agreement Template Word Document
albany.edu | Use this vendor contract agreement to sign on a vendor for an awarded project. It includes the project name, vendor details and other important terms of the contract. Get it in Word file format.
Thwing Center Vendor's Agreement Template PDF Format
students.case.edu | This Thwing center agreement is a general template that can be used to make agreements with vendors for the common supplies. The PDF template contains the vendor details, contract supply details and payment terms.
Standard Vendor Agreement Template PDF Format Free Download
thekrogerco.com
If you have any DMCA issues on this post, please contact us!