Book brochures are generally referred to brochures that are designed like books. They can also be referred to brochures that contains information about a book or a bookstore or a library. We have listen templat e designs with us, that would cater to all you book brochure relate needs. Like flyers and posters,brochures are also used to provide information about certain brand, product or service. However, like poster and flyer, there is no limitation to the amount of information that you can provide with brochure Templates.
Book Bi-Fold Brochure Template
Book Tri-Fold Brochure Template
Book Store Tri-Fold Brochure Template
Book Store Bi-Fold Brochure Template
Portfolio Book Brochure
Download
With this template you can create a 24 page of brochure for yourself, also called the book brochure or portfolio book. It features minimalistic design that makes it more suitable for artists, photographers, designers and writers. The template does not include the images and therefore you will have to edit the file in using InDesign and put your own images in the brochure design.
Presentation Brochure for Books
Download
We have listed the design here for inspiration purpose. Book brochure can also be used to promote and provide information. If you want to create a brochure to illustrate and inform about a book, then here is an example you should look upto. The project here is a brochure presentation of a book by Dimitris Dimitriadis
Horizontal Book Brochure
Download
This 24 pages book brochure template has been created in a landscape format which provides the brochure with an interesting look and appeal. The brochure looks like a landscape book. The brochure come in A4 size.
A4 Book Portrait Book Brochure
Download
If you are looking for a book brochure with contemporary and premium design, this is the template that you should go for. Mostly suitable for architecture related content, you can however edit the images and text and background and use it to create your own brochure.
Recipes Book Brochure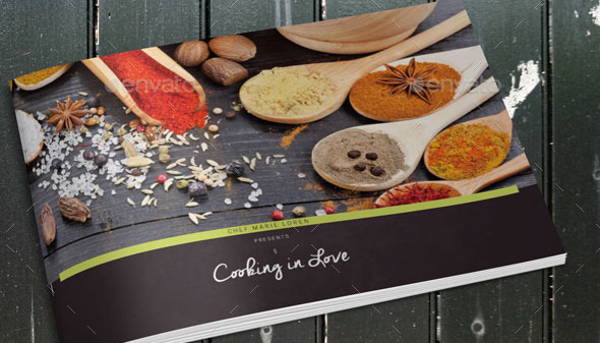 Download
The brochure design feature recipes and looks like a recipe book. The layout looks interesting and comes in landscape format. The template is fully editable and can be edited in InDesign. You can easily replace your own recipes and images in the template and create your own recipe book brochure.
Landscape Brand Book Brochure
Download
This A4 template format comes with 46 pages and each of the page is fully layers and easy to edit in InDesign. It is available in Indesign and PDF format. The images will not be included in the file.
Wedding Book Brochure
Download
This is an 18 page wedding book brochure that comes in A5 page size format. This is a very new concept and if you want to go for something different instead of the same convention wedding album, you must try this wedding book brochure.
Book Store Trifold Brochure
Download
If you want to promote your book store, you can take the brochure route. Having a tri-fold brochure means that you can put up ample amount of information and images about the store. With the given template you can have a ready made brochure outline template that you can edit to customize.
Editable Book Brochure
Download
Book Band Tri Fold Brochure Template
Download
Brochures certainly enjoy a much larger shelf life that flyers and posters and this can certainly be used as an advantage. The templates here can help you in creating great book brochure designs. With book brochures you can be more creative in design and hence it creates a lasting impression.