HTML has really revolutionized the world of the Internet and Web design. Unlike its predecessors, HTML is a highly user-friendly code, and it is one of the reasons why increasing numbers of people are taking interest in web design and development. If you're planning to design a fresh website or revamp an existing one, we'd recommend you to do all your web design using HTML coding. In fact we have gone a step further and compiled a range of HTML-CSS templates which you could use in your web design and development endeavors.You can also see Brochure Templates
Example Conference Tri-Fold Brochure Template
Sample Conference Bi-Fold Brochure Template
Simple Multipurpose Square Brochure Catalog Template
Free Conference Brochure Template
Trifold Business Conference Brochure Template
This trifold brochure would be an interesting brochure for your conference. One side of the brochure can be used for image, another part completely for text and the other part may contain both text and images.
99U Conference Branding
The use of purple looks bright and creates a pronounced impression and while put together with white, you are getting a fantastic contrast- which is simple yet bold & elegant.
3D People – Men, Person at Conference Table. Leadership and Team Brochure Template
Expectations Conference Bifold Brochure
This bifold brochure template will enable you to add both pictures and text together. The front part can be used for a large picture for a dominating impact about your event.
Brochure League of California Cities Annual Conference Programs
You are getting 3 different brochures here from the good old days of the 60s. These brochures were designed for the 62nd, 63rd & 64th Annual Conference of the League of California Cities.
99U Conference Branding 2013
If you are looking to create a lasting impact with your conference branding brochure, this brochure here would be a great guide for you. It has brilliantly played the contrast of red & white which has made it bold & beautiful.
Half-Fold Business Conference Brochure Template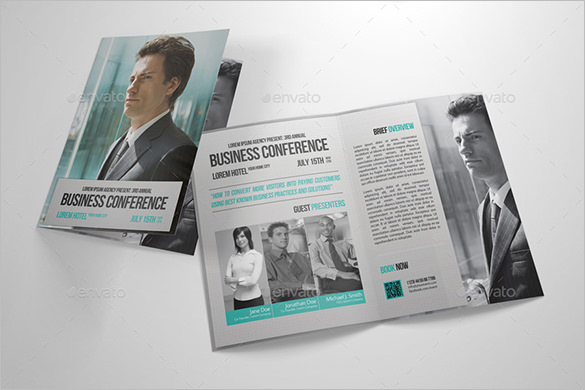 Interflow Design Conference
Premier Conference Bifold Brochure Pack
International Conference on Calligraphy
Social Conference Bifold Conference Brochure Pack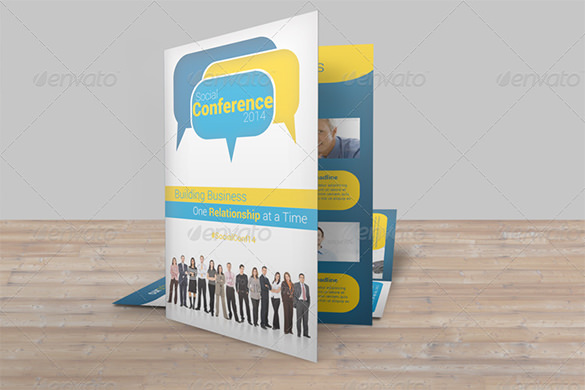 COE CBRN – NY Conference Report Brochure
Venture Conference Brochure Pack
Conference Room Brochure Template
Future Conference Bifold Brochure
Medical Conference Brochure Template
Conference Schedule & Workshop Info Brochure
Business Leadership Conference Brochure Template
These templates have boxes to add necessary and relevant photos, important information like dates and agenda of the conference and tons of other data. These templates are vibrant, colorful and extremely professional looking. They are extremely popular amongst large and medium sized corporate houses.