Are you running late for you campaign brochure or you have not started even? Do not worry for free Google brochure template is made easily in the form of e-brochure and even you can see the process through you-tube. Download PSD Google brochure template for ideas and basic skills that you want to learn. Then you can post the Professional Brochure Templates  online.
Corporate A4 Google Brochure Design Template
Fabulous Clean Google Brochure Template-$10
Be it any organization, Google will offer templates for all your advertising works and your task can be done within minimum time. All you require is to download clean brochure templates from Google and enjoy its easy customizing options.
Fantastic Google Brochure Template
These fantastic Google brochure templates are easy and self informative as it tells you which space is for what purpose and where exactly should you enter the image, or the text or the contact details. It helps you save time.
Colourful Google Brochure Template
This vector trifold Google brochure template is available in a number of colors and shades. Advertising is transformed from a strenuous to a fun task with these templates and its deep rooting impact.
Google Brochure Template – $8
E- Brochures are the fastest spreading modes of advertisement in today's world where people do not have much time to know about your company. By simply downloading Google brochure templates for free, marketing process can be made quick and easy.
Red Colour Google Brochure Template-$8
This theme colored brochure templates gives an additional advantage to your company as the people associate the color with your organization only. Red color symbolizes fire and passion and creates faith among the people for your company.
Awesome Google Brochure Template
Clean Google Brochure Template-$8
Famous Google Brochure Template Download
Cute Google Brochure Template
Beautiful Google Brochure Template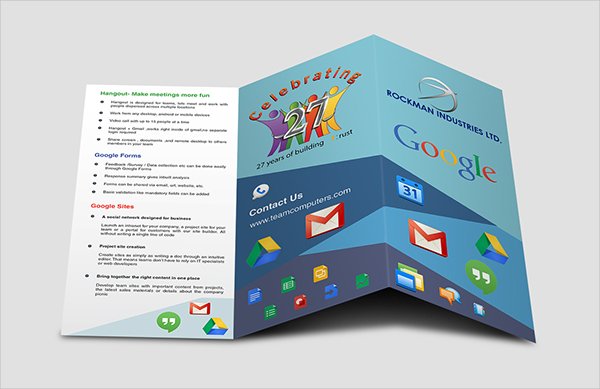 Download
These templates can be varying purpose but well distributed throughout Google. If you have several Google documents, you can make a template out of it as well. Lack of ideas can never be a problem since Google offers multiple options.