Brochure Templates
52+ Travel Brochure Templates – PSD, AI
Customizing the content on brochures has never been this easy, thanks to brochure templates that help an organization showcase its services in the best way possible. These templates are extremely print-ready and come added with several top-notch icons and font sets. With the modern Microsoft brochures featuring innovative layouts in demand, the focus readily shifts towards the premium travel brochure that include high-end features in color modifications and CMYK profiles for professional use.
Travel Bi-Fold Brochure Template
Travel Tri Fold Brochure Template
Be it a small business owner or a travel agent, psd travel brochures come in handy for every professional provided these essentials are created keeping the innovative designing strategies in mind. Including these hard hitting brochures can surely bring in a lot of flexibility to your business and mostly support text and image integrations. Most of the travel brochure templates can be availed free of cost and include features like sample photos and textual schemes. You can see Advertising Brochure Templates here.
Travel Company Bi Fold Brochure Template
Travel Company Tri Fold Brochure Template
Vintage Travel Brochure Template
Creative Bifold Travel Brochure Template
Travel Agency Tri Fold Brochure Template
Classic Travel Agency Bi Fold Brochure Template
Travel Agency Brochure in PSD Format
Free Travel Tri Fold Brochure Template
Simple Free Travel and Tour Brochure Template
Free Automotive Brochure Template
Automotive Brochure Illustrator Template
Travel Brochure Catalog Design Template

Ready to use for any travel agency, Travel Brochure Catalog Design Template supports Adobe InDesign, IDML. It has 300 DPI resolutions, with 216×303 mm in with 3mm bleed and available in all common formats.
Simple Travel Brochure For Beach Tourism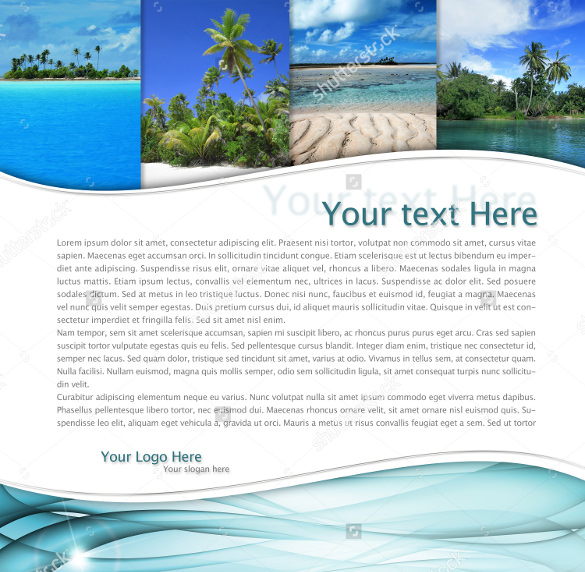 Great for travel agencies, travel and tourism business, Simple Travel Brochure For Beach Tourism offers great versatility to edit the vector images and customize it as per the need of the project.
Print Ready Travel Agency Brochure

Perfect for travel and corporate business, Print Ready Travel Agency Brochure offers a clean modern brochure template design. It has CMYK Color mode, 300 DPI print-ready features and uses Google fonts.
Multipurpose Travel Brochure

Ideal for travel and corporate business that needs clean, professional, modern brochure template design, Multipurpose Travel Brochure CMYK 300dpi and Print Ready with 0.3cm Bleed with organized PSD files and print-ready versions.
Beach Theme Tourism Brochure Download

Compatible with CS4, supporting CMYK, and print-ready versions, usage of Free fonts, well-organized PSD layers, 28 pages- Beach Theme Tourism Brochure Download is a loved choice for travel brochure designers.
Professional Travel Brochure Template

Gorgeous and professional design perfect for business, Professional Travel Brochure Template offers CMYK and Google font customizable features. It has organized PSD files and can be customized as per the requirement.
Travel Agency Brochure Template

A clean and modern brochure template, Travel Agency Brochure Template can be used for designing both corporate as well as leisure trips. It has an organized PSD layer with CMYK color mode in print-ready features.
Travel Brochure Template For Student Tours

With text, images, and colors with easy changing options, print-ready versions in attractive free fonts, Travel Brochure template For Student Tours displays the destinations, package tours in modern and clean designs.
Attractive Travel Brochure Template Easy Download

Available in 20 pages, 21×21cm print size, CMYK color mode, 4 mm bleed area, full layered PSD files, Attractive Travel Brochure Template Easy Download is used by travel agencies, corporate travel associations, holiday planners, etc.
Travel Brochure With A Tourist Image

Available in 8.5×11 inches with 0.25 inches bleed area, 300 DPI resolutions, print-ready features, Travel Brochure With A Tourist Image is largely used by tour operators, holiday planners, travel agents, etc.
Easy To Edit Tourism Brochure Template

Perfect for travel agency, booking service, the travel planner or airline travel, Easy To Edit Tourism Brochure Template has all the smart features like CMYK color mode, free fonts, PSD organized layers, etc.
Jungle Tourism Brochure Instant Download
Travel Brochure Template With Newyork Images
Unique Travel Brochure Template
Tri-Fold Travel Brochure Template
Elegant Travel Brochure Template
Beach Tourism Broucher Template
Easy To Edit Travel Broucher Template
A4 Size Travel Brochure PSD

This PSD based travel brochure template comes with content for customization, CMYK profile, multiple images and great content on a clear white background available with attractive font sets and layout.
Real Estate Travel Catalog Template

This real estate travel and tourism template come with a cover page containing logo space for the business, with a description of the business itself in the insides and basic content for customization.
Astray Travel Brochure Design

This Italy travel brochure template is PSD based with multiple images signifying Italy on the cover page and a description of the tour on the inside and other customizable content about the travel company with logo and contact space.
Beautiful Brochure fro World Travel Agent

This downloadable travel agent brochure template is a basic PSD based sample with a single image space on the cover page and contact information and address of the travel company on the back.
Fun Travel Brochure Beautiful Design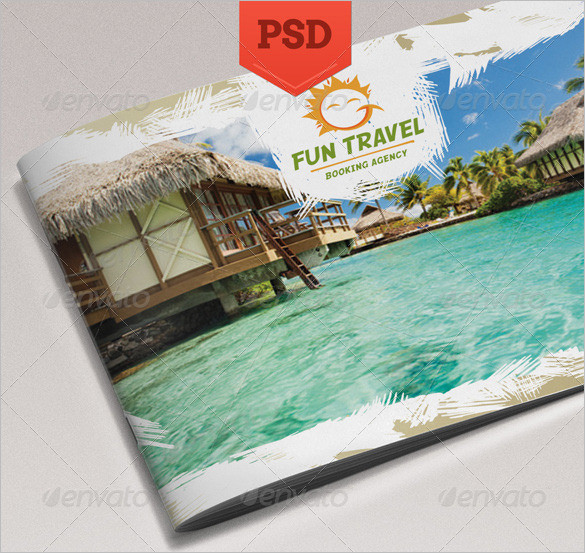 This Fun travel brochure template is based on PSD and has a multiple image option for the front page and customizable content. The images on the inside and the front page are cropped in geometric shapes.
Travel Tour Trifold Brochure Download
Student Travel Trifold Brochure
Multicolour Tri-Fold Brochure Template for Travel Agency
Colorful Travel Brochure PSD Design
Dark Travel Tri Fold Brochure
Customizable Travel Tri-Fold Brochure
Download Traveler Brochure in Indesign Format
Alpine Travel Brochure Dark Background
Tourist Travel Brochure
Tri-fold Holiday Travel Brochure
Travel Company Trifold Brochure PSD
Free Download Travelling Tri-Fold Brochure
Elegant Tour Travel Trifold Brochure
Tour Travel Guide Trifold Brochure Template
Travel Promotion Catalogue PSD
Blue Coloured Travel Trifold Brochure
Dark Travel Agency Flyer Template
As a vibrant brochure is worth a million words, special importance should be given to the designing aspects of the same. Strategies should be by the latest industrial developments and one must keep options for targeting the tourism industry as well. Keep a check on the obsolete techniques and include these best in business brochure templates for refurbishing the travel logs. Innovative travel brochures form the fulcrum of travel agents' business as they help to attract potential customers with their amazing designs. The PSD files offer a lot of flexibility to make customized designs for small business or travel agents.
> Uses of Travel Brochure Templates
Any kind of brochure is almost an indispensable part of the business and its promotion; so when it comes to travel brochures, it is a mandatory requirement for travel agents and travel associations. For brochure design travel, which will be both attractive and informative, you don't need to hire a designer, but you can also do it yourself. The sole purpose of the travel brochures is to convey most of the information in the least amount of space keeping it impressively designed. In any trip brochure, make sure that your services should not be too open so that there remains little chance to change it in case of any unprecedented need. Also, it should not look fishy so that instead of promoting your business, the tour brochure template makes it more ambiguous to the clients.
>

Types of Travel Brochure Templates
When designing a travel agency brochure, you should choose from the types to see which one would fit all the required information while maintaining a decent design pattern. There are bi-fold brochures for travel agency, travel trifold brochure designs, holiday brochure designs, travel agency brochure catalog and many more. What a trifold brochure can contain is much more than a bifold one. Most of the brochures follow the standard size of 8.5×11" and in 300 dpi. The formats of these brochures can be changed as per the requirement of the project. There are also half-fold, single gatefold, double-gate fold, Z-fold, roll fold, Five-Panel Accordion Fold which is used for travel business promotion.
> Tips to Follow
The thumb rule for any design in Brochures for tourism is to make it creative. There is plenty of travel brochure layouts available for free download. Those can also be used as a travel guide brochure or tourism poster design. Another important thing in any Brochure for tourism is that you should not disclose all the terms and conditions of the trip. For example, a holiday brochure template should have the destinations, duration of the stay, bulleted amenities but should leave a scope where you can hint about the terms and conditions applied. For instance, what you will include in travel brochure examples for students will remarkably different from what you will include in an agency's template design.
> How to customize
While you start making a travel brochure, think of a maverick title that can immediately attract your potential tourists. Add the sections covering with related subsidiary questions or topics which you think can be the immediate queries for any potential client. With any of the below-mentioned templates, design the brochure and make an HTML version of it. The mood of the design of the travel brochure should speak gallons about your business as well as the tour that the clients are expecting. So while thinking about how to design a travel brochure, think about the season and set the color and the images accordingly. For instance, if it's a beach destination, choose images that are colorful and which depicts adventure sports at the beach, the seaside restaurants, sunset landscapes, etc. These customizations of the brochure design travel make it look lifelike and consequently increase the chance of business. Examples Travel Agency Brochure Catalog, Travel Tri-Fold Brochure, accommodation, and travel & tourism business are some of the common examples that are used. The Microsoft Word travel brochure helps to customize the fonts, color, and information.
General FAQs
1. What is a Travel Brochure?
A travel brochure is a promotional piece of paper that is created and distributed to the public by travel companies to highlight their travel services. They are either placed at placed in brochure racks or are mailed to prospective customers.
2. What Are the Features of a Travel Brochure?
Following are the features of a travel brochure:
A Good Cover
Description of services offered
Call to Action
Recreational Activities
Geographic Information
Pictures of Destinations and
Pricing Information
3. How to Make a Good Travel Brochure?
You can make a good brochure by following these tips:
Draw readers in with pleasing images
Use appropriate color schemes and fonts
Write eye-catching and informative descriptions
Make use of a template
4. What is the Purpose of a Travel Brochure?
Travel brochures help travel companies to effectively reach out to a target audience so that interested travelers can locate and book exciting vacations. They have to be carefully designed, as poorly designed travel brochures can drive away potential clients.
5. Are Brochures Still Effective?
Yes! Brochures are still very effective in drawing target audiences to check out and apply for your travel services. As visual information is better retained than just the spoken word, having a brochure can help your travel business have a great impact on the minds of prospects.