Microsoft Templates
40+ Microsoft Calendar Templates – Free Word, Excel Documents Download!
In today's busy world, getting and staying organized in a very important life skill. Time management is the only way to stay ahead of the game. With people busy managing so many tasks at any given time, it's essential to organize your day to meet all deadlines. Today, life has become too crowded and there's only so much the mind can keep track of before losing its way. In such cases, Microsoft Calendar Templates HTML comes in handy. There are many different templates available for different organisational needs online. The user just has to pick the one that suits their purpose and enter the data.

Publisher Calendar 2017 Template in Word
plymouth.k12.ma.us
Microsoft Test Calendar 2017 – 2018
xa.yimg.com
Microsoft Weekly Calendar Template
Sometimes, users need a calendar that'll allow them to organize their tasks on a weekly basis. Employing other calendars can prove to be problematic. MS Weekly Calendar template allows the user to jot down important dates and meetings on a week-to-week basis. Such calendars are easily available online for download.

Free Publisher Weekly Blank Calendar Template Download
Blank Weekly Calendar Template Download
calendarlabs.com
Microsoft Daily Calendar Template
Day planners and organizers have become an essential part of the professional life. During a busy office working days calendar , it isn't always easy to keep track of all meetings and deadlines. MS Daily Calendar template solves that problem. All the users need to do it download it and enter the relevant data.

Free Daily Appointment Calendar Template
Microsoft Desk Calendar Template
A desk calendar has been around for years and is a great all-purpose organisational tool. The user doesn't need it for anything specific, but rather to have something convenient to just jot down meetings, reminders and appointments at a moment's notice. The MS Desk Calendar template fulfils that purpose easily.

2015 Printable Desk Calendar Template
calendarlabs.com
Sample Desk Calendar Template
Microsoft Hourly Calendar Template
Planning the day by the hour has become necessary in today's hectic life. Those users who need to make the most of their day use hourly organizers. The MS Hourly Calendar template can help the user create one such organizer. Once the calendar's created, it's easy to keep plan the day effectively.

Hourly Planner Calender Template Example
Excel Hourly Calendar Schedule Template
Microsoft Holiday Calendar Template
Keeping track of holidays in important, especially when a person is running a business. A user can keep an eye out for employees available or what day one can offer discounts and organize sales. The MS Holiday Calendar template helps a user manage holidays and remember such important dates easily.

Free Year Calendar with US Holidays
wincalendar.com
Sample 2014 Monthly Holidays Calendar Template
calendarlabs.com
Microsoft Monthly Calendar Template
Organizing the schedule by the month is one of the most effective ways to plan days in advance. It allows the user to have a clear idea how their time will be spent over a period of a month and arrange for other appointments accordingly. The MS Monthly Calendar template helps the user in such cases.

2015 Monthly Calendar Template Portrait
Microsoft Marketing Calendar Template
Marketing is one of the most important aspects of running a business and it can be a long, confusing drawn out process. The MS Marketing Calendar template allows the user to organize all their marketing events such as press-conferences, meetings, etc., in an effective manner. This template is readily available for download from MS Office Online.

Download 2014 Marketing Calendar Sample
Free Marketing Calendar Template 2015
Microsoft Mac Calendar Template
Mac computers are very popular and some prefer the hardware of Apple but are accustomed to MS software. Templates are not always compatible to the Mac version of office software. In such cases, MS Mac Calendar template allows the user to utilize the calendar template in their Create Calendar in Mac version of Office.

Mac Calendar Template MS Online
Microsoft Project Calendar Template
Whether it is a small project for school or a big project for businesses, proper organisation and planning is the key to getting things done on time. MS Project Calendar template helps the users keep work on their projects on a proper schedule and also gives them a timeline about when it would be done.

Simple Project 2015 Calendar Template Free
Microsoft Photo Calendar Template
A personalized photo calendar can be a great gift for birthdays and anniversaries. Users can also utilize it to create charming desk calendars for their own use. The MS Photo Calendar templates make the entire process simpler and the user just needs to insert the photographs and data according to their wishes.

Free Photo Calendar 2015 Standard Download
Microsoft School Calendar Template
School children are surprisingly busy; their schedules packed with extracurricular activities, sports events, tests and competitions. Keeping track of all this can be a bit difficult without some organisation. MS Schools Calendar templates help with that. It allows parents to keep up with their children's busy schedule at all times.

Download School Calendar 2015-16 Template
Microsoft Scheduling Calendar Template
A scheduling calendar comes in very handy if a user needs a simple organisational tool that's not specifically dedicated to a single task. One can just mark down a date, appointment, payment or call reminder on the go. MS Scheduling Calendar templates can be used to create one such calendar.

Weekly Schedule Monday to Friday in Color
Download Weekly Schedule Template Free
Microsoft Training Calendar Template
When it comes to work out and exercise, most people like to keep track of their progress to get an accurate idea of how much they're getting done. The MS Training Calendar templates help the users create a personalized calendar to watch their progress through training. Such templates are available online in the Office website.

Training Calendar Template Free Excel
Microsoft Yearly Calendar Template
Knowing how the year is going to progress and what important events are scheduled in it allows the user long term planning for things like vacations or business trips, etc. The MS Yearly Calendar templates help the user create a customized calendar to keep track to their year efficiently.

Free Yearly Blank Calendar Template Download
Microsoft Academic Calendar Template
Schools and college students have a lot of demands on their time. From tests to extracurricular activities, there's a need to keep proper track of them all. The MS Academic Calendar template is a great tool to organize a student's schedule. It'll help them keep track of all their activities easily.

Academic Calendar 2015-16 in Microsoft Excel
calendarpedia.com
Academic Calendar 2015-16 in Microsoft Word
calendarpedia.com
Microsoft Annual Calendar Template
Keeping track of important dates and events that are scheduled over the year can be difficult without an organizer of some sort. Anything from anniversaries to medical check-up or tests dates can be marked down in the MS Annual Calendar template, making it very useful to keep track of important events.

Microsoft Appointment Calendar Template
A professional who meets several different people in a period of time needs to keep track of all his appointments. People like doctors or lawyers find the MS Appointment Calendar to be particularly useful. It helps them organize all their appointments in a simple and clean manner, ensuring they never miss a meeting.

Sample Weekly Appointment Calendar Template in Excel
cdn.get-digital-help.com
Month Appointment Calendar Template
calendarlabs.com
Microsoft Blank Calendar Template
Sometimes users need to create their own customized calendar, modifying the parameters to fit their own purpose. However, they also want a basic skeleton for them to follow. For this reason, many users prefer to utilize the MS Blank Calendar template which allows them more freedom to make the calendar suit their needs.

Blank Monthly Calendar Template Download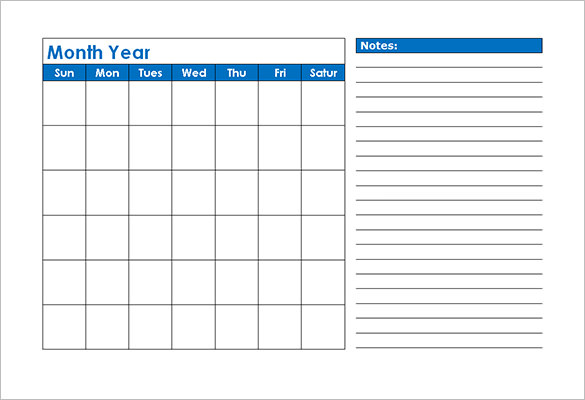 calendarlabs.com
Free Blank Weekly Calendar Template
calendar.wincalendar.net
Microsoft Birthday Calendar Template
Keeping track of the Birthdays of all family, relatives and friends can be cumbersome and yet, one doesn't wish to cause offence to anyone, especially amongst the family, by forgetting their birthday. The MS Birthday Calendar template helps the user keep track of all birthdays, ensuring that they don't miss anyone's special day.

Download Birthday Calendar Template for Free
calendarpedia.com
Free Printable Perpetual Birthday Calendar Template
How do you Print a Blank Microsoft Calendar Outlook in 2017?
Instead of using the Printable Weekly Calendar Templates that are available online, you can also print blank calendars using Microsoft Outlook. In the File menu, click on New and then select the Folder option. You will see a dialog box named Create New Folder. Give the folder a name to save it. In the Folder list, select the Calendar Items option and then click Calendar. Open the Navigation pane to select the calendar created by you and then click on Print to get it printed. You can easily create a daily task calendar using this method.

How to Make a Microsoft Office Calendar?
You can easily create a personalized calendar using Workout Calendar Templates. However, you can also design it in MS Office. Start by clicking on File and then New. Under the option Built In, click Calendars. Select the size of the calendar and the various settings you wish to include like fonts, colors, page orientation etc. Once you are satisfied, click Create.

How to Use Microsoft Calendar Printing Assistant?
In order to use the Microsoft calendar printing assistant, you first need to download it and then launch calendarprintassistant.exe to set it up. Once this is done, you can open the Control Panel and then click on the option Add/Remove Programs to complete the setup and start using the facility to create Sample Budget Calendar Templates etc.

What is the Importance of Microsoft Calendar?
With the work life becoming tougher for most people, using a Microsoft calendar seems to be the best way to set reminders for important tasks and processes. The Microsoft calendar gives timely alarms and alerts to ensure that the user does not miss out on any important meeting or submission. The best thing about using this calendar is that it can be synced in with all the devices thus ensuring regular and timely alerts without fail. The Best Project Calendar Templates work on this option.

Tips
If you are using the Best Daily Calendar Templates, here are some tips that will simplify the usage of these. Always change the default timing and sync it with your time zone. Make sure to select the time of appointment before you actually create it. For viewing weather forecasts, include multiple locations. Do not allow the calendar to create events directly from the emails. In case you are not sure to how to create a Microsoft calendar, you can go ahead and check out the wide range of Annual Calendar Templates online. These calendars have been designed by experts and are very efficient. Easy to download and use, these can be customized as per your needs and preferences.