Whether you're calling on kith or kin or colleagues, designing an invitation card for any occasion is a bit of a tall ask because there is some thought and creative process which needs to be invested when it comes to designing invitation cards. You also have to come up with a card theme – formal, informal, or in-between. Regardless of all the aspects, the one fact is, designing invitation cards is easily achievable, all credit to readymade templates.
Vintage Journey Wedding Invitation Template Download
Download
Breakfast Potluck Invitation InDesign Template
Download
Watercolor Bachelorette Party Invitation Card Template
Download
Family Picnic Invitation Illustrator Template
Download
Surprise Birthday Party Invitation Template
Download
Birthday Lunch Invitation Template
Download
Modern Engagement Invitation Template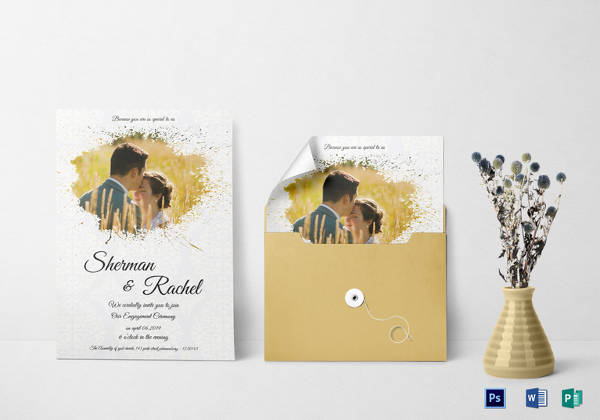 Download
Dinner Invitation Template
Download
Chalkboard Christmas Invitation Card Template
Download
Simple Baseball Invitation Template
Download
Cocktail Party Invitation Word Template
Download
Boho Debut Invitation Template
Download
Church Invitation Template
Download
Simple Funeral Invitation Template in iPages
Download
Business Meeting Invitation PSD Template
Download
Whatever may be the genre of the invitation card which you intend to design, you can create easy, fun, and attractive designs with the help of MS office templates. There is a sample existing for all kinds of events and occasions. You just have to open the application program and look it up. The most common party that we know of are birthday parties but apart from them you also have several other kinds of parties – Retirement, Baby/Bridal Showers, Wedding, Engagement, other occasions such as Thanksgiving, Easter, Christmas, etc. Now, if you are inviting tons of people to your party, it is not practical for you to call up each one of them and ask them to join in your celebration. Also, it is not sensible for you to go to each invitee's home and personally invite them.
> Do Something Different – With Microsoft Invitation Templates
When it comes to sending an invitation to your guests, you want to do something different and at the same time not spend too much money. With the help of free invitation templates, you can easily make this an uncomplicated task. Just go online and search for Microsoft Invitation templates. You will be presented with tons of designs and motifs. You need to select one, which you deem the most appropriate for your party. Thankfully, these editable MS office invitations are free and very easy to download.
> Multiple Uses of Microsoft Invitation Templates
These templates work best for formal invitations. Want to impress your boss and his wife? Invite them to dinner with a Microsoft invitation template. Have been out of touch with your friends and want to invite them over for a get together? Invite them for the reunion with this kind of invitation. If you are into hosting parties and love to do something creative and unique, then Microsoft templates are just the things for you.
> Several Customization Options
Party invitations go hand in hand with Microsoft invitation templates. With the help of these templates, you can do wonders. From retirement party invitation for word to a conference meeting, these versatile templates are ideal for any kind of event.You do not need to be acquainted with any invitation design software if you go for Microsoft invitation templates. Let us look at some of the advantages of using a Microsoft invitation template.
Microsoft Birthday Invitation Templates
Sending out proper invitations for birthday parties can make the event feel even more special. Children love that their birthdays merit official invitations. Making such invitation isn't difficult at all. There are many different versions of MS Birthday Invitation Template available. Users can pick the one microsoft publisher invitation templates birthday that they like the most and easily create great invitations.
Birthday Invitation Templates Free
Birthday Invitations Free Printable
Kids Birthday Invitation Template
wordstemplates.org
Free Birthday Invitation Template
Microsoft Bridal Shower Invitation Templates
Bridal Showers are a very special moment in a woman's life and creating beautiful and colourful invitations for the occasion is just a part of the preparations. Making such invitations is very easy, thanks to the MS Bridal Shower Invitation template. There are many designs available online by name microsoft publisher wedding invitation templates, so there's something for every taste.
Bridal Wedding Shower Invitation Card Template
Download
Editable Free Bridhal Shower Invitaion Template Download
downloadandprint.com
Bridal Shower Invitation Wording Monetary Gift
Free Bridal Shower Invitation Wording
Creative Bridal Shower Invitation Wording
Bridal Shower Invite Card
Microsoft BBQ Invitation Templates
Barbeque get-togethers and picnics are an awesome pretext to invite your friends, family, and colleagues to join you for a good time over some sumptuous food cooking away on the barbeque. Be it a big party or a tight-knit affair, sending out BBQ invites is a fun way to tell your favorite people to make a beeline at the event. You can always check out MS BBQ Invitation templates, they are pre-designed, customizable and downloadable! You can also see BBQ Invitation template.
Awesome BBQ Party Invitation Template
Download
BBQ Invitation Wording
wordtemplates.org
Microsoft Baby Shower Invitation Templates
Baby Shower is a time filled with expectation and hope. It is something that every family cherishes. A user can make the occasion even more special with beautiful and happy invitation cards. Creating such invitations has become easy with programs like Word. It is further simplified by MS Baby Shower template.
Microsoft Word Baby Shower Invitation Template
Download
Baby Shower Function Invitation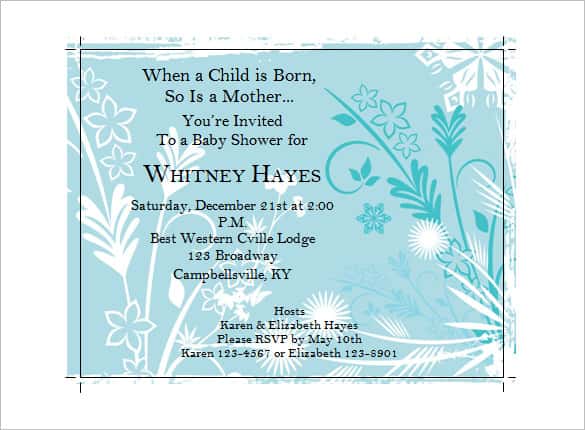 templatetrove.com
Microsoft Christmas Invitation Templates
Christmas is a time when all family comes together. Instead of calling them individually and forgetting some of them, a user can keep a list and mail them invitations. Christmas invitations can raise a sense of anticipation as too. People can download MS Christmas Invitation templates and make charming invitations for everyone.
Merry Invitation Editable Template Microsoft Word Format
Free Printable Christmas Invitation Template
asampleletter.org
Microsoft Email Invitation Templates
Sending beautifully designed invitations via the email has been catching up in the recent years. There are many who scan their wedding invitation cards and email them to distant friends and relatives. There's no need to go through all that trouble. A person can use MS Email Invitation template to make great invitation and send that instead we can use microsoft publisher invitation templates.
Potluck Party Email Invitation Illustrator Template
Download
Debut Event Invitation Card Template
Download
Email Invitation to Interview
hants.gov.uk
Sample Email Invitation for Meeting Format
mff.cuni.cz
Microsoft Event Invitation Templates
Whether is it an auction, a party or a business gathering, crisp, professional looking invitations are a must. One doesn't really need to expend much effort into making them. A user can browse through the Office online site and pick a MS Event Invitation template design that they like. From then on, it's only a matter of filling in the details.
Formal Event Invitation Letter Template
Sample Invitations for Events Template
iflyswimclub.com
Event Invitation Form Template
himes.house.gov
Microsoft Graduation Invitation Templates
Many parents like to mark the educational milestones of their children. Throwing parties when children have graduated high school and college is a great way to celebrate such a milestone. There are many MS Graduation Invitation templates available online, the users just need to pick one they like the most and enter the details.
Free Download Graduation Invitation Letter
Graduation Party Invitation Templates Microsoft Word
Graduation Party Invitation Template Free
wordtemplatesbundle.com
Microsoft Holiday Invitation Templates
Festive seasons cannot go away without you organizing a party or such for celebrating it. Creating invitation cards for the different festive parties and events is no longer tedium, thanks to the MS Holiday invitation templates. Loaded with great design and customization options, you can easily create a New Years', Christmas, Diwali invitations. You can also see  Holiday Invitation templates.
Lovely Holiday Invitation Template
Download
Free Printable Holiday Invitation Template
Microsoft Word Invitation Templates Christmas
Microsoft Word Invitation Templates for Mac
Microsoft Halloween Invitation Templates
Halloween has its own symbolism and appeal and there are many to use the occasion to throw great parties. Invitations to Halloween parties need to be just as interesting and fun as the holiday itself. There's no shortage of MS Halloween Invitation templates online. The user might find anything from the generic black and orange to the something unique.
Halloween Party Invitation Templates Microsoft Word
wordtemplates.org
Halloween microsoft Word Invitation Templates for Mac
mywordtemplates.org
Microsoft Meeting Invitation Templates
Invitations to meetings need to be sharp and professional looking; especially it is regarding a business deal or if one is meeting with clients. MS Meeting Invitation templates come in various formats, ready for corporate, committee as well as person-to-person meetings. The user will find a template fit for any sort of meeting Conference Invitation online.
Annual Business Meeting Invitation Template
Download
Free Sample Business Meeting Invitation Template
wordstemplates.org
Conference Meeting Invitation Template Example
msofficeguru.org
Microsoft Party Invitation Templates
Whether it's a birthday party, a party to celebrate a success or engagements, sending out invitations is a vital part of the process. Creating mass invitations isn't difficult with MS Party Invitation template. All the user needs to do it enter the information and email or print out and physically mail the invitations out.
Party Blast Invitation Illustrator Template
Download
Microsoft Office Invitation Templates Free Download
Sample Party Invitation Template DOC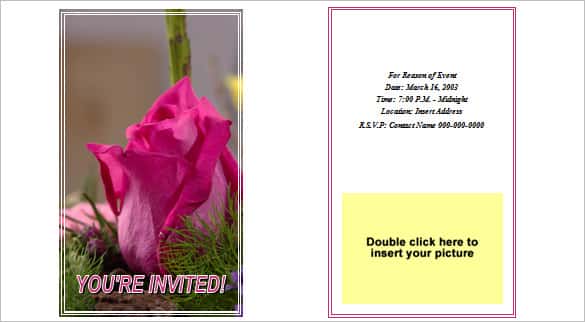 wordtemplates.org
Party Invitation With Microsoft Office
wordtemplates.org
Microsoft Retirement Invitation Templates
If you or a fellow colleague is hanging their professional life's boots for good, they cannot do so before throwing a big bash for all the people that love them – friends, family, relatives, other acquaintances etc. If you have to design retirement party invites for the guests, put your faith into MS retirement invitation templates. They are design,ready, customizable, easy to download and print-ready! You can also see Retirement Invitation template.
Sample Retirement Party Invitation PSD Template
Download
Download Retirement Party Invitation Template Free
Microsoft Ticket Invitation Templates
Issuing a ticket as an invitation is a fun way to call people to a particular event or party. Children find such invitations especially appealing. One can make tickets in programs like Word without problems and if the user isn't sure about the format & blank invitation templates for microsoft word, MS Ticket Invitation template will help.
Sports Ticket Invitation InDesign Template
Download
Microsoft Word Ticket Invitation Template Free
wordstemplates.org
Free Ticket Invitation Template
wordstemplates.org
Event Ticket Microsoft Word Invitation Template
wordstemplates.org
> Perks of Making an Online Invitation Template
Time Is Money: You have to admit, that Microsoft online templates are much faster to make than the regular invitation cards. When you save time, you can pay attention to details of your party. If you have a net connection, you just need to sit in front of your laptop/desktop, go through the options, select any one, and eventually download it. If this was your regular invitation card, you would have to wait for it to arrive at your doorstep and only then could you do something with it.
Style and Pattern: When you are searching for that one perfect Microsoft online template which will impress your guests, you have a catalog of various motifs and patterns right in front of you. Thanks to pre-made designs, you can easily figure out which colors are compatible with each other and which will be suitable in accordance with your party theme.
Professional Touch: You are NOT creating these party invitations with your hand. When you download a word invitation template, you get them with fonts, which look, professional and attractive at the same time. Since party invites are your way of letting the guest knows that he/she is invited, it is very important that they look good and professional.
Very Economical: The Microsoft invitation templates are free and easily customizable. You just need to hit the invitation template download button with your mouse and you will get your very own set of invitation cards. And, since you are on to ordering a bunch of them from some card making company, you get to save tons of money which you can easily spend on other things revolving around the party.
Recently there has been a sharp rise in the number of people choosing to send invites through mail. You can also go for the send/email option and invite people, especially if they stay far away. Also, for surprise birthday y parties or surprise retirement farewell party, the mail option is ideal. Other occasions like a Halloween party or a Graduation party can be made memorable with the help of Microsoft invitation templates. These printable invitations can either be given by hand or sent through a courier service if you are not open to the idea of mailing them.