Plan Templates
6+ Business Continuity Plan Templates
A business continuity plan is one of the most important yet the least expensive insurance scheme for any business. It ensures the continuity of the business activities even after the occurrence of any sort of disaster. Business continuity is a process of creating prevention and recovery to deal with threats that might affect one's company.
Business Continuity Plan Template
Creating and maintaining a business continuity plan for your company can help ensure that you have resources and information needed to deal whenever there is an emergency. To help you make one effortlessly, we have just the right document for you. This file helps you outline specific procedures and instructions you and your employees must follow in the face of a disaster, whether fire, flood or cyberattack. Download this plan template in Word and you can edit and customize as per your needs and requirements. Try now!
Business Continuity Plan Example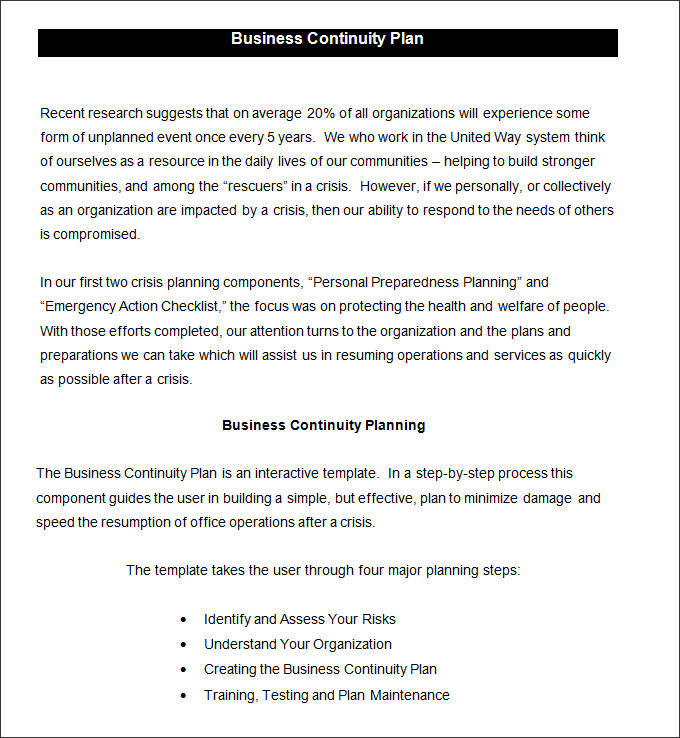 When you are creating a business continuity plan, then starting it positively is very important. Business continuity plan starts with how business continuity planning is important thus making the situation not look like a crisis. Such plans will help you continue your business in the best way possible, even if many unplanned events and situations might crop up.
Business Continuity Plan Sample

A business continuity plan sample, like the one above, is a plan that has in it an introduction that talks about how a BCP plan works in the first place. It has all the details of how to make the plan, adding the details, etc. with ease. After the introduction comes the part where you start planning for the future.
Business Continuity Planning Template

A flowchart can make any boring and official information or detail look more interesting. This business continuity plan template format makes use of flow charts making it easier to understand and plan using. It helps you define the scope of the plan, objectives, and the basic assumptions of such a business continuity plan. It helps you understand how to create such plans with the most effective strategies.
Business Continuity Plan Template Free

When it comes to business continuity planning it is important to have the program management planned as well. Examples of such program management can be seen in the template mentioned above. This template can be easily downloaded, edited and customized as per the needs of the user. Try it out now!
Create a Business Continuity Plan in 5 Steps:
Step 1: Goals and Objectives
The first thing for you to do would be to know the purpose of your plan. This way, it gets easier for you to make the plan you have to make. Make a list of all the goals and objectives you need to fulfill and know how you are going to do that in the most effective way possible. Your main objective and goals should be around the fact of how you will recover from a situation that poses a threat to your company.
Step 2: Potential Threats
This is one of the most important steps in the making of a business continuity plan. You should know what are the potential threats and issues you might have to go through in any unplanned situation. Such plans allow you to determine the risks your business needs to address. These possible disruptions in business could be lost income and sales, loss of customers. lost revenues ad profits, more costs, and expenses. fines, etc.
Step 3: Hedge Funds
You need to have a basic idea of how much is the risk going to cost you as well. So, obtain an executive sign off for such cases. You must have a risk assessment performed in the company so that you have a better idea of how to deal with a certain type of risk. Sit down with your key stakeholders and finalize the plan, so that they also have an idea on how much it might cost you and them since they are a source of revenue.
Step 4: Implement the Plan
Implementation of your plan is an important process so that you will know whether or not the plan will work during the risk situation if at all it crops up. Check business plans for more. Distribute the plan to all the stakeholders who are important for your company. Conduct training sessions to make sure that your employees are pretty comfortable with the steps you have mentioned in the plan. Identify any critical documents that might play a major role in handling such situations. Make sure that you also make a list of all the important contacts you might have so that you can also take there help during this time.
Step 5: Testing and Maintenance
Once you have all the points together and you have implemented the plan, you must test your plan so that you will know if you need to make any changes. Modify and update your business continuity plan as needed as this way, you can implement growth in the business. It is very critical and essential that your plan is tested and maintained regularly. The potential consequences you might have to go through because of a threat or a risk should be focused on.
Simple Business Continuity Plan Template

Having clear points to follow can help you tide over difficult times with greater ease. With the help of the above template, you can easily deal with any risk that comes your way. In case you have an unclear plan of action for your business, then you can use this template as it helps you make the best plan needed.
IT Business Continuity Plan Template

An IT business continuity plan template can be easily divided into various subparts. From objectives to many other changes, this template leaves no scope for any area to remain uncovered while making a business plan. The above-mentioned template can be easily downloaded, edited and customized anytime, anywhere.
Documentation and Back up:
Every business is a team effort. When you decide to use any of the business continuity plan templates that are mentioned above, then it gets easier for you to make your plan as you do not have to make one from scratch. Include a list of the employees that are assigned in job designations, which are important for the growth of the business. The template must include the names of all the employees that can fill in, in case the former employees suddenly decided to quit or goes on leave.
Write a list of the most important pieces of equipment and the most loyal, crucial and essential vendors and suppliers you have using any of the plans. You can also check strategic business plan templates for more. In this section, it is also crucial that you find where you would hire equipment in case of disaster. Here, you are also required to create a backup for all your data in a place outside of the office premises.
Alternative Office Location:
From your list of employees, you will be able to know who can work from home and who cannot. You need to find an area that is small yet comfortable for the employees who are crucial and cannot work from home. A business continuity plan boosts employee morale and helps in keeping them attentive and active during events of risk and threat.
Mention all the policies and laws that everyone needs to follow as a part of the plan, so that all your employees are aware of the kind of risk and also, what they can do to make it subtle. Also, identify who can telecommute and make sure that you have them on the risk management team.
Break Down Procedure:
Use any of the templates mentioned in the article to list how the responsibilities will be handled in the case of a disaster. Write who takes up what responsibilities and what happens, step- by- step. This is a sequence of how your [business continuity plan] will be executed. Business development plan templates will help you understand how you can develop your business in the best possible way.
General FAQs
1. What Do You Mean By Business Continuity Plan (BCP)?
A business continuity plan (BCP) is a plan that helps businesses continually run without incurring many losses even during a time of emergency or disaster. The emergencies or disasters could be either due to a fire or any other cause which doesn't let a business function under normal conditions.
2. What Are the Important Components of a Business Continuity Plan?
Following are the important components of a business continuity plan:
Name of the business
Purpose and scope
Risk management plan
Impact analysis
Incident management
Business continuity strategies
Evaluation and appendix
3. What is the Purpose of a Business Continuity Plan (BCP)?
The purpose of a business continuity plan (BCP) is to protect personnel and assets of a company so that they can function quickly even when disaster strikes. The risks here may include natural disasters, weather-related events, or cyber-attacks.
4. How Do You Test a BCP Plan?
You can test your BCP plan by following these points:
Review your BCP
Determine the time and duration to test the plan
Draft objectives for employees
Create a situation
Evaluate
5. What is the Difference between BCP and DRP?
While the business continuity plan (BCP) focuses on keeping business operations running, the disaster recovery plan (DRP) plan focuses more on the technical side of the business such as data backup and recovery, and computer systems.
More in Plan Templates
| | |
| --- | --- |
| Business Continuity Plan Template - Download Free Word, PDF ... | Business Continuity Plan - 9+ Free PDF, Word Download Document ... |
| Business Continuity Plan Template – 12+ Free Word, Excel, PDF ... | Manufacturing Business Plan Templates - 7+ Free Word, PDF ... |
| Business Plan Template – 291+ Free Sample, Example, Format ... | Business Plan Template – 108+ Free Word, Excel, PDF Format ... |
| Non-Profit Strategic Plan Template - Free Word, PDF Documents ... | 11+ Disaster Recovery Plan Templates - Free Sample, Example ... |