Plan Templates
7+ Sample Marketing Business Plan Templates Free Download
Establishing a business gets you nearly there but that's not enough. There is way too much competition in the society and it is only the right kind of marketing that can get you noticed by the right clients. It has thus become something of a necessity for companies to invest a lot of time and energy into making sure their marketing is done right. And the first step to this is to make a marketing business plan. A marketing business plan is a plan that businesses make to increase their business and get more clients to sign up with them. It is something of a norm to make a marketing business plan by start-ups these days.
Sample Marketing Business Plan Template
Digital Marketing Business Plan Template
Marketing Agency Business Plan Template
Small Business Marketing Plan Template
Business consultant Marketing Plan Template
This is what a Marketing Business Plan usually consists of:
Before you download one of the sample marketing business plan templates that we have got for free, you should know what a plan such as that is usually made up of. Here are all the components of a marketing business plan listed out.
A detailed description of what your business really is about.
The target clients that you would like to attract by a target time.
The marketing strategy that you wish to employ.
See More: Annual Marketing Plan Template, Business Marketing Plan Template
Blank Business Marketing Plan Template

This template details the description of what the business is about, its clients that are attractive and can be targeted within a specific time. And also helps with marketing strategy for employing. It is essential to decide marketing plan and can answer relevant questions. Though it is little time consuming to fill all details of the form, it is worth the time spent at the initial stages. The rest will flow smoothly and your plan is not required to be altered regularly.
Sample Business Marketing Plan Template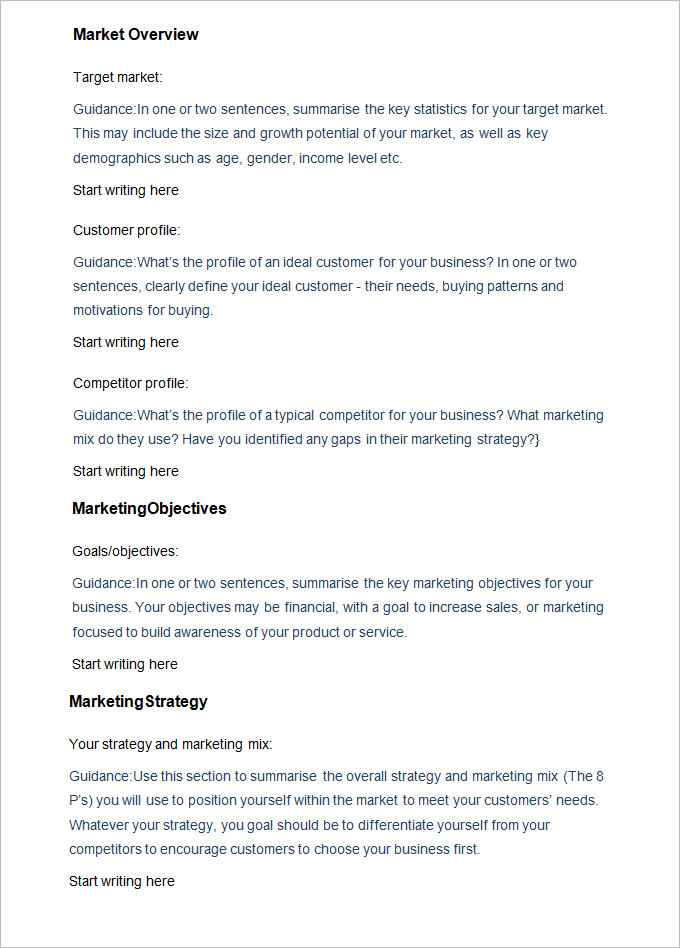 The template includes following steps and thus makes the journey to the objective simple and efficient. It is divided into 3 sections namely Market Overview, Marketing Objective and Marketing Strategies. Other subsections and profiles are Target market, customer profile, competitor profile, objectives or goals, marketing mix (place, product, price and promotion) and strategies.
Marketing Plan Template

This most important and featured plan is often overlooked by small businesses. This will work as a reference document at any point of the process. It helps in methodical approach for processing goods and services to satisfy customer's wants and needs. Before doing this ensure you have your objective finalized. Else your plan will keep altering and will not have an easy and fast solution. Various elements like action plans, responsibilities and budget is determined using this marketing plan.
> Marketing Objectives Template
The ideal way for identifying and describing the objective of the business is by SMART concept. SMART stands for Specific, Measurable, Achievable, Realistic and Timely. Also marketing mix and Marketing strategies play a very important role. The 7 major P's of marketing should be considered namely: pricing, position, promotion, people, product, physical environment and process.
> Conclusion
With the help of this the marketing plan summaries the key constituents of marketing plan. The above templates will help in executing the best marketing plan that will lead you towards your business goal. Use this as a tool for quick reference at any point of your journey towards your goal. A well-executed marketing business plan will ensure you are moving on the right track towards your target. If you have any DMCA issues on this post, please contact us!