Plan Templates
Non Profit Marketing Plan Template – 10+ Free Word, Excel, PDF Format Download
Are you hoping to make your organization known to many people? If so, all you need to do is to prepare a non-profit organization marketing plan. The small business marketing plan is a written strategy on how an organization will make itself and its dealings are known to the people within and outside the organization's location. It also helps you understand where your organization stands and also, what you can do for its growth.
Nonprofit Marketing Plan Template
Increase awareness surrounding your nonprofit organization by trying out this nonprofit marketing plan template in MS Word. This document will allow you to note down all of the important details of the organization, such as its priorities and goals. You can also present a clear financial plan just by downloading and customing this template.
Nonprofit Business Plan Template
Preparation is the key to success. So download this free marketing plan template in Google Docs to stay ahead when it comes to your business planning. This nonprofit business plan template can be instantly downloaded anytime and anywhere. It is fully customizable and editable. Achieve your marketing goals and start making profits with the help of this amazing template!
Marketing Plan Template
Make sure to download this sample nonprofit marketing plan template that will definitely help you create an effective marketing plan for your organization. This fully customizable, editable and printable marketing plan template is supported by Google Docs. You might also be interested in preparing a plan templates, which will help you create the best possible plans for your organization.
5 Steps to Create a Marketing Plan
Step 1: Choose Your Goals
Perform a self-assessment on where you stand in the market. Set certain practical and developmental goals that will help your company prosper. Sketch your approaches and strategies on how you are going to establish ground rules and goals to prosper in your field of business.
Step 2: Target Audience
Once you are set with the goals for the company, learn who your target audiences are. Work towards keeping existing customers and also, try getting new clients into the company. Boost your volunteers and try to spread as much awareness as you possibly can. This will also help you find the right support that acts as a push to your business.
Step 3: Build Your Content
Outline a plan that will help your non-profit marketing plan strategy. Understand who your competitors are and what you need to do to get better than them in building a better empire for your business. You have to try and retain your clients so that they know what to do. Always have an action plan ready for any situation that might come up without former notice.
Step 4: Online Marketing
There are many online marketing templates available online for you to check out. Since there has been a lot of technological advancements recently, going online makes a lot of difference in the growth of our business. Choose what your online and offline strategies would be to interest people so that they have an idea of what is that you do. Social media plays a major role in telling people who you are, so make use of it in the best ways you possibly can.
Step 5: Analyze and Assess
Define what your budget is and what are your targets as well. Analyze and assess your marketing plan in case there are any changes to be made. Track and measure all your results regularly. Develop a timeline and measure your progress in a regular process. Mention as to what makes you unique and find what sets you apart from the rest. Use a nonprofit marketing plan template, so that you can create the best plan for your organization.
Sample Non-Profit Marketing Plan Template

mtnonprofit.org
This plan template describes various challenges faced by a non-profit organization and their solutions in the form of strategies and tactics to run your business. There are many non-profit marketing plan templates in PDF form that are available for you online. Do check them out as well.
Non-Profit Sample Marketing Plan Template

sobel-cpa.com
This particular nonprofit sample marketing plan template points out the key tactics in branding a non- profit organization. Guidance for communicating with current and future donors and clients in a variety of ways are given in the template. You might also want to check out the free plans template, as these will give you a broader idea of how to create the best plans for your organization.
Developing Marketing Plan Non-Profit

ilru.org
The above template for nonprofit organizations clearly states the goals, key questions, marketing goals, benchmarks and measurements with examples, that will help you understand your organization better. This helps in formulating a powerful marketing plan that helps in the growth of your business. Check out more plan templates available on our website now!
Create a Nonprofit Marketing Plan Template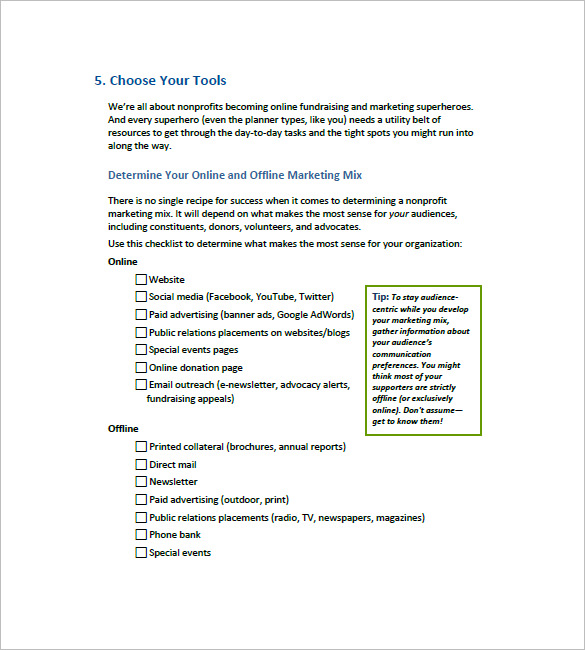 fundraising123.org
This template gives you an idea of how to go about creating a non-profit marketing plan template that gives knowledge of various marketing tools for NPOs. An elaborate list of online and offline tools is provided. This template is also offered in word format.
Example of Non-Profit Marketing Plan Template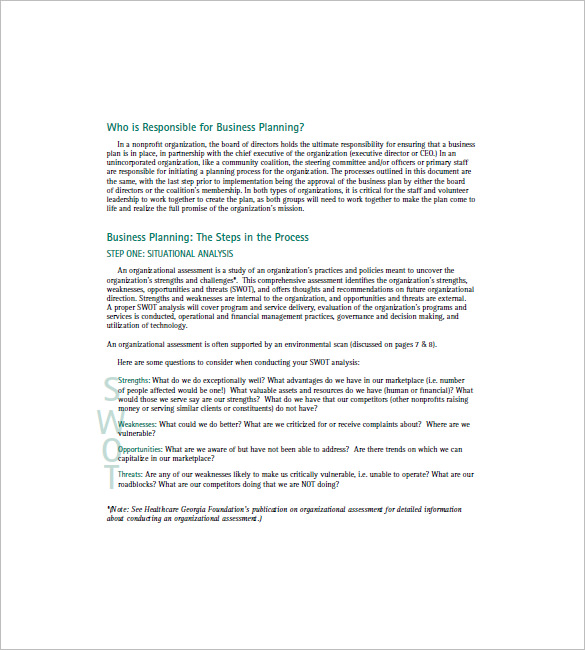 healthcaregeorgia.org
The above-given nonprofit marketing plan example template clarifies the responsibilities of business planning for any company/business. Micro-Level situational analysis is done. Factors such as strengths, weaknesses, opportunities, and threats are covered in this template.
How to Write a Non-Profit Marketing Plan Template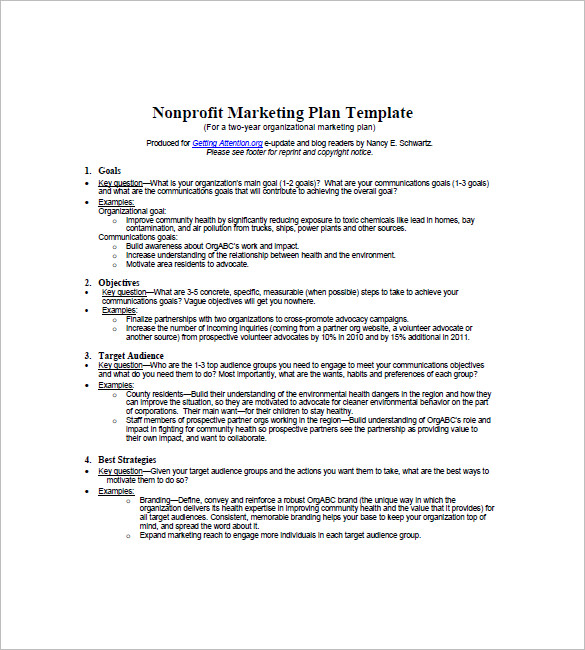 bbbsi.org
Instructions for formulating a solid marketing plan are given in the above template. Goals, objectives, target audience and best strategies are stated with examples. Go through this free document carefully for a better idea on how to create the best nonprofit plan for your organization.
Non-Profit Marketing Plan Template Free Download

handsonnwnc.org
Adopting a marketing plan will enable your organization to solicit funds from well-wishers since your activities will be known by many people and as a result, they help contribute towards your charitable activities. It will also attract many people to join you as volunteers or workers thereby relieving you and your team from the backlog of work. It also ensures the target persons; the people you intend to serve are aware of the existence of your organization. Download a free template in the best format download to use for writing your marketing plan. Then sample example templates are free.
Make the most effective marketing promotions use of our simple nonprofit marketing templates and samples. It will help you create one of the best-needed plans for your organization. Edit them using your favorite software and voila! They are available for download anytime, anywhere.