Plan Templates
SIOP Lesson Plan Template – 9+ Free Sample, Example, Format Download!
The SIOP (Sheltered Instruction Observation Protocol) model offers a validated and research-based lesson instruction plan model which has proved to be really effective for US students. A SIOP lesson plan template is comprised of 8 interrelated components, such as – lesson preparation, background build-up, comprehensible input, the strategies to be followed, interaction with learners, application/practice, lesson delivery as well as review and assessment. You may also like Art Lesson Plans Templates.
Sample SIOP Lesson Plan Template
SIOP Lesson Plan Template 2 Free PDF Format Download

gcu.edu | This is a very functional SIOP lesson plan template. It includes all the important aspects that make up a proper lesson plan and under each one of them you are getting instructions on the content.
Siop Math Lesson Plan Free PDF Format Download

faculty.smu.edu | This SIOP math lesson plan format is broadly divided into 3 parts. The first part contains pointers about key objectives, the second one talks about language objectives and the third one is about key vocabulary.
Sample SIOP Lesson Plan Template 1 Free Download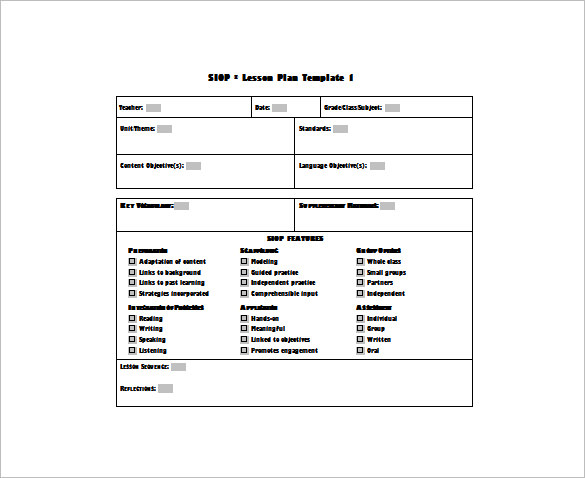 k12northstar.org | This sample SIOP lesson plan here comes up with two tables. The first one talks about Standards, work theme, content objective etc. while the second one is all about the different SIOP features.
SIOP Model Lesson Plan Sample Word Free Download

coe.fgcu.edu | This SIOP model lesson plan starts with grade, theme, content objective, language objective and then it goes down into a table for key vocabulary & supplementary materials where you discuss about SIOP features.
Siop Lesson Plan Template 4 Sample Template Free Download

nsbsd.org | This SIOP lesson plan template has come up in a table where you have all the important pointers of a basic lesson plan like lesson title, content standard, grade, key vocabulary, connections to prior knowledge etc.
Free SIOP Lesson Plan Template 3 Example PDF Download

dciu.org | This SIOP lesson plan template has everything you need in a standard lesson plan such as topic, class, content objective, key vocabulary, materials or resources, higher order questions, activities & time.
Siop Unit Lesson Plan Template Free Word Format Download

moroni-itep.wikispaces.com
UAB's SIOP Lesson Plan Free PDF Format Template

uab.edu
SIOP Lesson Plan Components Example Free Download

languagelane.beutels.com
A siop lesson plan template example enables the teachers to systematically address the linguistic and academic needs of learners through organized design & delivery of the Lesson Plan Templates. Though it was primarily develop for English-language learners but studies say that the model is effective for all subjects.