Plan Templates
Weekly Lesson Plan Template – 11+ Free Sample, Example, Format Download!
A busy teacher with classes almost every working day a week, should follow a weekly lesson plan templates. Such a Teacher Lesson Plan Templates will outline the lessons to be introduced in each of the classes you go to, the objectives to be learnt from each lesson, the homework you want to assign and the new things the students are going to learn.
Weekly Lesson Plan Example
Free Toddler Weekly Lesson Plan Template
Special Education Weekly Lesson Plan Free Word Format Download

ksb.kyschools.us
Weekly Preschool Lesson Plan PDF Format Download

This is a very simple weekly preschool lesson plan. In this case, you have the different study areas noted on the left side and the activities to be performed under each area would be listed alongside- with due regard to the day.
Sample Toddler Weekly Lesson Plan Free PDF Download

cradles2crayonsllc.com | This is a simple toddler weekly lesson plan template which has listed the various areas of the study on the left side of the document. The other part of the document is about the activities under each area.
PreSchool Weekly Lesson Plan Sample Word Free Template

websites.pdesas.org | This is a basic preschool weekly lesson plan. You have the column for activities on the left and the other columns are for the tasks to be performed under the activities and the specific days for each task.
Weekly Lesson Plan For Students Free PDF Example Download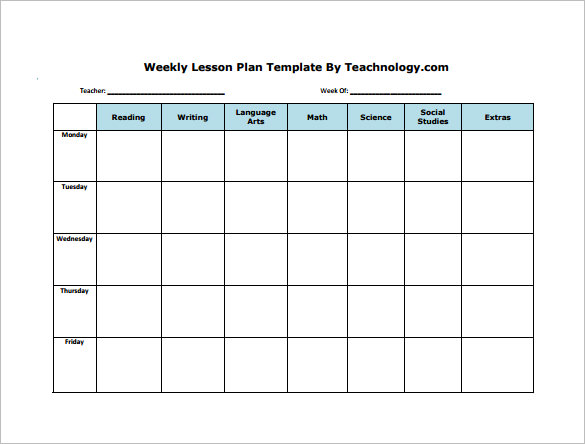 teach-nology.com | This weekly lesson plan for students has come up with the days listed on the left hand side. The other part of the template is about the different study areas and the activities under each of them.
Common Core Weekly Lesson Plan Example Word Free Download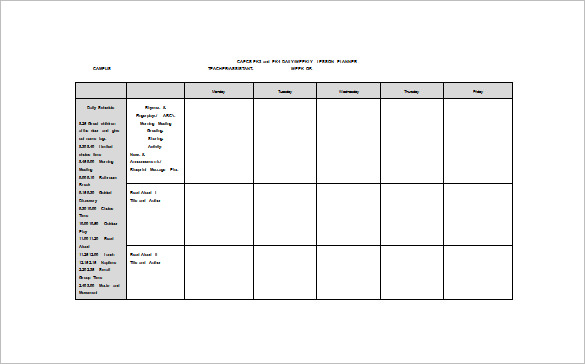 capcs.org
Kindergarten Weekly Lesson Plan Free PDF Format Download

eworkshop.on.ca
Class Room Weekly Lesson Plan Free PDF Format Download

maschoolibraries.org
Teachers Weekly Lesson Plan Free PDF Example Template

socorro.k12.nm.us
Elementary School Weekly Lesson Plan Example Template

cal.org
A weekly lesson plan template example would be handy irrespective of the classes or grades you teach and would ensure that your entire week stays in order. when you will have the entire Lesson Plan Templates for the week before you, chances are less that you will unmindfully skip on the necessary lessons.