Box Templates
15+ Heart Box Templates
Has the use of heart box template ever crossed your mind? Chances are that it is highly likely that you have thought about this at some point in time. These beautiful paper box templates do have many uses, which means they are downloaded and used in so many different ways. For instance, you can use them as tools to store your precious jewelries, earnings and rings.
Heart Gift Box

This is a heart box template with a beautiful bow design over it. The top surface of this heart shaped box has a glossy pink effect along with tiny polka dots that make it a perfect choice for keeping jewellery and for gift purpose.
How to Make a Heart Box

paper-life.ru If you are wondering about how to make a heart box out of paper then this tutorial would help you step by step to achieve your mission and the end result of all your efforts is sure to mesmerise all.
Personalized Heart Jewelry Box for Bridesmaid

This one is a personalised and small jewellery box where you can keep little precious items such as earrings, nose pin and finger rings. The outer coat has a silver design with black colured interiors that make the box all the more attractive.
Large Heart Shaped Boxes

Yet another beautiful and passionate red coloured heart box template that would make all mesmerized by its beauty. You can keep your previous stuff here or use it for gifting something pricey to someone special.
Sample Heart Shaped Gift Box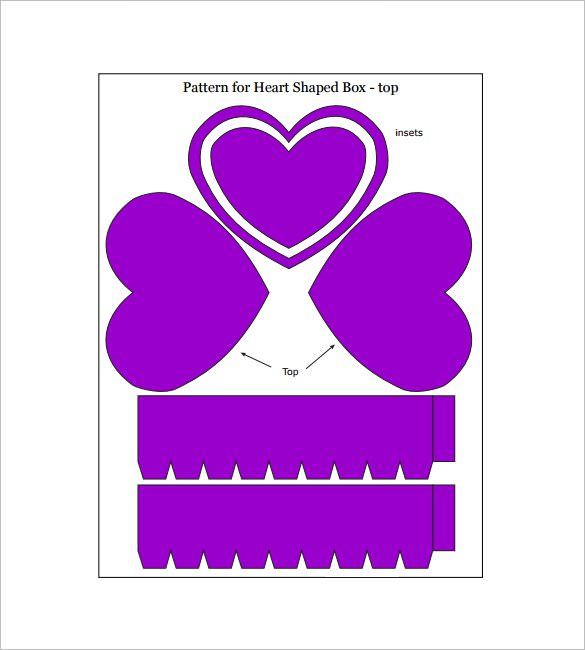 auntannie.com If you are willing to learn how to make heart shaped box out of cardboard then this template could be your thorough guide. All that you will have to do is follow the step by step guide and create an exceptionally beautiful box.
Heart Shaped Box of Chocolates

This one could be the ideal gift for Valentine's day! You will simply have to get hold of this origami heart box with lid and pour in some pieces of home made chocolates and ready to gift it to your darling Valentine.
Love Heart Box Template

You can make use of this step by step a shapes of paper gift box in order to create gift boxes by yourself. Craft your own box and grab the attention of your friends and family with this lovely heart shaped box that all would love.
Free Heart Box Template Printable

rubberstamping.about.com This is the best template tutorial for beginners when you are wondering how to make heart shaped box out of cardboard. This can be made very easily, just cut the paper accordingly, fold it, stick it and your box is ready.
Handmade Wooden Heart Box

This is one of the best wooden boxes that can be used to keep small jewellery items in the box. You may also gift it with a cute present inside to your friend and gather appreciation for your thoughtfulness.
Velvet Heart Shaped Gift Box

This is yet another origami heart box with lid made of velvet that can be used both for personal and commercial use. All you have to do is create something and present it within the box to your friends or someone special.
Heart Shaped Jewelry Gift Boxes

This heart box template is an ideal way of keeping all your jewellery items like bangles, nose pins, ear rings or anything you want to. This box serves to be the perfect gift for birthday where you may give a little piece of jewellery along with it.
Heart Shaped Boxes

This set of heart shaped boxes is a great gift for Valentine's day celebration. You can gift it as a goodie to promote your business, serve chocolates in the boxes or simply sell them for those who are willing to buy.
Heart Shaped Box

Just have a look at this heart box template with a classic appeal. It has a passionate solid red coating with a golden bow attached along and it would be definitely a great gift for someone you love or for someone you are willing to commit into a relationship.
You can also use the this kind of template to house rock any collections that you have. It is likewise best for separating your beads from the collection of your jewelry. You can download the box templates and use them for free from the internet. If you have any DMCA issues on this post, please contact us!