It takes a special combination of luck, talent, and handwork in order to succeed as an artist, singer, musician, or actor. Talent companies, agents, managers, and scouts take all this into account when they look for individuals or groups who may pass the cut and who they may represent. And to help attract these prospects, talent agencies need to advertise their services well with the use different advertising materials.
So if you are running a talent agency, you will find the multiple examples of printable talent agency flyers in this article helpful. Additional information on how to choose the best talent agency flyer template is also included below. So read on…
Check Out These Wonderful Talent Agency Flyer Templates
Here they are! Embedded below are multiple examples of printable flyer templates that you can use to create the right advertising material for your talent agency or company. Also, remember that most of these templates are available as Illustrator or PSD templates so make sure that you have the right graphic design software program installed on your computer before purchasing the flyer template that you like.
Colorful Talent Agency Flyer Template
Editable Talent Agency Flyer Template
Fashion Model Talent Agency Template
What is a Talent Agency Flyer Template?
A flyer is a printed document that typically contains general or advertising information about a person, thing, event, place, or occurrence. In business, flyers are mainly used in print advertising. Other examples of print adverts are business brochures, rack cards, newspaper ads, booklets, and even business cards.
So if you operate or manage a talent agency or recruitment company and you want to advertise your business or services using printed flyers, these printed materials will be called talent agency flyers. You may also check out this article on how to create a good startup marketing plan.
In addition, if you want to create talent agency flyers from pre-made digital files, you will need to use talent agency flyer templates. As its name implies, flyer templates are pre-formatted digital documents that will already include all the graphic design elements needed to create an actual flyer. If you purchase a printable flyer template, you will just need to download it, make some edits to add your company contact information, and then print it out.
Geometric Style Talent Agency Flyer Template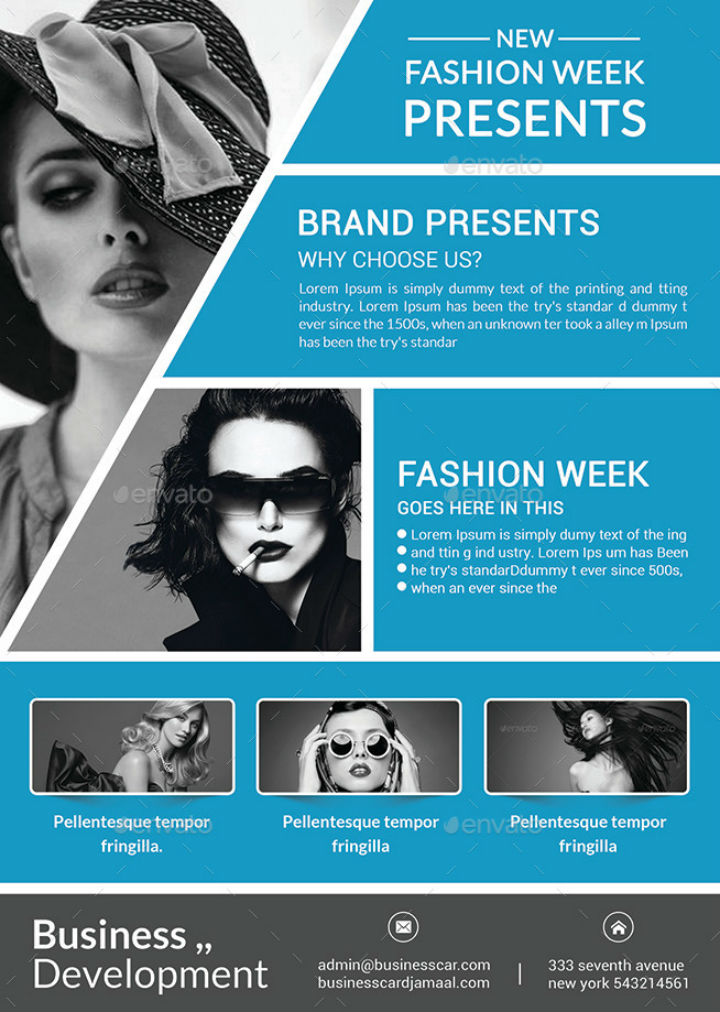 Modeling Talent Agency Flyer Template
Professional Talent Agency Flyer Template
How to Choose a Talent Agency Flyer Template
Just choosing different kinds of printable invitation and even wedding templates, choosing a talent agency flyer template design can be equally overwhelming. This can happen when you go to different online graphic design marketplaces and you will be presented with various iterations of flyer designs. On a side note, how about checking out these fashion show flyer templates.
So, if you are on the lookout for well-designed talent agency flyer templates but still wants to make sure that these flyer template designs coincide with your company branding image, we have prepared a list of different factors that you should consider prior to purchasing a talent agency flyer template. Read them below.
1. Company Branding Image
The first thing to consider when looking for a talent agency flyer template design is, of course, your own talent management company's business image. As we have mentioned earlier, it is important for any of your advertising materials (like your flyer templates) to showcase and evoke the same kind of image or impression.
To illustrate, if you are operating a talent agency for musical actors, your company may have a company image that is lively, hardworking, and adaptable. These characteristics will help people, fans, and theater owners rely on your talents as they also exude these characteristics or virtues. Therefore, if you are looking for individuals who will best exemplify these character traits, the best way to attract these kinds of people is through the use of printable flyers that evoke the same emotions or virtues.
Often, it can be difficult to translate your own company values and goals into something that will create a visual impact. That is why you need to diligently look for a suitable flyer template design as well. In most cases, you can look for a flyer template that includes some branding graphic design elements that your company represents but you will still need to add or modify the template design if you want it to truly speak your brand.
2. Template Price and Printing Cost
The next thing to consider when picking out a talent agency flyer template is the total cost of the template itself and for printing it. Most of the time, a flyer template only costs a few dollars ($2-$30). However, printing the flyer template is another matter.
Printing costs generally vary depending on the size of the template, the type of paper you are using, the kind of ink you are using, the printing lead time, and the printing format you will choose. The higher the quality of the source materials, the higher the total printing cost will be. You may also see travel flyer templates.
So if it is your first time planning the marketing campaign for your talent agency, make sure that you factor in these costs before you choose a talent agency flyer template. If you are operating on a tight budget, you may have to choose a more affordable flyer template design or you may have to cut down on the total number of flyer templates that you are printing out.
3. Customizability Options
Another factor to consider prior to purchasing a talent agency flyer template is the template's available customization options. As we have mentioned earlier, the template end-user will still need to edit the template itself before printing it out. Remember that these Photoshop templates are just pre-formatted. It means that all the image placeholders, illustrations, font styles, text boxes, etc are already created and positioned on the template. All you have to do as the template's end-user is to add your company details into the image and text placeholders.
Editing a pre-made template will usually just involve adding your company logo design, using your own pictures, and pasting the ad copy on the template itself. This task is relatively easy to accomplish especially if you have a background in graphic design and using different graphic design software tools.
4. Flyer Template Size
The next factor to consider when selecting a talent agency flyer template is your ideal flyer template size. Know that flyer templates can come in different sizes and formats. For examples, there are A5 flyer templates, letter size flyer templates, and even rack card size flyer templates.
Some pre-made flyer templates can be re-sized to automatically fit the template printing size of your choice. However, there are other templates that will have a fixed template size when they are printed out. Make sure to read and check the template download file's description page for this piece of information before you decide to buy the template. You may also see agency flyer templates.
This is a very important factor to consider for those who already have set their minds on an ideal flyer size so make sure to check the template size before purchasing a template. You may also see recruitment flyers.
5. Editing Skills
Your own graphic design skills is another factor that should be factored in when picking out a talent agency flyer template. This is especially important if you are doing the editing and printing yourself. (If you are delegating the entire template editing process, please disregard this factor.) You may also see insurance flyer templates.
A few paragraphs above, we have mentioned that flyer template end-users will still need to make minor customizations on a template. And if you intend to transform a basic flyer template design into something more, you should make sure that you know how to use different graphic design software tools like Adobe Illustrator and Adobe Photoshop. You may also check out different Illustrator and Photoshop tutorials online if you want to learn more advanced editing skills.
And there you have it! We have just listed the five main factors that any talent company manager or owner should make sure to consider prior to choosing a flyer template design for their respective companies. Internalize and learn from all these tips so that you can create the best advertising templates and materials for your business. You may also see best advertising proposal templates.
Black & White Fashion Talent Agency Flyer Template Bundle
Blue Fashion Week Talent Agency Flyer Template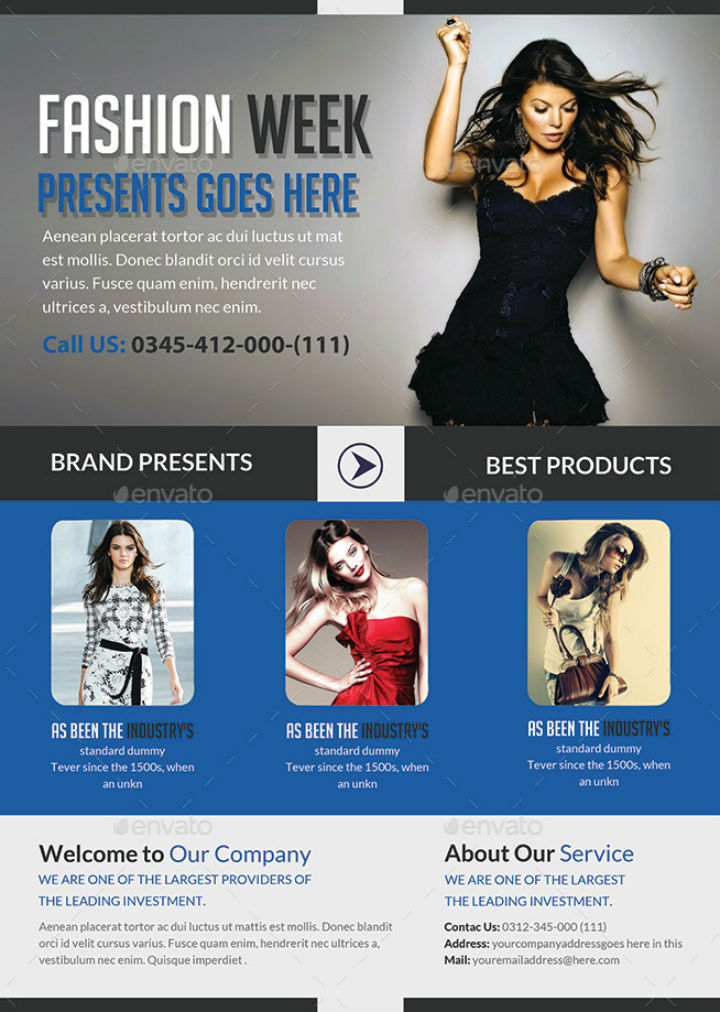 Simple Fashion Agency Flyer Template
Sophisticated Talent Agency Flyer Template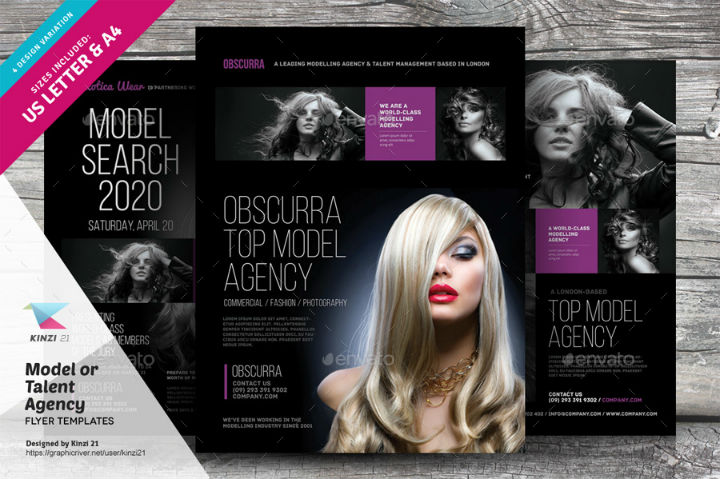 Top Star Talent Agency Flyer Template
Have You Found The Best Talent Agency Flyer Template?
This article is a treasure trove of creative and well-designed talent agency flyer templates. We hope that you found the flyer template design that best suits your own business and that they help you in accomplishing all your business goals. If you want more tips on how to successfully create a business marketing plan, check out the rest of the website for more business-related articles and templates.
And do not forget to help spread the word about the usefulness of this article with your friends, colleagues, and followers on social media!