If you have ever been involved in production of anything, you might have noticed that your products would also have to be labelled. This is important as any relevant details would have to be placed on the labels. This would include ingredients, nutrition facts, and others, to say nothing of the item's name and the brand.
These particular templates, though, happen to be for honey jars, which would need to be labelled like any other product. Thankfully, to make the process faster for personnel involved, there are some shortcuts like label templates that you can use to save yourself time designing new labels.You may also see jar label template.
210+ Label Templates in Word | PSD | InDesign | Apple Pages | Publisher | Illustrator - START DOWNLOADING
Honey Jar Label Template
Free Honey Jar Label Template
Download
Honey Jar Label Stickers
Download
Blank Honey Jar Label
Download
Custom Honey Jar Label
Download
Features of Label Templates
When many people look at an item's label, they would notice the name and brand first, as those are the most relevant bits of information relevant to the product. But product label templates should feature all the information that should be present on a professionally made label including the following:
Nutritional Labels – Any product is expected to display all its nutritional information on its label so that buyers can stay informed. All products are required to do this by law, so your own products should display this as well. This also applies to the weight and volume of the product, similarly in the name of transparency.
Expiration Date – The product should also display its expiration date clearly so that buyers may know how close to expiring the item is. It would be unfair for a buyer not to know that something they bought was due to expire in a matter of days, hence the importance of this information.
Bar Code – In the interest of being able to present buyers with more information, the label should ideally have a bar code. People may not be able to read the bar codes themselves, but a store should a scanner that can read whatever information is stored in the code. The code also allows stores to keep better track of their inventory, including in the event anything should be stolen.
Printable Honey Jar Label
Download
Vector Honey Jar Label
Download
Honey Jar Favor Label
Download
Personalized Honey Jar Label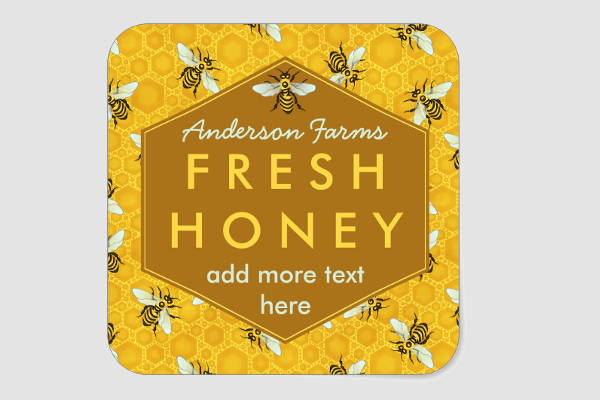 Download
Who Can Use these Templates?
Most people might assume the first use for honey jar label templates would be for exactly that: labeling honey. However, there are other people who could use jar label templates aside from those producing the honey. Practically any business could find a use for its own labeling templates to save time on designing their labels including the following:
Advertising Companies – It would not be out of the ordinary to assume that an advertising company would be interested in these kinds of templates, as it is their job to make these kinds of designs. Templates would be a good foundation for trying to come up with their own new eye-catching designs.
Packaging Companies – Packaging companies are responsible for the packaging of these products, and it would make sense for them to use these templates if they were to design their own labels. Again, these templates are a good shortcut so that the company need not spend too much time designing from scratch.
Jar label templates are flexible enough to be used by product. If you are in a position where you could use a template to help you make new labels for jars, particularly honey, these should be able to help you.