Fundraising Templates
10+ Fundraising Banner Templates
The process of building the perfect banner of any fundraising invitation in the event is the most challenging task. The banner has to be perfect and appealing to make an impact. The right blend of colors and content make the perfect banner; something that attracts and retains attention. Build your own banner by keeping in mind the steps mentioned below or select one template from the samples to lessen your load.
Table of Content
Steps to Make the Right Fundraising Banner
Step 1: Use Different Fonts for Heading
The heading of the banner must stand out. Make sure that all the alphabets of your title are read properly with the font that you're using. The remaining content of your banner must be written in one font. If you wish to highlight another word, use formatting like bold. Remember, typography is the life and soul of your banner.
Step 2: Include Your Watermark
Watermark is the best way to demonstrate your brand awareness. Every banner must include a watermark to ensure the security of your creativity. However, it should not overpower the content and the images that you post. Set the transparency accordingly. A colorful watermark will look impressive from the reader's eye.
Step 3: Use Minimal Colors
The use of multiple colors disturbs the overall impact of your banner. Even if it's scattered across the banner or arranged in a pattern, use of more than 3 colors must be strictly avoided. If you wish to add more creativity into your content, include monochrome patterns.
Step 4: Describe in Short
The purpose of fundraising must be printed in short. If you use more words, the reader's interest will fade off in the first second after looking at the length of your content. You would want to keep your reader engaged by using only a few sentences with quality words. Attention spans are low, so keep the content to minimum.
Step 5: Equal Space for Content and Image
Balance is the main point of interest in this sub section. The overuse of images or content must be avoided. The banner scattered with images will send out a juvenile vibe whereas, the use of more content will discourage your reader from reading. Now that you know the best practices of creating a fundraising banner, let's share some amazing examples with you.
10+ Fundraising Banner Templates:
1. Cancer Fundraising Banner Templates
Click on the link to be directed on the demo and download page. This page allows you to select Photoshop and Illustrator format of the template so that you get complete independence of editing the fonts and colors used in your banner. You can also download breast cancer flyer template and it is editable.
2. Roll Up Fundraising Banner Template
Organizing a running event? Here is a roll up banner in PSD template uniquely built for you. It comes with 3 color variations – purple, green and white. The choice of color sets the perfect tone for your event, resembling your brand. These templates are made for roll up banners.
3. Advertisement Fundraising Banner Templates
Looking for an advertisement poster style banner to display on the bus stops? This is the section you would want to choose. The sample template is so alluring that you wouldn't have to look for any further editing. All you need to do is replace your content and print the banners. Download this comprehensive template today to get your fundraiser marketing off the ground in style.
4. Colorful Fundraising Banner Template
This sophisticated donation flyer template uses minimal colors to create maximum impact on the reader's mind. It does not crowd the space by adding extra content that elaborate the mentioned details. The luxurious shades of blue and white make it perfect for a fancy diner fundraising event.
5. Vertical Fundraising Banner Templates
Now what you see here is a complete package of non-profit blog theme fundraiser templates. It is ideal for any type of fundraising event. These banners have abundant space for you to replace photos, include images or brand logo. You get to create an alluring banner just with some minutes of work.
6. Education Fundraising Banner Template
This donation template understands the importance of images to portray an education fundraiser event. The layout of the template gels perfectly with the content, allowing you to post price variations for different categories of your event.
7. Water Fundraising Banner Template
This fundraising template uses smart object feature to help you change images seamlessly. Every section here is divided into layers. This helps you in customizing every little detail provided in the sample template. The different size resolutions make it perfect for all type of ads.
8. Premium Fundraising Banner Template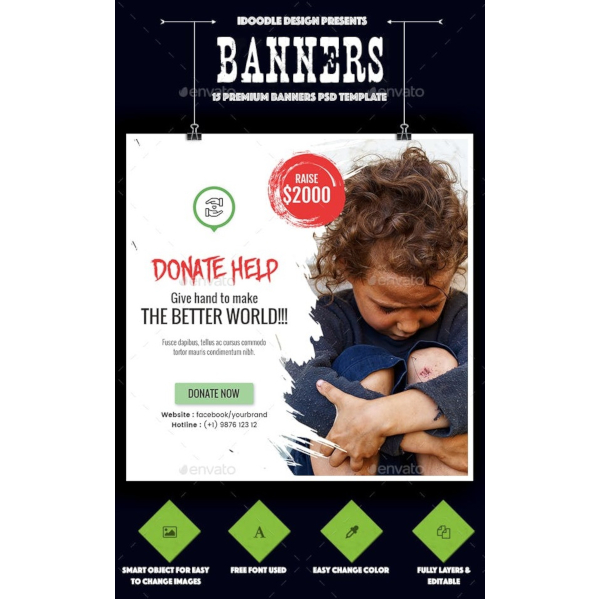 Any full-width image will impress the readers enough to continue looking at your content. This restaurant fundraising template uses different fonts to engage your audience. You can create a bus stop banner or a Facebook ad with the formats provided on the purchase of this premium template.
9. Recycling Campaign Fundraising Banner Template
If you are looking for a campaign poster that functions as an infographic, the link above is the right choice for you. It comes with different charts and image compatibility. If you wish to customize it further, convert this PDF file into any version of your choice and start configuring it.
10. Blank Fundraising Banner Templates
This file comes with a package of multiple banners templates to help you choose the best fit for your fundraising event. The serene white background gives you space to flaunt your creativity. You get to include your favorite palette and designs to ensure the perfection of your banner.
11. Customizable Fundraising Banner Templates
The link takes you to a PDF file that provides you with the best sample banners for your fundraiser. You can change colors including the one in the background so that it fits your organization perfectly. It includes an elaborate step description along with the sample file. Got for this one if you need a funky yet professional looking fundraising template.
More in Fundraising Templates