Graphic Design
Professional Bio
Professional bios are concise descriptions of a person's achievements and necessary information to create lasting and valuable first impressions to readers and audiences. The bio is a beneficial tool to boost one's credibility for various purposes, including speaking engagements, promoting a company, or driving a business.
Table of Content
Professional Bio Definition & Meaning
Professional bios, also known as professional biographies, summarize the experiences and information about a person and their line of work.
Professional bios allow individuals to write about their values and beliefs, setting you and your business apart from others in an industry.
What Is A Professional Bio?
A professional bio or professional biography is a short paragraph or summary of a person's professional background, including their personal and professional achievements, according to their education, experiences, and skillsets. The brief section must also contain the person's purpose, explaining why they do what they do and the impact they want to see or apply in solving or transforming for consumers, audiences, organizations, industries, etc. Aside from that, the professional bio enables an individual to share their brand story creatively and engagingly to capture the audience's attention and promote a business or work professionally.
10 Types Of Professional Bio
Medical Professional Bio
A medical professional bio is a short story paragraph that details a medical practitioner's professional resume engaging patients in who the person is and what they do. When writing the professional bio, be brief, incorporate relevant information, and keep it up-to-date to provide the patients with an accurate profile of the physician in charge. The professional bio must reflect recent changes to their work experiences, including practice, education, interests, and accomplishments, making sure to revisit the profile frequently and periodically.
Professional Sales Bio
A professional sales bio is a marketing tool many sales professionals use to introduce themselves to potential clients or partners interested in working with a firm, office, or institution. The sales professional bio enables employees to communicate with other individuals or organizations by relaying their professional accomplishments through summarizing experiences and highlighting their personalities. Aside from this, the bio allows an individual to establish their corporate credibility in their respective industry and appear reasonable to possible consumers.
Freelancer Professional Bio
The freelancing marketplace consists of many individuals often offering similar services to consumers, including graphic designers, administrative aids, or social media assistants handling Facebook and Instagram posts on behalf of an organization. Freelancer professional bio contains information about the individual, including their academic credentials, accomplishments, an overview of career history, and a description of their personal and professional goals. Freelancers can use a professional bio on their websites, social media platforms, company websites, and directories, letting readers and audiences know who the person is as a professional and as an individual.
Real Estate Professional Bio
First impressions are lasting in various industries and sectors, and the world of real estate is no different when it comes to finding potential clients and buyers browsing through a real estate website. Generate a real estate professional bio to share vital information about the organization or a person and their expertise, including communicating their experiences and background about their real estate journey. Creating or writing the real estate professional bio helps buyers and sellers determine whether a person or company is the perfect fit for the services they need in real estate needs.
Teacher Professional Bio
A teacher's professional bio allows teaching professionals and candidates to develop and create a description of their professional qualifications, experiences, educational goals, and career goals. A professional bio authorizes educational institutions to screen or cross-examine and reference a potential teaching candidate to determine if they possess particular skills and credentials to become part of the college faculty or staff. The institution then compares and aligns a person's goals to a program to see if they are compatible with one another, meeting their conditions and the student's needs.
Musician Professional Bio
A musician's professional bio allows a musician to share and communicate to their fans, audiences, and the public why they should look forward to or listen to their music. A professional bio piques people's interest, getting them intrigued and interested to learn more about an artist's music, especially if they are still new to the industry. In creating the professional bio, remember to indicate the necessary information to get people interested in visiting a musician's social media channels, online pages, gigs, and festivals, through craving the context and stories behind the music.
Entrepreneur Professional Bio
Every entrepreneur must have a professional bio to highlight their achievements, developments, and experiences throughout their active years for clients and customers alike to see improvements and whether their goals match. An entrepreneur's professional bio tells audiences what you do, why you do it, and who you are, posting the short paragraph on their website and social media platforms for marketing purposes. Posting the professional bio engages the attention of audiences and lets them know the entrepreneur's aim and purpose.
Marketing Professional Bio
A marketing professional bio is a short blurb or summary about a person in marketing, including their history and background in the marketing field, stating their name, accomplishments, and employment records. It enables individuals to freely express their personal and career-oriented values and goals to set them apart from other consultants or marketers within similar industries. Crafting a professional bio in marketing is an advertisement or marketing tool in itself, and it is ideal to keep it brief, relevant, and engaging to the field.
Nurse Professional Bio
A nurse professional bio is a concise description or summary that highlights and outlines their education, experience, and qualifications to get a target institution's attention to consider and hire them for a position. The professional biography also enables them to provide more accurate details and information about the contents of a resume, adding a hint of story and personality. The short paragraph also allows individuals to construct and discuss work opportunities and roles not available in the resume, including volunteer work and personal achievements.
Engineer Professional Bio
An engineer professional bio allows an engineering candidate to list and identify their qualifications, education, and experiences with an engineering firm, an executive, or a project manager to hire them for a specific position in the company. The biography details the name, accomplishments, and employment history of a potential candidate wishing to apply for an organization, advertising themselves to get the job. Make sure to incorporate personal and career goals in the bio, keeping the entire selection concise, relevant, and engaging to the person reading over it.
Professional Bio Uses, Purpose, Importance
Professionals in various fields are aware of the importance of having a polished resume, cover letter, and LinkedIn profile to market themselves to potential employers and organizations. Professional biographies are just as vital as all these documents, making them a versatile tool to add to a career sheet or portfolio in advancing and nurturing their careers.
Resumes Will Not Always Cut It
There are instances where people or organizations do not require individuals to send in their resumes, especially if the goal is to build a network instead of looking for work opportunities. Sending a resume and other documents may take up too much time and burden potential partners, and writing an email introduction or essay become inappropriate. A concise one-page professional bio with a brief introductory section is the way to go.
Professional Bios Provide Flexibility
Many professional documents like resumes, cover letters, or curriculum vitae stick to a specific format and draw unnecessary attention to gaps or holes in unrelated fields. It emphasizes glaring career transitions or those individuals coming straight from family-owned businesses and other resume challenges. Professional bios give people room for flexibility and creativity, omitting unnecessary information.
Successful and Prominent Figures Use Bios
Many significant and successful people turn to use professional bios instead of lengthy resumes and curriculum vitae. These people utilize the professional bio because it gives them a channel to communicate their core message and value to people. Consider writing a professional bio to effectively relay goals, matters, and messages to prospective audiences.
Communicate Using A Unique Style
Professional bios give individuals an option to communicate unique styles and themes to business partners and organizations. There is no standardized format for writing professional bios, and individuals focus on stressing their skills and attributes. People can incorporate their life principles or business mottos into the bio, communicating their values to their readers.
It Is A Valuable Icebreaker
Professional bios are an excellent introductory tool for many individuals finding themselves in conferences and networking events. People can use or reference their professional bios when interacting with new individuals, making them feel comfortable at exchanges. Discussing the bio also guides another person through different timelines of a person's professional history.
What's In A Professional Bio? Parts?
Introduction
The first part of the professional bio states the full name of the person writing the bio. When writing in the third person, the name must be the first word in the paragraph, making it easy for readers to identify and remember the individual.
Company or Brand Name
If a person has a professional brand or business, mention the brand name in the first part of the professional bio. People also have the option to indicate another company to associate professional accomplishments and achievements.
Professional Role
The next part of the professional bio briefly describes the person's current role or profession, indicating if they are a company founder, accountant, author, etc. Elaborate on primary responsibilities to explain to viewers what they do and what they can offer.
Professional Achievements
Highlight the significant milestones and accomplishments that make a person stand out from the rest. Discuss significant contributions to the role and emphasize new ideas and techniques that they contributed.
Passions and Values
Passions and values are one of the most vital elements present in a professional bio, focusing on why it is necessary to perform work effectively. Think of it as a mission statement to give audiences a better understanding of the individual.
Personal Interests
Professional bios also touch on what a person likes to enjoy doing in their own time. The transition to a casual discussion presents a well-rounded and relatable image to an audience.
How To Design A Professional Bio?
1. Determine the Professional Bio Size
2. Specify the Purpose of Creating the Professional Bio
3. Pick the Professional Bio Template
4. Select a Voice for the Bio
5. Specify the Job Title
6. Indicate the Job Philosophy
7. Write Accomplishments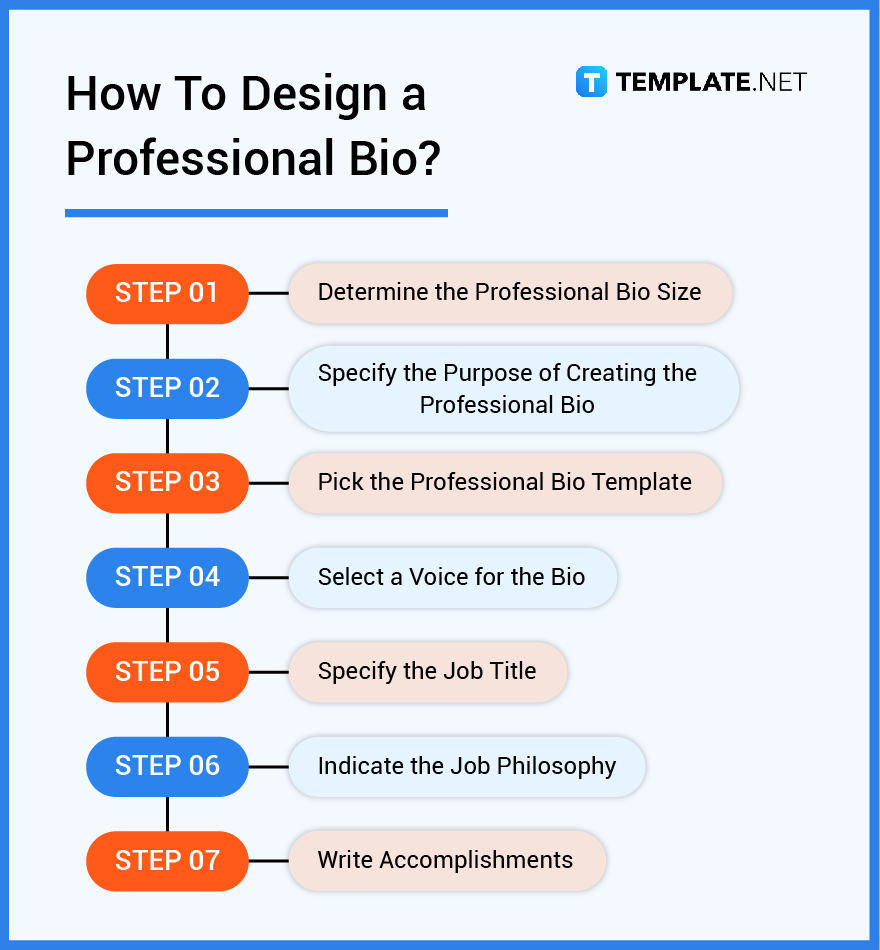 Professional Bio Vs. Resume
Professional bios provide an informal narrative or description of an individual, detailing their name, title, philosophy, and accomplishments.
A resume is a formal document that consists of relevant information and experiences, following a structure that highlights facts and achievements.
What's the Difference Between a Professional Bio, CV & Summary?
Professional bios are in the form of telling stories or a diary entry written in the third person to share experiences and highlight the essence of an individual.
CV, or curriculum vitae, contains a summary of a person's education, qualifications, and experiences, for a position in an academic title.
A summary is a document that contains information about skills and experiences to accompany certificates and other qualifications for a job position.
Professional Bio Sizes
When crafting a professional biography, remember that these are concise descriptions in paragraph form, consisting of less than five sentences. As such, professional bio sizes are available to fit the paragraph for readability and professionality, following the measurements below.
Professional Bio Ideas & Examples
Different professions and industries have employees and staff that can create their respective professional bios to enhance their career portfolios and Powerpoint presentations. Individuals can produce their professional bio ideas by browsing different templates and samples, similar to the list below.
Professional Bio Ideas and Examples
Fitness Professional Bio Ideas and Examples
Coach Professional Bio Ideas and Examples
Entrepreneur Professional Bio Ideas and Examples
Dentist Professional Bio Ideas and Examples
Tradesperson Professional Bio Ideas and Examples
Artist Professional Bio Ideas and Examples
Economist Professional Bio Ideas and Examples
Athlete Professional Bio Ideas and Examples
Scientist Professional Bio Ideas and Examples
FAQs
What should be in a professional bio?
A professional bio must contain an introduction, company or brand name, a person's role, achievements, passions, values, and interests.
What is a professional bio for?
Professional bios detail an individual's professional experiences, skillsets, and accomplishments.
Should bio be in the third person?
The professional bio is in the third person to send the message to the intended audience.
What makes a good professional bio?
When making a professional bio, it must be concise, authentic, and human.
How do you write a professional bio with no experience?
When writing a professional bio without prior experience, use a professional photo, list achievements sparingly, and focus on personal traits.
What are the elements of a professional bio?
The elements of a professional bio must include the name of the individual, skills or profession, personal interests, and a call to action.
What is a professional bio for employees?
Professional bios for employees consist of their names, achievements, work experiences, and history.
Is a professional bio the same as a resume?
Professional bios are distinct from resumes because individuals construct resumes to land a job opportunity using a standardized format detailing their achievements and work history.
How do you introduce yourself in a work bio?
Start by writing your name, specifying your company or brand, indicating your current role and accomplishments, and stating your values, passions, and personal interests.
What is a corporate professional bio?
A corporate professional bio is a brief outline of a person's life, professional background, skill sets, educational background, and accomplishments.