PHP Templates
PHP Registration Form Template – 15+ Free PHP Format Download
Allow visitors and users to create their page on a website by having registration or sign-up forms. Through PHP registration form templates, you can enable visitors to download files, post articles, and more, by creating their profiles. Feel free to download the sample PHP website templates in HTML and add or edit the fields according to your website purpose.
A registration form can be a simple and short one wherein visitors just need to put in their e-mail ID and name. Deck out your PHP login form templates with an equally wonderful range of admin panel PHP templates. There are samples for a captcha system, register code, data entry, database application, and other needs. You'll find form templates compatible with Bootstrap, JavaScript, jQuery, and more.
Checkboxes, radio buttons, drop-down boxes, and text boxes are available in form templates.
Autocomplete feature, different form types (vertical, horizontal, columned), and different states (normal, success, error, disabled) are other features available.
Registration form template PHP MySQL comes with a responsive design to fit any browser or screen resolution.
Clean System HTML5 /CSS3 Form – $8

This HTML5 or CSS3 form has a section for personal info, address, and message. It has text boxes, drop-downs, checkboxes and can fit all kinds of resolutions and browsers.
Simple Captcha PHP Contact Form – $6
Advisio Marketing Registration Admin Panel Page
Modern & Responsive Contact Form – $8
Auto Car Selling Registration Captcha Template

It is the Registration form template in PDF for the selling of the cars online. It contains all the necessary details that are to be filled in by the customer. This is used for the enrollment of the customer. The form must contain information about the type of vehicle they are interested to buy.
PHP, AJAX, JS, HTML5, CSS Login & Register Form Template – $14

This template has two separate fields for login and registration. The fields in registration require email, password, username, and re-entry of the password while the log-in one requires email and password.
Register Code From With SEO Optimized – $13

This template comes with three different layouts (boxed, full slider, and full video). This registration form template in Pages takes into account contact no., the name, and mail id.
Secure PHP Registration Form – $7
How to Validate Registration Form in PHP
PHP is a general scripting language and is mostly used for web development. The registration form is very important data and hence it needs to be validated. Validating the data means creating extra security for the data which is provided by the user. So here are the steps on how to validate the registration forms in PHP. There are many examples available online.
The first step is to create a form in the HTML.
The POST method should be used along with some other fields required.
Then refresh the page, the PHP fetches the URL of the HTML file and functions it.
Validation is a very important aspect.
How to Create a Signup/Registration Page in PHP
Many websites have a registration form for the customers to log in or sign up. With the help of registration, a company gets to know the information about the customers. Dreamweaver Login template is a simple and useful tool to create the Signup/Registration page in PHP. Include the necessary fields like name, age, email id, contact address, etc.
Free Simple Registration Form With PHP and MySQL

As the name says it is a free registration form available online. It is built with PHP and My SQL. Usually, the combination of these two frameworks is used for creating simple forms.
Easy Validation Register Application Form – $6
Best PHP Database User Registration Form
The best PHP user registration form is the one that contains all the essential fields of data/information to be collected. The free download can be used to create simple and best user registration forms.
Student Secure PHP Signup Page with Validation
Login/Register JavaScript – Internal Messaging Form
Ultimate Bootstrap, PHP, HTML5 & AJAX Contact Form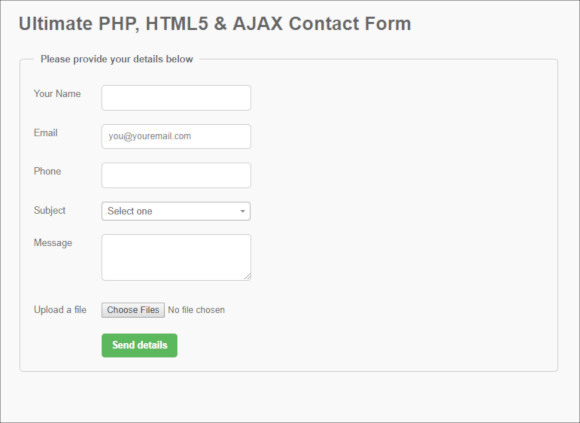 Ajax Login And Register using PHP Responsive Template
This attractive login and register template have two fields, one for login details and the other for registration formalities. It is used for online registration. There are many free Ajax PHP templates available on the internet.
PHP Registration Form with Email Confirmation jQuery
It is the PHP registration form that sends the confirmation code to the email address provided by the user. The form contains the email confirmation script written in it.
The registration forms are becoming a basic part of every website. They collect details from everyone who visits their website. Registration forms are of different types like student registration forms, vehicle registration forms, new account registration forms, marketing registration forms, and many more. You may also see PHP Blog Post Themes. To create a simple registration form the important and powerful tool in PHP. With the help of PHP, one can create enormous types of forms. To add to that many PHP Templates with attractive designs and layouts are available online today. PHP along with HTML templates, CSS can work best to create a good form. Registration forms are very important and that is why the form must be created with utmost care and detailing.