Starting a business along with someone is not an easy thing to do. But if you are, then it is always better that you have all of it sorted out beforehand itself, so that it is easier for all the people involved in it to do better. You can take the help of partnership agreement templates if you are planning on creating an agreement. It helps in making everything legal through business. It highlights rules and regulations as well as the terms and conditions that have to be followed by all those involved in the agreement templates.
Custom Software Business Partnership Agreement Template
Real Estate Partnership Business Agreement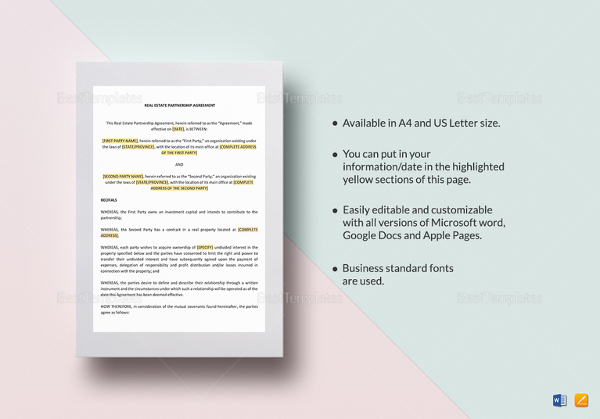 Use this printable agreement template if you plan on opening a real estate business along with a trustable friend or loved one. This template can be easily edited. All you have to do is download this template, edit the higlighted parts with the details that best suit you and there, your agreement is ready!
Limited Partnership Agreement
Checklist Partnership Agreement
Simple Web Content Partnership Agreement Template
Partnership Agreement For Small Business
You have an elaborate business partnership agreement here for small businesses. It begins with the introduction of the concerned parties as partners and then includes all the major clauses of such a standard agreement.
Standard Partnership Business Agreement
If you are looking for professional business sample partnership agreement templates for partners, this document would be very helpful with its sections on all important aspects of an agreement like the agreement period, capital account, current account, etc.
Specimen Farm Partnership Business Agreement
This detailed farm partnership business agreement here covers all the essential terms you have to include in a contract which includes warranties, termination, licenses, capital, etc.
Legal Business Partnership Agreement
You have a comprehensive legal business partnership agreement here that covers all the important terms and conditions you are supposed to find in a proper agreement. You also have a special section for definitions here.
Create a Business Partnership Agreement
1. Identify Who the Partners Are
The first step towards creating a partnership agreement is to identify who the partners are and mention their details in the contract. Also, mention who had how many shares in the profits as the one who contributes the most gets the most profits too. Decide on what type of partnership is your business and mention in detail.
2. Goals and Objectives
The next important step would be to decide what your business, learning, and developmental goals are. What is it that you want to do as partners for the growth of your business. It is not necessary that you should have only one goal. You can have more, but it should be easier for you to achieve them. So, make goals that are achievable by you and your employees. Make them practical and attainable.
3. Decide on Details
Detailing is the main part of an agreement. You should be able to add the name, location, who the partners are, what is the work for each of them, employee's duties, etc. should be mentioned here in detail. Also, mention how many departments are going to be there in your organization regarding different places like HR, customer support, accounting, and finance, etc. A business confidentiality agreement will show you why is it necessary to keep an agreement between partners confidential.
4. Create Your Agreement
Once you have decided on the details and different jobs, the next step would be to draft your agreement using any agreement templates available online. It is quite obvious that after the first draft, you will have to make a lot of changes, but it is a great start. Ownership interests, profit, and loss distribution, management and authority, resolving partner disputes, partnership decision making, management duties, etc. should all be mentioned in detail.
5. Registration, Licenses, and Permits
Once you have created the agreement, the next step would be to get all the necessary permissions required to run your business without interruption. This includes registration of the business including the name of the partners, location, etc., licenses that are required for you to run the organization and any other permits needed to be accepted from the state law, so that it gets easier to work without interruption from lawsuits, police, NGO's, etc.
6. Termination
The final step in the agreement would be to mention the termination clause. Mention the causes for termination that are legal. This could be death, withdrawal due to reasons, etc. Check agreement samples for more. Once this is done, get it signed by all your partners and give each one of them copies, so that they can have a look at it in case they need to go through something.
Business Partnership Project Agreement Template in Word
You have a standard project partnership project sample agreement template here that discusses every major aspect of the project like- its conduction, funding, confidentiality, results, liability, termination, governing law, etc. You also have a section on its definitions of the terms used in the agreement.
When looking to partner with businesses to distribute or sell your software product, you always need to have a business agreement ready, so that there would be smooth sailing of business all along. Define limits to such partnership as well as other restrictions, terms, and conditions of it. Clearly define the allocation of profits and losses including percentages of ownership, ownership interests, etc. Provide different options in settling disputes and others.
General Partnership Business Agreement Template
Importance of a Business Partnership Agreement
This agreement is very important when you are entering a partnership with someone. Like any relationship, a business partnership is not immune to conflict and differences in opinion. A simple partnership agreement here helps to prevent such ugly situations by defining the precise terms and conditions of such a bond.
This way, all the concerned parties would have a clear idea of the responsibilities to be followed and what to as well as what not to expect of one another. Fewer disputes mean better productivity and a better run of business any day. Such an agreement also defines what to do when a partner plans to take exit the business.
What are the Tips for Business Partnership Agreement?
To start with, a business partnership agreement must be made before a lawyer and with the full consent of all the partners involved in the business. It's better you discuss all the terms and conditions among each other before formatting the final contract. Decide on the name as well as the purpose of your company.
Another very important tip with such agreements beforehand is a clear idea of how the responsibilities and workload would be divided among all the partners. You should also discuss the contributions in the business for each partner, the working hours, and the duration of the agreement. Finally, the best agreement contains a special section on the definition of the legal terms used in the contract.
Are you looking for help in creating a business partnership agreement? Well, in that case, the templates mentioned above would be just the thing you need as here you have standard business partnership agreements only. You are getting readymade agreement structures here which can be customized easily with your own agreement data