Are you planning to start a new business with a partner? That's great but before you proceed, it's suggested that you make everything legal through a business Partnership Agreement. Such an agreement will highlight the rules and regulations as well as the terms and conditions to be followed by both the partners in running the business. It's always handy to prepare such an agreement which offers a clear picture of the rights, duties, and liabilities of all the partners. You may also see Agreement Templates.
Custom Software Business Partnership Agreement Template
Real Estate Partnership Business Agreement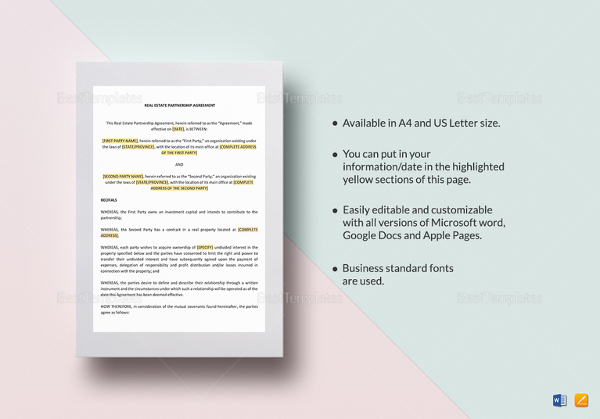 Limited Partnership Agreement
Checklist Partnership Agreement
Simple Web Content Partnership Agreement Template
Simple Business Investment Agreement Template
Partnership Agreement For Small Business
You have an elaborate business partnership agreement here for small businesses. It begins with the introduction of the concerned parties as partners and then includes all the major clauses of such a standard agreement.
Standard Partnership Business Agreement
If you are looking for professional business Partnership Agreement templates for 3 partners, this document would be handy with its chapters on all relevant aspects of such an agreement like the agreement period, capital account, current account, etc.
Specimen Farm Partnership Business Agreement
You have a detailed farm partnership business agreement here that covers all the important terms you have to include in these contracts like warranties, registration, duration, office, license, capital and so on.
Legal Business Partnership Agreement
You have a comprehensive legal business partnership agreement here that covers all the important terms and conditions you are supposed to find in a proper agreement. You also have a special section for definitions here.
Business Partnership Project Agreement Template in Word
You have a standard project partnership project Agreement Template here that discusses every major aspect of the project like- its conduction, funding, confidentiality, results, liability, termination, governing law, etc. You also have a section on its definitions of the terms used in the agreement.
General Partnership Business Agreement Template
What is the Importance of Business Partnership Agreement?
A business partnership agreement is very vital when you are entering into a partnership with somebody. Like any relationship, a business partnership is not immune to conflict and differences in opinion. A Partnership Agreement here helps to prevent such ugly situations by defining the precise terms and conditions of such a bond.
This way, all the concerned parties would have a clear idea of the responsibilities to be followed and what to as well as what not to expect of one another. Fewer disputes mean better productivity and a better run of business any day. Such an agreement also defines what to do when a partner plans to take exit the business.
What are the Tips for Business Partnership Agreement?
To start with, a business partnership agreement must be made before a lawyer and with the full consent of all the partners involved in the business. It's better you discuss all the terms and conditions among each other before formatting the final contract. Decide on the name as well as the purpose of your company.
Another very important tip with such agreements beforehand is a clear idea on how the responsibilities and workload would be divided among all the partners. You should also discuss the contributions in the business for each partner, the working hours, and duration of the agreement. Finally, the best Agreement Template contains a special section on the definition of the legal terms used in the contract.
Are you looking for help in creating a business partnership agreement? Well, in that case, the templates mentioned above would be just the thing you need as here you have standard business partnership agreements only. You are getting readymade agreement structures here which can be customized easily with your own agreement data