A loan agreement template is a type of template which is a record of a loan taken or lends to a person. Generally these templates contain the necessary details of the amount of the loan taken, name of the person lending and the person taking the loan, the amount and nature of the loan, the tenure until which the loan is expected to be repaid and the amount or rate of interest involved. You may also see Lease Agreement Template. The templates for these kind of templates involves all the requisite information of both the parties, the details of the guarantor, the amount of the loan with the tenure of repayment, the interest rate and all the other different agreement details including the circumstances where the borrower is not able to repay the loan. We provide these kinds of Agreement Templates for download in word and PDF formats so as to help to understand these documents properly.
Commercial Loan Agreement Sample
Personal Loan Agreement Template Download
www.nab.com.au | If you want to give out a loan in the correct legal environment then you need this professionally drafted personal loan agreement template. The Word file covers the party's details and loan terms.
Loan Agreement Template Free Download
lsuc.on.ca | With our loan agreement template you can create a perfect loan agreement prior to signing with the loan recipient. Download it in Word or PDF and customize it as required.
Simple Loan Agreement PDF Format Download
www.ne-mo.org | You can use this simple loan agreement form to seal a loan deal. It includes the lender and borrower details, the loan amount, duration and interest. Get it in PDF file format.
Business Loan Agreement Template PDF Format Download
www.leaplaw.com | With this loan agreement form any lender can be assured that they are legally safe when issuing the loan. Use it for an agreement with another business and is available in PDF format.
Finance Loan Contract Agreement Template Download
finance.mo.gov | When giving a loan based on security, this Excel form is what you need. It is designed with the layout to capture all details including loan amount, repayment period and the security specifics.
Loan Agreement Word Format Template Download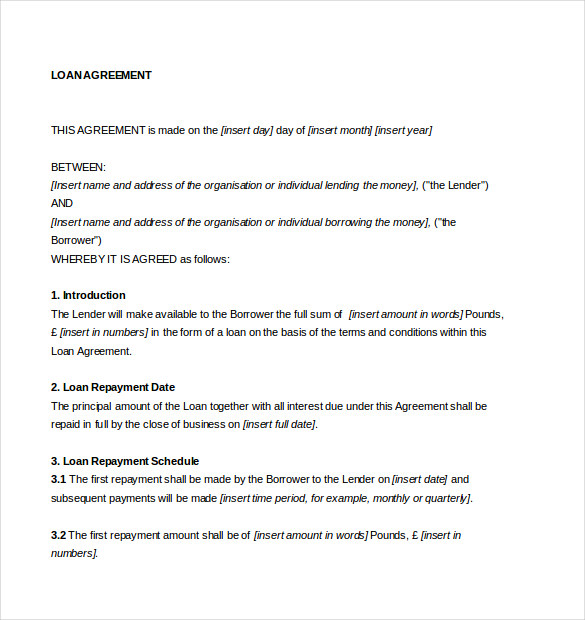 compactlaw.co.uk | This is a simple but all inclusive loan agreement template for use by anyone in any setting. The Word format is very customizable allowing one to change as many parts as possible.
The Smart Campaign in Loan Agreement Template Download
smartcampaign.org | With this loan agreement template one gets to include as many sections and agreement points as possible. Other than the loan and parties details, the PDF form has grace period, penalties and loan purpose all squeezed onto a page.
Loan Agreement Form Template Download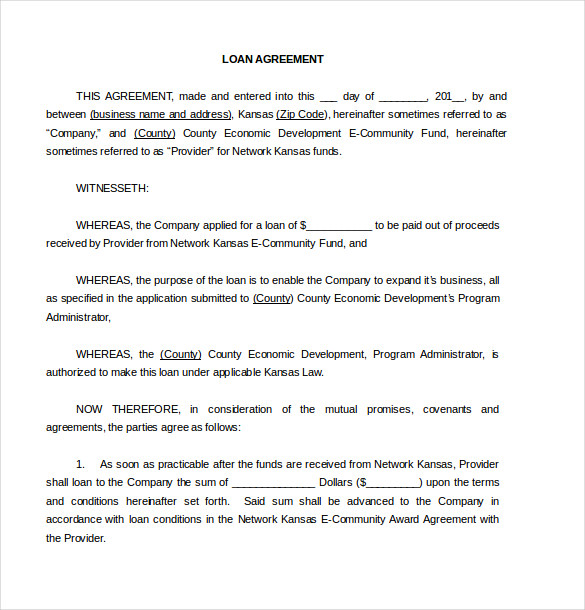 networkkansas.com | If you want to give out a loan, this simple PDF loan agreement template will do. It covers the basics like the parties to the loan, the terms and the Acts under which it is operational.
Private Loan Agreement Template Word Document Download
www.compactlaw.co.uk | It is advisable to always have an agreement before giving out a loan. This Word loan agreement template gives you an easy customizable form for any type of loan you want to give.
Standard Loan Agreement Word Document Download
development.ohio.gov | If you have little legal knowledge about loan agreements then this agreement template will enlighten you. The Word template is designed by professionals to make your work easy and to keep you covered.
Loan and Security Agreement Word Document Template Download
accd.vermont.gov
If you have any DMCA issues on this post, please contact us!