Agreements
21+ Franchise Agreement Templates – Free Sample, Example, Format Download
A franchise agreement can be defined as an agreement between a franchisee and a franchisor, that mentions all the possible details of the franchise like name, location, services and goods provided, etc. A franchise basically enables an investor to operate a business or invest in it if any way, i.e., by buying shares or by being a part of the facility.
Agreement samples that are available online will help you make the best agreements of any kind, no matter what type of agreements you need to make. These agreements can easily be downloaded and customized. A franchise agreement should have in it – details of the franchiser, details of the franchisee, the contact information of all those involved in the agreement, etc.
Franchise Agreement Sample
If someone is franchising your business, it could only mean that your business is expanding and ready to try a new market. It's a good sign for your business because you can also gain new clients and have a large market. Get this ready to use agreement template that will save you a lot of time in drafting a new one from scratch. It can be easily edited and customized as per the liking of the user. Try it out now!
Sub Franchise Agreement Sample
Here's an agreement template to help you draft a document that regulates the terms and conditions for a master franchisee, a person that was grant rights to a sub-franchise, and a sub-franchise to franchise the business internationally. This template is ready-made and easy to use in the file formats presented. Its expert design helps you meet all the specific needs as per preferences.
International Franchise Agreement Example
Draft a professional-looking agreement document for the cooperation between two legally independent parties (Franchisor and Franchisee) based in different countries using the above-mentioned international franchise agreement. This template is designed to lay out the terms and conditions of the business relationship as well as other important information of the agreement. All you would have to do is download the template, edit and customize it as per your needs. Download it now!
Master Franchise Agreement Template
Are you in the search for a document that allows the owner of a brand name to hand over control of the franchise activities in a particular area to an entity? Then we got just the thing for you. Download this template for getting the best agreement in town for yourself. This document will allow the Master Franchisee rights to own and operate more than one unit and the right to sub-franchise the right to open units to other franchisees during a specific period at a specific area. Do more business, close more deals by editing this template to your specifics and insert the needed details as per your requirements.
School Franchise Agreement Template
The basic drive of every academic institution is to educate the uneducated. If you're looking to reach out and expand your school's brand through franchising, then this template comes to your rescue. Apart from its featured suggestive content crafted by our team of legal professionals, it's a guaranteed hassle-free experience that beginner users won't have trouble editing. Simply fill the specific details according to your desired business preferences and needs. There, you have the right agreement ready for your organization.
Sample Franchise Agreement Template in iPages
5 Steps on Creating a Franchise Agreement:
Step 1: Choose File Format
The first thing you need to do is to make sure that you have chosen the right file format for your agreement. There are many simple agreement templates that are available online for your perusal to check out and then choose the best one out of the lot. This way, all you would have to do is download the template, edit and customize it to suit your needs, without having to make them from scratch.
Step 2: Identify the Parties
Identifying the individuals/parties involved in the agreement is very important. One is the franchisee and the other in the franchisor. Give the details of all the people involved in the agreement without fail. these basic details would be the name of the company, names of individuals, the location, address, contact information, website, etc. and other details that are to be mentioned in the agreement.
Step 3: Timeframe
Having a timeframe for you to finish your agreement is very important. This way, you will know what time you have to finish the agreement. Having a timebound agreement is always better as it helps you get to work faster and finish it in the most effective way possible. The date, location and time of when the agreement was effective should be mentioned without fail.
Step 4: Resources and Materials
Make a list of all the resources and material you will be needing to finish the agreement on time and perfectly. This could be files, documents, equipment, etc. that have to be there before the agreement is actually signed. Licenses are an important part of any agreement, so you have to make sure that there is a granted license for the franchise agreement without fail. Define all the definitions and terms you need to mention in the agreement without fail.
Step 5: Review and Signatures
Once you are done making the agreement, review it without fail, so as to check whether or not you have missed any detail that needs to be mentioned in the agreement. You can also take a look at the agreement templates in Pages that are available online for you to download, edit and customize as per your wishes. Once it is clear, get it signed by all those involved in the agreement without fail.
Simple Share Purchase Agreement Deemed Dividend in Word
Stock Purchase Agreement Template in iPages
Example Franchise Agreement Template Download

tasteofphilly.biz
Free Franchise Agreement Template Download

lawyersclubindia.com
This free franchise agreement template given above shows a sample of how a franchise contract for a private company would be. The company agrees to the contract in order to meet their desired objective.
Free Sample Franchise Agreement Template Download

cityofbradenton.com
If you are looking for a contract with a city then this sample will help you get about it. This example shows a franchise between a company and the city of Bradenton.
Sample Franchise License Agreement Template

provo.org
You do not have to get a lawyer to get you a good contract with the city. This sample of a franchise license with recitals of the company and agreements in the next part and a subtopic on terms of the agreement will help you.
Free Example Franchise Agreement Template Download

cityofdavis.org
This free franchise agreement template given above is a renewal of a contract between a city and the company With a that is located in the same city. section of the definition of terms like access, active electronic and affiliate as subparagraphs incorporated in it.
Example Cable Franchise Agreement Template

cityofvancouver.us
Sample Contract Franchise Agreement Template

townofpaxton.net
Sample Scholarship Pageant Franchise Agreement Template

wp.misstennessee.org
Free Sample Pharma Franchise Agreement Template

orcities.org
Sample Energy Utility Franchise Agreement Template

ksrevenue.org
Example Model Cable Franchise Agreement Template Download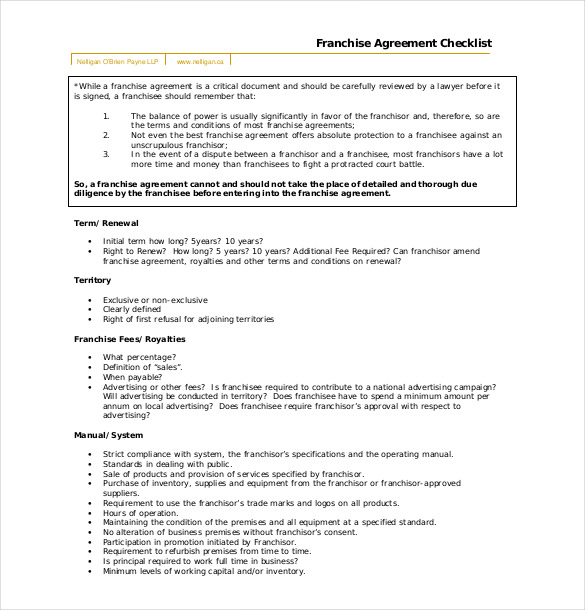 nelligan.ca
Sample Master Franchise Agreement Template Free Download

dps.mn.gov
Example Network Franchise Agreement Template Download

pure.strath.ac.uk
Sample Business Franchise Agreement Template

forumofregulators.gov.in
Wrapping Up:
For success in getting a franchise contract, it is important for the contract to be well spelled out. The above templates are a good example of a franchise agreement. Such agreements need details like name, date, name of the company, etc. mentioned in it clearly. These templates are a sample of a non-exclusive franchise to occupy the city right of way and appropriate utilization of the telecommunication system for five years. Check sponsorship agreement templates for more. The agreement is of a nonexclusive authority for the franchise.
These sample contract franchise agreement templates are for voting for funds as well. The sample template of a cable franchise agreement is for those who want contracts for television cable installation. It also needs one to give a definition of the contract like public access. Provide all the clauses you need to mention like the indemnification clause, clauses of termination, how are you going to resolve disputes, purchase of insurance, non-compete and confidentiality details, etc. are to be mentioned clearly in the agreement.