What is an Agreement?
Basically, an agreement is known to be the harmony or accordance between feelings and opinion. A commercial agreement, somehow, tells a slightly different story. It is said that it needs two or more organizations to form a commercial agreement. It can be either oral or written and is the result of agreeing certain conditions, settlements, and terms. A commercial agreement is also a legally binding contract between parties where both are required to do particular activities or refrain from doing something.
How to Make a Commercial Agreement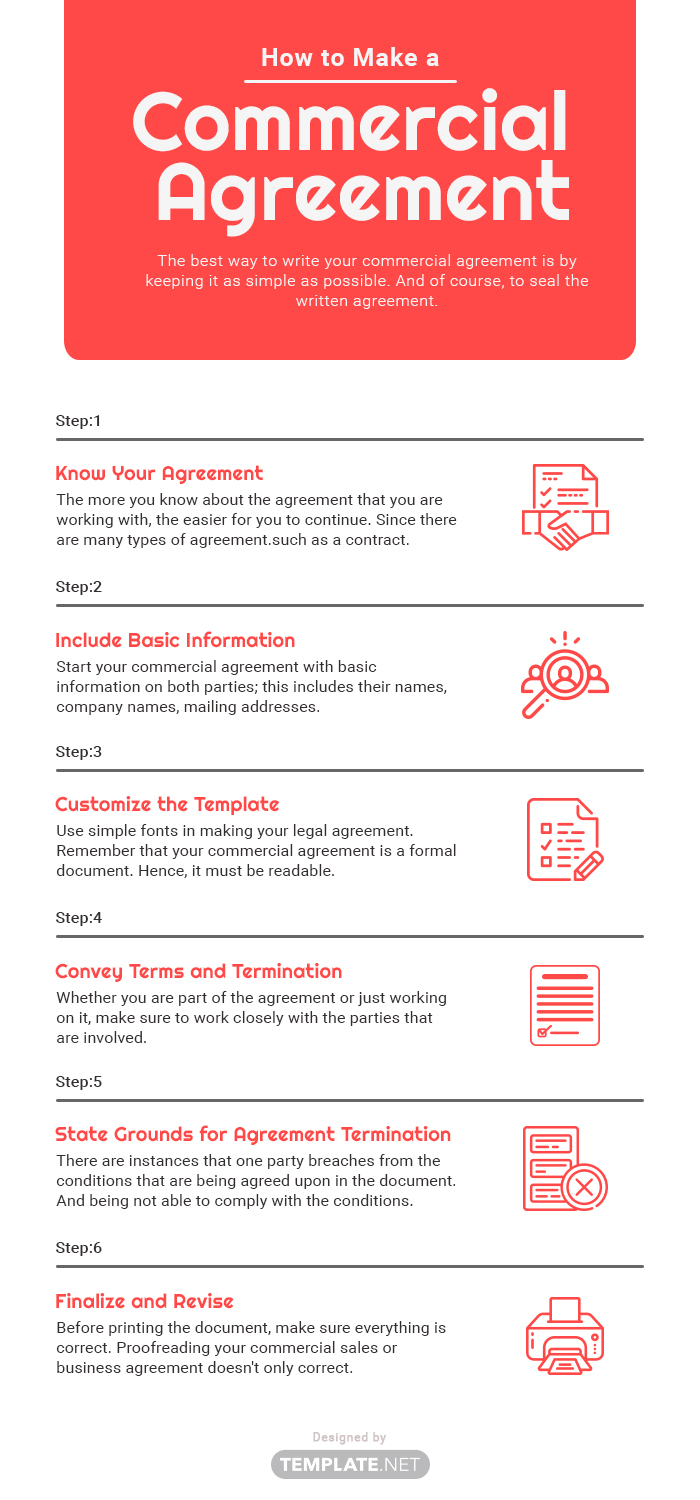 The best way to write your commercial agreement is by keeping it as simple as possible. And of course, to seal the written legal document, make sure to deal it with the right person. We made you these steps to follow. Keep in touch on our list to keep you guided as you go along your commercial agreement writing.
1. Know Your Agreement
The more you know about the agreement that you are working with, the easier for you to continue. Since there are many types of agreement, such as a contract, non-disclosure agreement, teaming agreement, master agreement, and the others, select the type that you'll be working on. This phase involves researching. After deciding the kind of agreement, dig deeper through the subject. There are terms that could only be applicable to a certain type. To avoid confusion, look for terms that are used to the type of agreement that you are working on and list them down.
2. Include Basic Information
Start your commercial agreement with basic information on both parties; this includes their names, company names, mailing addresses, contact numbers, and other reliable contact information. These will comply with all the needed information and will introduce what kind of business the customer is going to have. You may also include sensitive business information as required in your agreement.
3. Customize the Template
Use simple fonts in making your legal agreement. Remember that your commercial agreement is a formal document. Hence, it must be readable and easily understandable. There are a variety of fonts that can be used in making your agreement. You can use sans serif fonts because they are neater and don't have small projecting features. Also, set your alignment to justify to make your texts more organized and not jagged.
4. Convey Terms and Termination
Whether you are part of the agreement between two parties or just working on it, make sure to work closely with the parties that are involved. List down all the conditions and legalities that are settled by the parties. Include even the slightest term, because you must not miss out on any of the information. When it comes to legal documents, especially agreements, it should be complete.
5. State Grounds for Agreement Termination
There are instances that one party breaches from the conditions that are being agreed upon in the formal document. And being not able to comply with the conditions is a ground for termination. Make sure to let both parties know about this with a clear understanding and let them agree to meet on the same ground.
6. Finalize and Revise
Before printing the document, make sure everything is correct. Proofreading your commercial sales or business agreement doesn't only correct misspelled words but sees to it that your statements must be relevant to your content. After you make sure everything has no error and all are correct, print your document and let the parties affix their signatures.