Everywhere you go there is always a store that will sell you goods and products that will suffice your need from food, clothing and accessories. You may also see Agreement Samples.
To have the manufacturer of this product and the vendors to keep their business alive ways is to have a vendor non-compete agreement form where the vendors of their products will never tell any people, imitate or create the same product and store when they plan to. It will thwart any competition that will arise and keep the selling of goods as planned by the manufacturer or vendor. You can also see Agreement Template.
Simple Vendor Non Compete Agreement Template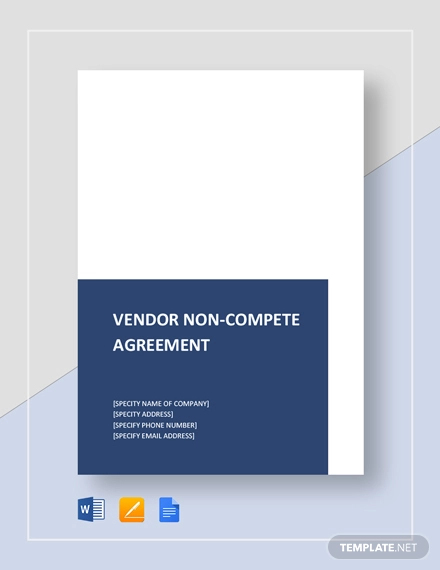 Vendor Agreement Template
Non-Compete Agreement Template
Employee Non-Compete Agreement Template
Business Non-Compete Agreement
Business establishments will always be in the rise for every community that needs their service so expansion is needed to accommodate this need. To attain the concealment of their strategies they should take a business non-compete agreement so when they are about to expand, no information is leaked.
Simple Non-Compete Agreement
You can take the meaning out of its name where the agreement is not lengthy and can go to the bottom line of the deal. You can take the deals to any person to hide the information they know and withstand any offers that will degrade the agreement.
Standard Non-Compete Agreement
Frequently seen to many types of partnership, there will be the point where there should be the limitation of information disclosure that will benefit any parties in the said group. It is commonly done based on the agreed rules to have a non-compete status all the time.
Non-Compete Agreement Form
This document can be yours in creating the covenant not to compete where the people that will determine its effectivity are the people that will sign for it. it follows the prearranged layout and its rules are what has been set beforehand.
General Non-Compete Agreement
The multi-purpose agreement that can handle the simultaneous pact of guaranteeing that there will be no creation of the like or information revelation to any companies or groups. It can be your all in one pact to seal any information that cannot be known to others.
Sub Vendor Non-Compete Agreement
Mutual Non-Compete Agreement
Vendor Non-Compete & Non-Solicitation Agreement
> Uses and purpose of Non-Compete Agreement Form
It is a precautionary measure that is needed as information these days can be shared to other people without knowing it. The document will serve as a reminder to anyone to mind their actions and words when they are about to tell something they should not disclose any one or to any group. You can also see Business Non-Compete Agreement.
> When do I need a Vendor Non-Compete Agreement
You will need this in all kinds of stores or markets where trading is the usual practice, it will keep anyone from imitating the same product or have their own store with the same merchandise. It will be the proof that they are not allowed to make any actions that will show as competition to other stores and manufacturers.
> How to create a Vendor Non-Compete Agreement
Be very precise and exact to what they should and should not do when they are about to sell goods as vendors. The agreement must clarify that they must only sell what has been agreed and will not take any other participation to other stores or companies that will divulge their trade secrets. You can also see Employee Non-Compete Agreement.
> Tips:
Remind that as a vendor they should do what is right for their business and for their supplier to continuously help them to grow in their trade.
> To conclude in a Sentence
You can have a better look at it in Microsoft word, excel and pdf file where the limitations of the agreement can be properly discern. You can supplement it if you want or let us change it for your use by sending us your request.