A wise consultation service is the very thing required by everyone today. The Consultant Brochure Templates provide an impressive format to appeal to the prospective clients. They have lucrative designs that offer great formatting options for your content and information. These are available in all the major electronic file types that add to the ease of customizability. These are offered in Mono-fold, Bi-fold and Tri-fold Brochures Templates  to efficiently manage the content. Increase your promotions now!
Elegant Consulting Tri-Fold Brochure Template
Simple Advertising Consultant Bi-Fold Brochure Template
Sample Consulting Bi-Fold Brochure Template
Classic Advertising Consultant Tri-Fold Brochure Template
Consultation Tri-Fold Brochure
This is a consultation company brochure offered in a tri-fold layout. It is perfect for consultation offices and firms. It comes in PSD format with 300 DPI and A4 size.
Insurance Consulting Trifold Brochure
The brochure template has a cool blue theme with greatly compatible graphics for insurance companies. It lucidly describes information. It comes in 11"x8.5" page size; with 300 DPI PSD format.
Abstract Consultant Tri-fold Brochure
This is a unique brochure template with abstract border and colorful graphical presentation. It is high on customer appeal. The brochure is handmade and can be downloaded in PDF format.
Consultant Campaign Brochure
The template has 5 variations in different colors that highlight a different aspect. The design is efficient for adverts and general promotion. It's available in digital formats for download.
Financial Consulting Trifold Brochure
The brochure has a photo in the front with a clean text orientation. It has blue and white domination. It's perfect for financial organizations and it can be downloaded in tri-fold 300 DPI INDD files.
Consultant Information Brochure
The brochure acts as a great information handout for consultants who want to summarize things at a place. It has colorful text with artistic tri-fold layout. The brochure comes from Etsy.
Deutch Consulting Branding Brochure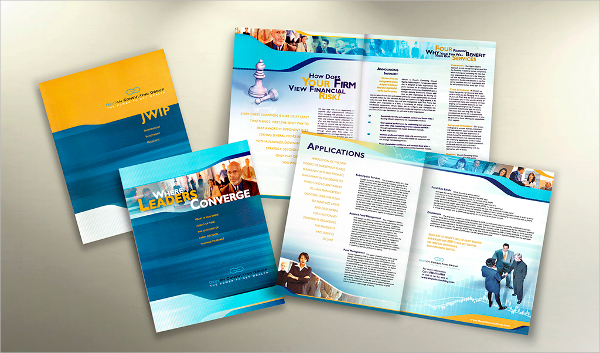 The brochure advertises a brand-name in a bi-fold design. It has quality graphics with clear text and space for logo and photos. Download in electronic format with custom options.
TSF Consultant Brochure
This is a Bi-Fold Brochure with distinction areas for information and graphics. It has blue and white embedding. It's perfect for consultation offices with easy to edit digital files.
Statistics And Consulting Trifold Brochure
This A4 brochure presents data charts and consultation information in an efficient way. It has a tri-fold design, adept for this category. Download in 300 DPI, CMYK colors with PSD files.
Management Consulting Brochure
The management brochure provides a great deal of informative capacity. It has an overall dark theme embedded with editable graphics. It's suitable for management related consultations.
SAP Consulting Company Trifold Brochure
The template features a green upper border with white area for text. It's custom made for SAP brand-name and offers a luring tri-fold layout. The brochure can be downloaded with ease to edit files.
Business Consulting Brochure Template
This is a tempting high quality design for business profiles. It describes the business consultation theme in an eye-candy way. It comes in 11×17 half fold format with software integration.
Corporate Consulting Trifold Brochure
The design complements corporate consultation services. The template has a professional look to it with multi-platform support such as InDesign, AI and Vector EPS. The format is tri-fold with black cover.
Social Media Consultant Brochure Template
It's a creative design for social media consultation brochures. It features doodle art with cut-through text boxes and an animated layout. It comes in 11×17 half fold with popular software support.
Education Consultant Brochure
The brochure is a beautiful rendition for educational consultants with clean white backdrop and blue cover. It comes in 16.5"x11.5" page size with AI, CDR, EPS and INDD files for download.
Green Energy Consultant Brochure Template
Business Solutions Consultant Brochure Template
Elevate your market presence with these custom-made Brochures that target the specification of your consultancy. They cover almost all categories with special attention given to readability and graphical beauty. The template brochures come in electronic files which can be edited as per need, thus removing hassles and saving time.