Brochures can be extremely effective advertising tools when they are advertised in an appropriate way. They provide an amazing way to offer information, whether it is to promote your product or market, educate or inform, or amuse. The luxury template is a significant part of every business as it gives the impression of a specific business to potential clients. We have displayed 15 amazing luxury brochure design samples with various folds and layouts. Explore this gallery of 15 dazzling template design samples and take a hint on how to make your business a successful one. You can also see Resort Brochure Template.
Apartment Tri-Fold Brochure Template
Apartment Bi-Fold Brochure Template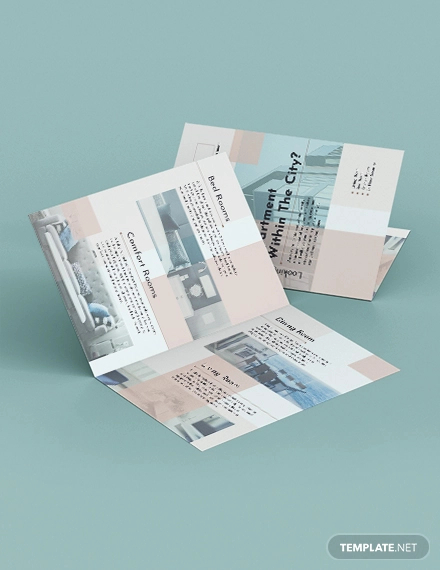 Simple Luxury Brochure Tri-fold Template
Printable Luxury Apartment Brochure Design
Luxury Real Estate Brochure
This Luxury Real Estate Brochure contains a sophisticated design including a graphic table of content and two-page property description. With 16 Pages and A4 Format, it also has free fonts.
Multipurpose Luxury Brochure
Created in Adobe InDesign, this beautifully designed Luxury Brochure is a Multipurpose one. Since its fonts and pictures are in vector format, it is easy to modify and edit.
Colorful Vector Brochure
This colorful Mandala style vector brochure is creatively designed. They have an antique frame and background. They are available in high resolution and several colors that can fit your project.
Luxury Hotel Brochure
This is the most Artistic, Sparkling and Up-to-date tri-fold Luxury Hotel Brochure used for Business, Hotel industry, Flexible Business. The photo and text can be easily edited. It includes PSD files.
Real Estate Luxury Trifold Brochure
This 300 dpi resolution, CMYK color mode real estate luxury templates are fully customized and fully layered. They are available in 4 color options and 0.125 inches bleed from all sides.
Vector Luxurious Brochure Template
Vector Luxurious Brochure Template lets you design a template that matches your requirements and preferences. It is a vector illustration and comes with 300 dpi resolution.
Upmarket Luxury Brochure
This is a beautifully designed 16 page Upmarket Luxury Brochure. Along with advanced features, you will have a fashionable, proficient and upmarket template. The format and font can be easily edited as per your need.
Golf Luxury Brochure Template
This attractive and well-designed Golf Brochure Template can be used for any sports event, proposals, programs, information, etc. It contains definitive golf colors that will attract your target customers. It comes with organized layers and CMYK color mode.
Vector Jewelry Store Brochure
This attractive looking Vector Jewelry Store Brochure comes with 300 dpi resolution and CMYK color mode. It can be used as Leaflet, the cover of magazine, posters, etc. You can also see Home Care Brochure Template.
Luxury Brochure for Property
Luxury Brochure for Property is perfect for promoting your business related to hotel, property or interior design. It comes with an INDD and IMDL files and CMYK color mode. It lets you to easily edit the text and designs as per your choice.
Investment Project Luxury Brochure
This professionally designed Investment Project Luxury Brochure is suitable for business promotions and multiple projects. It comes in 300 dpi resolution and A4 sized papers. It comes with a CMYK color mode and fully editable options.
Luxury Champagne Brochure
Luxury Champagne Brochure is easily customizable for managerial use. It has amazing layouts and contextual. It uses free fonts.
Brochure of Realistic Luxury Cosmetics
This trendy, realistic and sophisticated Luxury Cosmetics brochure is fully responsive and customized. It comes with very high graphics, CMYK color mode and fully layered features.
Luxury Business Agency Tri Fold Brochure
Easy to customize and fully covered, this Cool, trendy and stylish Creative business brochure template can be used for all your business needs. It comes in 8.27x 11.69-inch size and has 300 dpi resolution.
Luxury Spa Tri Fold Brochure
This skillfully made Luxury Spa Tri-Fold Brochure is a trifold brochure that can be used for spas, parlors, health care clinics, salons, etc. It comes with a few sets of features such as 300 dpi resolution, CMYK color mode, easy to adjust text and font, etc. It gives a specialized look and is simple to download.
Luxury Property Brochure Design Concept
Luxury Hotel Brochure Template
The benefits of using a luxury brochure template are understandable. Instead of creating a fresh invoice to every customer, a convention template that ensembles your business can help accelerate the complete process. All of the brochures mentioned are different from each other and they carry features that have best of originality in them. You can also see Yoga Brochure Template.