Every homeowner prides in an outstanding home that is also safe for children and pets. You require these professionally designed templates to improve the condition of your home. Nursing homes and schools can also benefit from these brochure designs.
22+ Home Care Brochures
Creative Home Care Tri-Fold Brochure Template
Creative Home Care Bi-Fold Brochure Template
 Home Care Tri-Fold Brochure Template
Are you in search of a brochure that helps you show the offered home care products or services you give? Then you are in the right place. Use this template, so that you don't have to make one from the scratch. This template comes in a file format that can be easily edited and customized to the choice of your liking. A brochure template with such a high-quality at such a reasonable price should not be missed.
 Home Care Bi-Fold Brochure Template
This template is highly downloadable and comes in a vibrant bi-fold design. Since there is a lot of white space, be careful as to how you will fill them completely. This high quality of the template is easily printable in any variety of sizes that you will surely need to make use of for your homecare.
Modern Home Care Bi-Fold Brochure Template
Modern Home Care Tri-Fold Brochure Template
5 Steps to Create a Brochure
Step 1: The Front Cover
This page is an important part of your homecare brochure as it is the first thing that is taken note of by your customers. It acts as the main introduction to what you are going to say inside the brochure. It should include basic and important details like the name, the logo of your homecare, etc. It should be attractive, so it grabs the attention of the reader.
Step 2: Describe Your Services
Describe your home in the easiest and positive way you can. Do not overdo it as this might affect how one looks at your home. Create excitement in your reader when describing what you are in the brochure. Grab their attention and try to contain it for as long as you can. Pictures can instantly grab the eye of your reader, so make the pictures look appropriate and connect them to the text.
Step 3: What You do?
The next important step would be to add what is it that you mainly do. The work, what are the facilities available, etc. should be stated on this page. You can add a few words from other people on what they had to say about your homecare. Check out gym brochures, in case you have a gym at your homecare center. It will help you showcase the facilities available.
Step 4: Fine Details
Make sure that your brochure has the logo of your homecare unit. It is always good to mention your sponsors if you have any, as a sign of gratitude to them. Just give your customers the base or storyline. Too much detailing will annoy your readers, so be to the point. Use legible titles, headlines, and texts, so that it is easy for the reader to read. Do not fill your brochure with texts, but leave space for graphics images and other fonts.
Step 5: Contact Information and Others
Use color coordination and make the page look beautiful and natural. Do not forget to give important details of your home care services and the things that make you different from others. Chocolate brochures will be loved by anyone as the pictures and the description will tempt them and make their mouth water.
Nursing Home Care Tri-Fold Brochure Template
Nursing Home Care Bi-Fold Brochure Template
Medical Home Care Tri-Fold Brochure Template
Medical Home Care Bi-Fold Brochure Template
Printable Home Care Tri-Fold Brochure Template
Printable Home Care Bi-Fold Brochure Template
Elder Care & Nursing Home Tri-Fold Brochure Template
Elder Care & Nursing Home Bi-Fold Brochure Template
 Home Care Brochure Design Template
You can use them for typical designing and planning. They are also essential for undertaking major and minor repairs within your home. Most of these professionally-designed brochure templates are available freely for download and you can customize the themes to match your home care needs.
 Home Health Care Brochure Templates
Home health care brochure templates that are availed for printing are professionally layered in INDD and PSD. They are easy to edit and customize anytime, anywhere. Use attracting quotes and vibrant colors to attract customers to read your brochures.
 About You Home Care brochure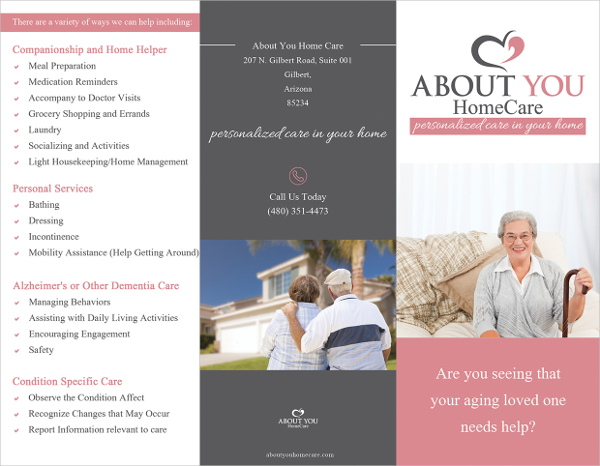 This tri-fold about your home care brochures are creatively designed to enhance the quality of care for the aged. You can customize them to provide care for specific conditions, dementia, and personal services. Wine brochures will help you design a brochure for a wine tasting party or if you want to invite people to your house for a party or event. Check them out now!
 Home Care Tri-Fold Template
This 300 dpi, CMYK color home care tri-fold templates are fully layered. They feature IDML and CS4 formats. You can alter the colors and fonts while editing and customizing them with your images.
 Reliable Home Health Care Brochure
This template allows you to create brochures that correspond to your needs and preferences perfectly. This tri-fold template is easily editable and you can customize it to the liking that best suits you in every possible way. Nonetheless, you must download it before manipulating it.
Nursing Home Care Trifold Brochure
This professionally designed nursing home care trifold brochure is suitable for Medicare facilities. It comes in A4 and letter sized papers. Check fast food brochures to help design brochures for your fast food center. This template contains PSD, IDML, INX, EPS, Photoshop, Indesign and color CMYK of 300 dpi.
 Corporate Child Care Brochure
This current corporate childcare school trifold brochure is designed in 11.25 by 8.75 papers with .25 bleed. It also contains a replaceable logo and photos. It is layered and ready for printing.
Elder Care & Nursing Home Brochure Template
There is a wide variety of Elder Care and Nursing Home Brochure Templates for download. They come in single, double and triple fold depending on their use. They are easily customizable for organizational use.
 Home Health Care Tri-Fold Brochure
These home health care tri-fold brochure templates for printing do not include photos. However, you can add your own while customizing and personalizing them with your preferred fonts, colors, and images.
Finally, the only justice you can do to yourself in a bid to improve your homecare is to use homecare brochures. They will assist you to structure your home or facility in the cleanest and safest manner that you always perceive. You can use them in painting, repairing and renovating your home. Interestingly, they are affordable and efficient.