Plan Templates
5 Event Timeline Templates – Free Word, PDF, PPT Format Download!
As any event planner knows, Event-Planning is a detailed job require minute amounts of micromanagement and long term planning regardless of whether the event is large or small. Fortunately, just as there are sample free event plan templates to create and plan out your events more smoothly. so there are event planning timeline templates and event planner checklist templates that help you plan out your events with specific instructions as to what actions to take at what point of time, both prior to and after the event.
Free Event Timeline Template
Event Planning Timeline Template Word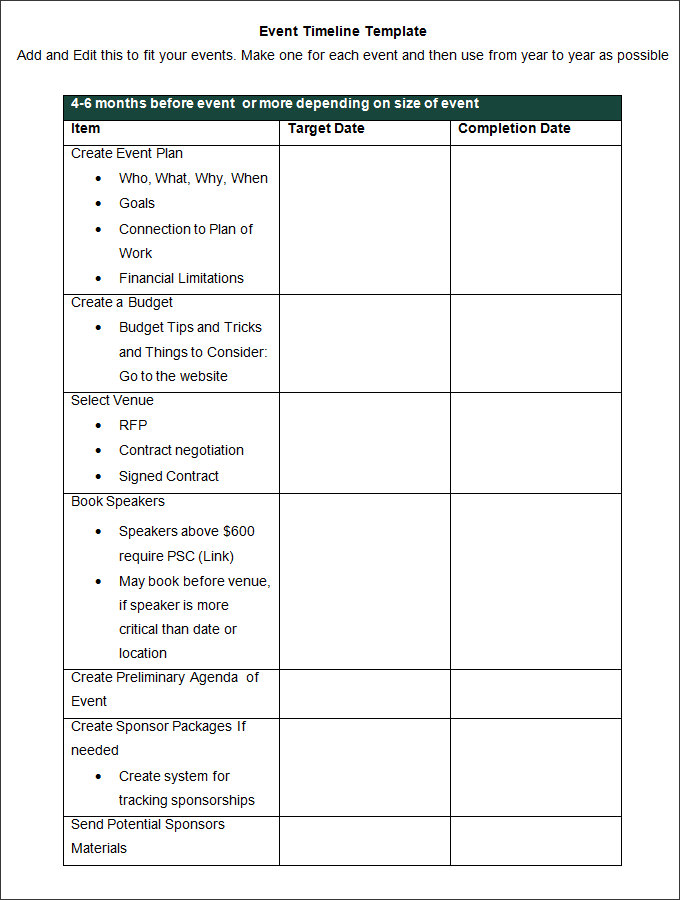 expeng.anr.msu.edu | You are getting a complete event planning template here. It is divided into 3 columns where the first column is all about the different tasks you have to do, the second one will document the target deadline and the last one is about completion date.
Event Planning Powerpoint Timeline Template

The timeline here starts with a horizontal bar for milestones and it includes up to 5 tasks. All the tasks are accompanied by their completion deadlines and the time-period within that deadline.
Event Planning Timeline and Checklist Template PDF

inside.augsburg.edu | This timeline would be followed from 6-12 months before the event. The left side is all about the different tasks to be completed and the right side will note down the date of completion.
These event planning tools, some more feature-heavy versions of which also come in premium variety, can be downloaded event plan templates easily off the internet and help you create detailed reference points to use at all points of your planning.
Create Elaborate Timelines of Pending Actions
These event co-ordination blank timeline templates can come in specific varieties, like conference planning checklists and spreadsheets, and let you plan out your or your clients' events starting from any point prior to the event, set out particular tasks and sub-tasks in particular time frames with specific goals and requirements for each time frame- and sub time frame. put down specific target and completion dates for activities like hiring subordinates, formulating budgets, inviting guests and speakers, and organising venues, co-ordinate all that you need to do on the day of the event itself, and schedule all post-event clean-ups and activities.
Keep Up With the Pace of Your Events
Thus you can create handy journals and reference points that ensure that you never fall behind in any part of the planning and can maximise both your clients' and your own satisfaction. If you have any DMCA issues on this post, please contact us!