Plan Templates
10+ Integrated Marketing Communication Plan Templates – Word, PDF, Apple Pages
The desire to attain the perfect dissemination of product information to the target clients despite the use of various marketing strategies can be achieved with an integrated marketing communication plan template. Generally, a business marketing plan is a written plan that combines all the marketing strategies.
These strategies include advertising, sales promotion, public relations, among many others thereby ensuring the strategies support each other. You can see the best plan sample examples by downloading in the best format download for free from online.
Integrated Marketing Communication Plan Template
Prepare the marketing media your company plans to use for your promotional activities by conducting extensive market research and inputting gathered data and information with the help of this above-mentioned template. This template is professionally outlined for you to effectively organize your integrated marketing communication strategies. All you would have to do is download the template, edit and customize it to suits your preferences, likes, and requirements. Check it out now!
Printable Marketing Plan Template
Preparation is key. So make sure that you take a look at this marketing plan template to stay ahead of your competitors and dominate your industry. This template can be instantly downloaded anytime, anywhere with ease. An added advantage to this template is that it is not just limited to the computer, but it can also be downloaded on any electronic device with ease. It is fully editable and customizable, so take the help of your favorite software application to get it in the file format you need now!
Simple Marketing Plan Word Template
A marketing plan template, like the one above, helps you make effective marketing promotions anytime, anywhere with ease. You can also download this template in any file format like MS Word, Pages, Excel, etc. as per your needs. Since you can use this plan for your needs, you do not need to make a plan from scratch and waste your time.
Sample Integrated Marketing Communication Plan Template

acui.org
This above-mentioned sample integrated marketing plan communication template presents steps for an effective marketing plan. These plans could be for communication with the customer, digital marketing, target audience, etc.
Integrated Marketing Communication Plan Example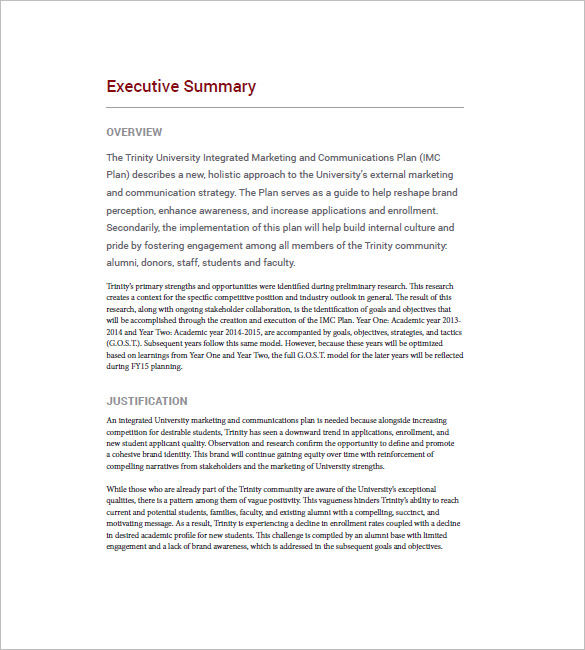 sbu.edu
In the Integrated Marketing Communication Plan Sample, an executive summary is provided which includes points like overview, strategies, and justification. Guidance for creating an impactful marketing communication plan is given.
How to Create a Marketing Communication Plan:
Step 1: Target Audience
Firstly, you need to know who your target audience is so that it is easier for you to make the proper plan needed for marketing your business, so as to make sure that there is the right growth of your organization. Keeping your target audience in mind while. This way, you will have a better idea of what they re expecting from you.
Step 2: Gather Necessary Details
Before you start making the plan, you must gather all the necessary details needed to make the perfect plan needed for your business entity. Do proper research of the market you are a part of. This way, you can make proper use of this information in the plan you want to make for your business.
Step 3: Your Unique Selling Proposition
This step is where you mention what makes you unique and different from the rest of the business entities that people can choose from. Clients would probably be in search of those businesses that are different from the others. This way, you will know what are your strengths and weaknesses. Know what are you unique and different at selling and mention that in the plan. Take that as your strength, since not everyone provides the same and make the plan from thereon.
Step 4: Outline your Marketing Plan
Get all the points together and outline the draft of your plan. Identify who your customers are and keep them in mind while making the plan, as you will know what they expect from you. Keep your objectives clear and concise, so that they can be reached with the steps you make. Campaign your communication plan wherever and whenever needed so that it gets easier for those reading to understand what you are trying to say. Keep in mind the budget while planning this communication plan
Step 5: Review your Results
Once you are done with the plan, the next thing for you to do would be to review your plan well, so that you have not missed any important details in it. After that, once you get the plan to action, you need to make sure that you evaluate and measure the success rate of the plan. Make sure that you make the necessary changes wherever needed so that there is the perfect growth of the company.
Integrated Marketing Communication Plan Template of Coca Cola

This integrated marketing communication plan describes in detail the strategy of Coca-Cola to increase sales through effective marketing communication. Factors like Coca Cola's new brand platform and social marketing are included.
Integrated Marketing Communication Plan to Your Client

The template 'Integrated Marketing Communication Plan to Your Client' consists of pitching a particular strategy to potential clients. Key principles and the main communication vehicles and activities are listed.
Pitch a New Integrated Marketing Communication Plan Template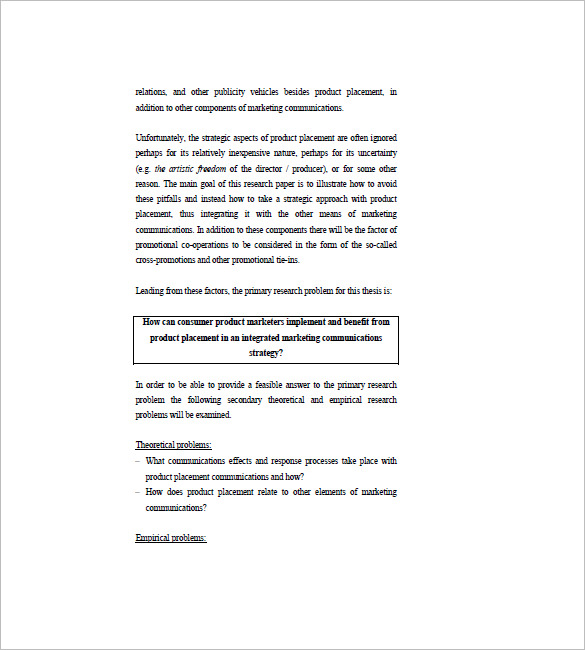 doria.fi
'Pitch a New Integrated Marketing Communication Plan' template states various problems, challenges, and advantages of product placement in marketing plans and strategies. This template is available in PDF version also. This acts as a guide to get over your pitfalls that you might face during the action course of your plan.
Developing an Integrated Marketing Communication Plan

Theseus.fi
Example of Integrated Marketing Communication Plan

ethicsbasedmarketing.net
How to Develop an Integrated Marketing Communication Plan

open.uwi.edu
Summing Up:
These templates help the business realize the efficient and effective performance of all the strategies used during marketing. This is because the plan prevents the businesses from putting in place divergent marketing plan. This also enhances the access of the information by many customers since not all people use similar channels of accessing information.
There are many business plans available online for you to chose and select the best one needed for your business. With the help of these plans, your job gets easier. This way, you do not need to create plans from scratch. You can just download, edit and customize them to suit your needs and preferences best.