Plan Templates
9+ Project Management Communication Plan Templates & Samples – Word, PDF, Google Docs, Apple Pages
Project management is where everyone wants to be; however, the truth is that project management communication plan is a science as well as an art and requires the best of all worlds. Achieving great results is just one part of the job, showcasing them to the higher placed individuals in the hierarchy, sharing them with one's team, and maintain records for audits. Everything is best done with the help of the plan templates that are available online for you to use, edit and customize, so as to match your preferences.
Project Management Communication Plan Template
Highlight communication processes and protocols for any project by taking the help of the above template. Get everyone on the team updated with any issue status to help speed up completion and avoid setbacks to any project. All you would have to do is download the template, edit and customize it to suit your needs and preferences perfectly. There are many plan templates in Word available online for you to download, edit and customized to suit your preferences and needs perfectly.
Project Management Plan Template
Pre-formatted for a sleek and professional look, this project management plan template will help you plot your projects better. Thorough in its reporting style, this template makes sure that every aspect of project management planning is covered. It is not just limited to the computer, but it can also be easily downloaded on any electronic device and edited accordingly.
Simple Project Quality Management Plan
Whether it's an upcoming target, a subproject, a short term goal, or any piece of information that you need to share with the team, communication plans help a lot. Organize the strategies on how you can manage the quality output of the employees in your company with the help of the above template. This template allows you to take into consideration all the standards and policies that your company observes regarding the quality output of a project.
Standard Project Management Plan
A project management plan can be a bit difficult to write from scratch, but there is no need to panic. The above-mentioned template is fully downloadable in multiple file formats, can be easily edited and customized, and immediately available for printing. Make professionalism look that much easier with this business-standard template. Project execution plan templates that are available online can also be of great help in case you need a plan to execute your project successfully.
Sample Change Management Plan Template
With the help of the above template, you would effortlessly be able to track all the necessary information required to effectively manage project change from project inception to delivery with our change management plan template. It is simple and easy to read for the convenience of readers. It has a simple and professional design. Just download the template, edit and customize it to suit your preferences and voila, you have one of the nest plans ready for your perusal now!
Project Management Communication Strategy Template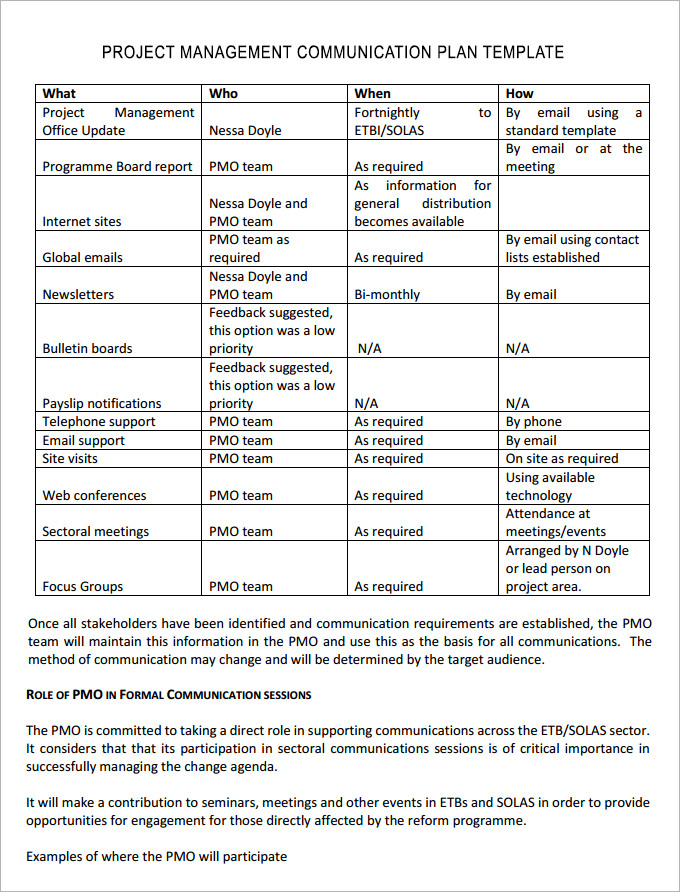 education.ie
As the name suggests, the project management communication strategy template helps you to define your communication strategy amongst your team, business leaders, and stakeholders. Coming with predefined sections, all of these templates can assist in defining communication mediums, channels, messages, and other vital details that are essential to delivering impactful communication.
Project Management Communication Checklist Template

The template includes all the essential items, products, responsibilities, and activities that are required to be arranged or organized before starting off the delivery of your project communication.
Creating a Project Management Communication Plan:
Step 1: List Your Project's Needs
It is very important that you mention all the major needs in the plan. This means the size of your project, the nature of work that is going to be done or being done, what are the client's preferences, etc. Check out the checklist templates for more. This way, it would be very easy for those who are involved in the project to understand what they should be doing and each of them will be assigned work respectively.
Step 2: Goals and Objectives
Goals and objectives are a very important part of any plan as they determine what is it exactly that needs to be done for the goals of the organization to be fulfilled. These goals could be business goals, learning, developmental or personal goals. Make sure that every communication you make has a reason behind it. Knowing the main purpose of your project is very important. This way, you will know what your main focus is.
Step 3: Choose a Communication Method
Be very careful in this step as it is very important that you mention what kind of communication method you will be using. Think this through very patiently as it shows whether or not your plan will be a successful one in the end or not. Project management plan templates can be of great help to you in case you need to create a management plan for your project. Firstly, you should know how your team works best, then this way, you will know how to keep them productive and working. Keep your client's preferences in mind without fail.
Step 4: Identify Your Clients
This is one of the most important steps in your plan. You need to know who your investors, owners, and stakeholders are so that you can involve them in the plan if and when needed. Establish a regular communication frequency pattern with them, so that they will know that they are also an important part of your organization. Remember that it is very important for your clients to know what you are doing in a project, otherwise, they would not like to break a deal with you., so be communicative about it. Hold regular meetings whenever necessary and keep them in the loop.
Step 5: Review Your Plan
The main elements in a communication plan should be the process, objective goals, strategy, the plan itself, the executive summary, key challenges, situational analysis, customer analysis, budget, etc, to name a few. These should be clearly mentioned in the plan without fail, as they make sure that all the points are summed up. Plan templates in Apple Pages might also be of great help to you. Once you are done making the plan, make sure that you review it. This way, you will know if there are any mistakes that you need to make changes in and do so accordingly.
Project Management Communication Roles and Responsibilities

The Project management communication Roles and Responsibilities Template provides you great help to clearly define and brief your team members about their roles and responsibilities as a team-member in the successful completion of the given project. Helping you to reduce a lot of confusion and disputes, all of these templates are readily available for download and can be customized to meet various requirements.
Project Management Communication Plan Template
Project Management Communication Objectives Template

dot.ca.gov
Final Thoughts:
The project management communication plan is one of the most downloaded templates as they help in defining goals and objectives for a particular project or process. All of these templates are available in various layouts, samples, and styles to ensure that you define your project's goals, objectives, mission statement, visions, and expected returns with ease. You can also try out the PESO model – paid, earned, shared and owned media.
Communication plan templates will come in handy for you to create the right kind of plan for your project. You can either fill these templates with your details by opening them in a text editor, or you can download them and fill in your details and information needed. This way, you can prepare a smart looking and informative project communication plan effortlessly.