Report Templates
20+ Simple Expense Report Templates
An expense report is a detailed report produced on a monthly, quarterly, or yearly basis that accounts for all the expenses a business incurs. This report template may be broken down to small subsets of the business to determine how much money each area is costing the company.
Expense reports must be maintained for accuracy to ensure that the company is not spending unaccounted for money. They are also maintained by the employees and submitted to the employer either for reimbursement or tracking of any money spent.
Simple Expense Report Form Template
Simple Expense Report Template
Monthly Expense Report Template
Employee Expense Report Template
Simple Travel Expense Report Template
Annual Expense Report Template
Restaurant Annual Expense Report Template
Travel Expense Report Template
Auto Expense Travel Report
Free Simple Report Card Template
Free Expense Report Template
Simple Travel Expense Report Template
southplainscollege.edu
For a person traveling locally or overseas, this travel expense report template will serve as the official record of the expenses concerning the travel fees made within a specified time. From bus, taxi to plane fare- are all recorded in this template for summation.
Business Expense Report Template
rit.edu
Companies, no matter how small or big, use this report for their employees to apply for the expenses accumulated for a business deal done locally or internationally by them.
Simple Employee Expense Report Template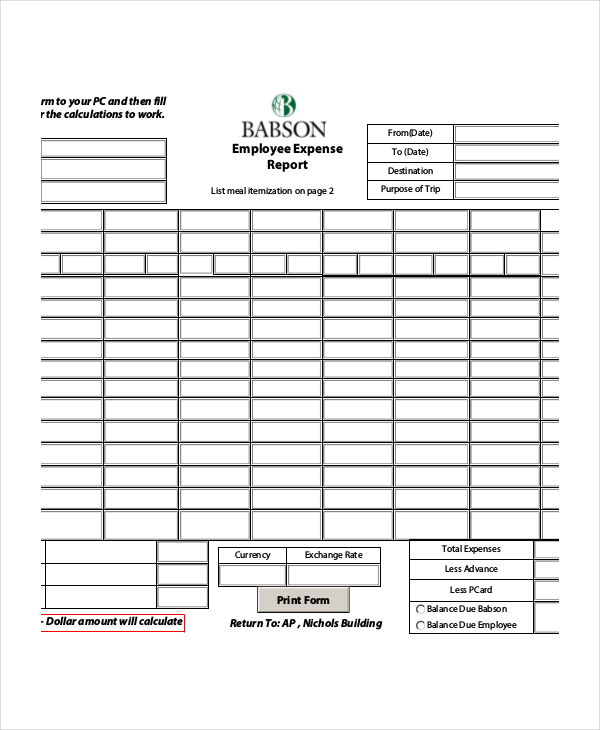 babson.edu
This template is intended for any business related activities where it counts all the expenses made for accommodation, transportation, and other stuff in order to make sure that the business objectives are met.
>

Target Audience of Expense Report

Finance executives, managers, or any person in charge of supporting the expenses made by any of their personnel for business purposes will make their job a lot easier when they use this report for assessing all the expenditure. They are common users as they are the one evaluating each cost and charge incurred in various activities made by their employee.

Furthermore, employees who are in charge of using the money for a designated purpose, can quickly record their expense in this report so they can acquire the rightful reimbursement they deserve. You can also see Daily Report Templates.
Credit Card Expense Report Template
iles.cwa-union.org
This template is precise for credit card usage for different payments of bills; it shows the number of expenses made and its total amount which is stated on a monthly basis.
Simple Conservator Income And Expense Report
ndcourts.gov
Mileage Expense Report Template
matserv.ucla.edu
Sample Expense Report Template
cmg.org
Simple Editors Annual Expense Report
asanet.org
Project Expense Report Template
ucalgary.ca
Expense Report Excel Template
ggp.com
>

What are the benefits of Expense Report?

This report will show the breakdown of all the costs incurred by any department or individual for a particular purpose. Managers will use this as the basis for evaluating if all the expenses made are reasonable. It will also serve as a financial audit to determine whether there is any financial assistance needed in the department to increase the business profit. It also helps to decide if the department needs cut down costs to save more money.

Similar to expense sheet template and financial report template, this template can calculate all the costs incurred in any activity for the sole purpose of evaluation or outline. It will give you the whole expenditures in its table format and have it computed; so this document can handle the task of summarizing all the expenses.