Report Templates
FREE 24+ Board Report Templates in PDF | MS Word | Apple Pages | Google Docs
Board meetings are important aspects of any corporation and it's legally mandatory for a company to maintain appropriate documentation of these meetings. Any failure here might result in liability for the shareholders, specifically if they are directors themselves or share a good rapport with the corporation directors. But creating a sample board report is a tiresome and lengthy task and hence it's wiser to count on a board report template here.
Table of Content
24+ Board Report Templates
Board Report Template
As a CEO, there will come a time when you need to review board reports, which happen to be the high-level reports where important summaries for organizations over a certain period are detailed. This can provide organizations with an overview of where they are headed. Since it is up to executives to make effective decisions, then these are what they can use to help them do so. Whether it is about finance, operations, or even the overall conduct of the organization, using this report template in Word will reduce the stress of creating a report from scratch.
Basic Board Report Template
A board report is an imperative document to prepare before a board meeting. It contains all the necessary information that needs to be discussed in the meeting to ensure that the company is heading in the right direction. By using the above template, you do not have to take the stress and waste time in creating a new business report from scratch. It is easy to edit and customize the way you want so that you don't even miss the minute details to be mentioned in the report. Improve documentation and reports by using this template.
Board Compliance Report Template
Are you looking to create a report sample for an upcoming board meeting? Then look no further as this template is all that you would need for such a meeting. Just fill in your information and be done within minutes. Change any part or content in the document to fit your purpose of enumerating compliance to rules, standards, laws, and regulations that need to be addressed during the meeting.
Non Profit Board Report Template
Board reports are crucial documents to send, whether you are answering to a nonprofit board or otherwise. In sending reports, you provide the board with crucial information that can allow them to exercise their power in the best way possible for the organization as a whole.
Management Report to Board of Directors Template
Are you looking for a way to present the management design report on the oncoming board of directors meeting as you are in charge? Well, look no further! Use this template, as it allows you to edit and use it to present all you need in the report effortlessly.
Board Meeting Report Template
The board report template will provide a standard format on the creation of a proper report regarding meetings and make the task way easier. This template consists of essential points to be included in a board report- such as the type of meeting, name of the company, date & time of the meeting, name of facilitator, topics to be discussed & adjournment time. Also, check monthly sales report templates for making monthly reports for more efficiency at the business.
Board of Trustees Report Template
Even the board of trustees need to have meetings regularly and create reports so that they can know what to do when for the growth of the business, hence the company too. Get organized, communicate better, and improve productivity with the aid of the above template. Check non-conformance reports for more. It's easy to edit, fully customizable, and downloadable onto your various devices.
Board Rescue Report Template
Rescue strategies and missions are the main things that will keep you and your company safe from all kinds of issues. If you are a part of the rescue board and you need to maintain a report of how you are going to go along the missions and strategies, then use this report template, so that you can save time and effort of creating one from scratch.
Board of Directors Report Template
Now and then, a company's board of directors conducts a meeting to discuss the performance of the company. Always prepare an informative and well-outlined report for the conference board meeting through this board of directors report. This template permits you to organize acquired data and information on your company's performance understandably and efficiently.
HR Report Template MS Word
Formal Report Template for Mac
Free Monthly Board Report Template
Free Board Meeting Report Template
Editable HR Board Report Template
sthk.nhs.uk
CEO Board Report Template Word Format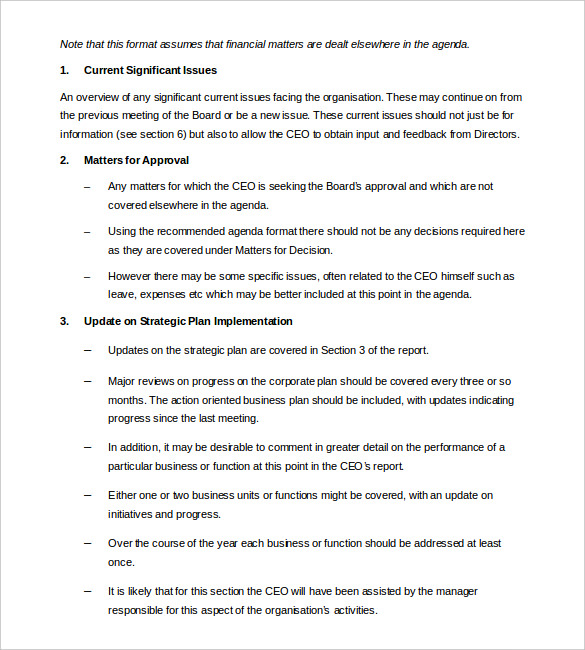 effectivegovernance.com.au
Sample Management Board Report Template
earlystagetechboards.com
The sample report template assists you in communicating all the discussions, all-important pointers, and findings of a management meeting to ensure more engagement and effective interaction at the next board meeting. You can easily modify the sections of these templates and customize them to develop a sense of pride and enthusiasm amongst board or management member about the targets they've achieved.
Board of Directors Meeting Report Template
apna.org
Committee Report to the Board Template
aarweb.org
The committee report provides a brief description of all the essential points that have happened in the past meeting. It can assist you to design a set of questions, raise issues, or even report some notable findings to the board members that can help the committee to improve the current structure or position of the business/product.
Blank Board Committee Report Template
wemta.org
Board of Directors Report Template Example
mixmarket.org
General Hospital HR Board Report Template
northamptongeneral.nhs.uk
The General Hospital HR Board Report Template is specially used in medical institutions, hospitals, clinics, and other hospitality organizations engaged in delivering services related to the medical domain. This particular report can help you to describe the previous year format along with mentioning the changes the board or committee has decided for this year to provide detailed information about the evaluation process.
Sample Board Report Template
Free Board Report Template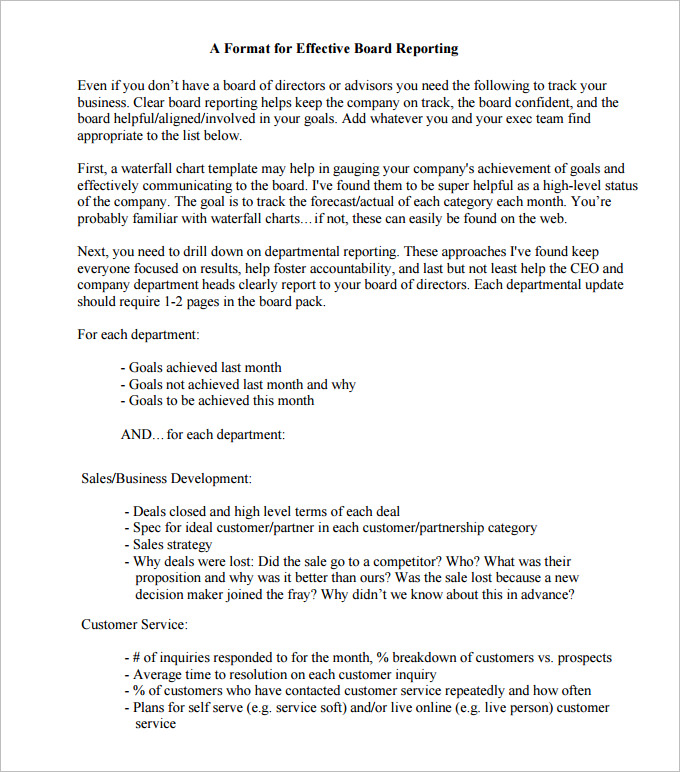 rulesforrenegades.com
Board Report Sample
ourcommunity.com.au
Sample Board Meeting Report Template
mch.govt.nz
There would be spaces beside each of the points mentioned and you would need to submit the information. This saves you the time and energy needed to create a proper board report from scratch. As you would be getting a standard ready-made format here, you won't have to worry about the authenticity of your board report. Moreover, the best templates feature ample space to jot notes discussed in the meeting.
What Is a Board Report?
Board reports are documents that have essential details of an organization. It is considered to be a report distributed among high-level officials of the organization. All the critical issues of the business are discussed in a board meeting, and they are documented in the board report. If you are looking for board reports for your business meeting, board report templates may be of great help. In a board meeting report, you need to include information, such as the name of the company, address, phone number, email address, the purpose of the meeting, venue of the meeting, date and time of the meeting, number of attendees, issues for decision, points for discussion, finalized points in the meeting, and recommended actions.
According to Chron, a company's board of directors mostly conduct meetings at least once a year or whenever they need to make major decisions.
On a related note, board meetings generally last for 3 to 4 hours, depending on the topics discussed.
An analysis from Equilar Inc. revealed that women in the United States held 20.2% of board seats in a company as of 2020, from 15% last 2016.
Creating a Board Report
1. Know Your Audience
The first step towards creating your board report should be that you should know the audience you deal with. You should have a clear picture of who your audience is, what they are looking for. Know the role of the board and what information does every member need from you. Feedback plays an important role as it ensures to check whether or not you have provided what the client needs.
2. Plan Ahead
Board reports are often written in the last moment haphazardly, without a proper plan or anything, hence resulting in a poor report. So, the best thing to do is to plan away and take enough time to do so. Give the staff who are giving you a report clear deadlines. Give them a day or two's time to finish their report and submit it to you. Send your board report at least three days before your board meeting, so that all your board members are prepared. Give the main elements and key points without fail.
3. Accessible Information
Since board meetings are short and they don't have the time to go through everything, it is always better to give them the information they need easily. Create a standard format for your report. This way, it would be easy for you to write and also for the board members to read. Your report has to be concise, crisp and simple. Once you are done with the first draft, make sure that you make the necessary changes. Give a summary using the necessary points. Give clear headlines and information.
4. Simple Language
Make sure that the language you use should be simple and understandable to everyone on the board. You never know from which background each of them is, so do not use complicated terms. See sample technical report for more information on the IT side. Keep the language as simple as you possibly can, so that everyone understands what you are trying to say.
5. Provide Context
Facts are never enough to prove a point, your board members need to see as significance behind it too. Spell out implications and provide them with enough context to get the discussions started. Use trends that have developed over time, so that they can understand better. It is rather important to have a good relationship with the board members for the welfare of the organization, and that is a two-way street. Follow up for any feedback that might be of help to you and your business.
General FAQs
1. What is the role of the board of directors?
The board of directors plays an important role in ensuring the company's success by collectively governing the company's affairs. These directors are appointed on behalf of the shareholders to run the everyday affairs of the business.
2. What is the purpose of a board report?
The main purpose of a board report is to inform the shareholders about the performance and various other aspects of the company, such as its major policies, relevant changes in management, future expansion programs, modernization, and so on.
3. What are the elements of a board report?
A board report must include details such as date, name, and objectives of the committee, a summary of recent accomplishments, a list of activities in progress, the financial impact, recommendations to the executive director or CEO as well as to the Board of Directors.
5. Who can sign the board report?
A board report and the annexure can be signed by the 'CHAIRPERSON' if he happens to be authorized by the Board of the director.