Report Templates
14+ Valuation Report Templates in Google Docs | Word | Pages | PDF | XLS
When it comes to the purchase of property or securities by an entity, it is important to know the estimated value of the asset planned to be invested upon. A valuation report shows information on the evaluation, and the market price of the inspected asset is a valuation report. Valuation Report Templates are used to make these reports.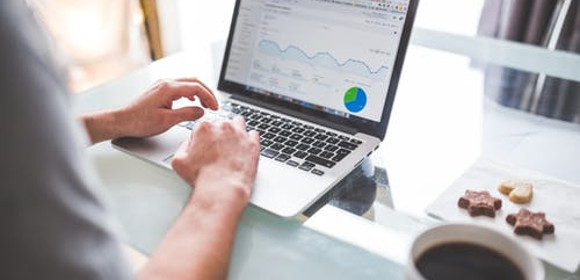 Table of Content
6 Steps to Write a Valuation Report
Step 1: Determine the Reason
Valuation reports are made to evaluate and assess an asset or assets basically. The first step to making such a report is to determine why you require the report. Based on the objective you want to accomplish through the valuation, the report as such will differ. The item or asset for which you are making the report also makes the report vary.
Step 2: Determine the Type
As already established, valuation reports can be made for several reasons. Hence, the type of report also differs based on this reason. There are three types of valuation reports. The first is managing portfolios where knowing the current value of the stocks owned by the organization will help in making decisions regarding the buying and selling of the stocks. The second is acquiring assets and the third is legal and tax reasons. You have to select one that is right for your report.
Step 3: Provide the Required Details
Once you have the reason and the type of valuation report in place, you can proceed to define and provide the required details. These details include the names and contact information of the people involved in the valuation process and the date of doing the valuation as well as preparing the report.
Step 4: Provide the Asset Details
The main purpose of a valuation report is to provide a valuation of specific items or services or assets. So, you need to first determine what is it that you are making the report on. Once you have done that, you need to write down the details of that commodity or service on the report. Give specific information about the item and make sure that it is accurate.
Step 5: Determine the Valuation Method
The next step involves the most important part of the report that is doing the valuation. There are three methods you can choose from. You can do a comparable company analysis, a discounted cash flow analysis or a precedent transaction analysis. If required, you can also choose to do the valuation using a combination of two, or more methods. However, this is not advisable.
Step 6: Do Data Analysis
The last step requires you to do the data analysis of the gathered information. This analysis should be able to estimate the item's approximate value or worth. The goal here needs to be helpful information that will provide appropriate conclusions.
15+ Valuation Report Templates
1. Valuation Report Template
Need to know the market value of the asset you own? Then you need to make a valuation report for the same. And you can do so with the help of this valuation report template. This template is available for download in Google Docs, Word as well as Pages format. Use it make a proper evaluation report of your asset.
2. Property Valuation Report Template
A report on property valuation is a prevalent manner of determining a property's worth through a view or data use. It is generally made by a real estate agent. If you want to make a proper such report, then you need to download our property report template. The file can be downloaded in Google Docs, MS Word or Apple Pages format.
3. Printable Valuation Report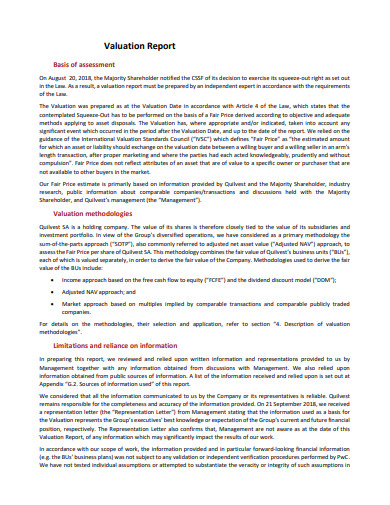 quilvest.com
Valuation refers to the process of determining an asset or a company's current value. Based on this valuation when a report is made, it is known as a valuation report. You can make one too easily if you download our report template in Google Docs, Word or Pages format. So what are you waiting for? Hurry and click on the download button!
4. Valuation Report Checklist
youunlimitedanz.com
A checklist is the best way of making sure things are in place to make a proper report. That is why we are offering you this report checklist template. By downloading and using this template you can make a checklist for the valuation report of your asset. This template is fully editable and printable.
5. Sample Valuation Report
moneysoft.com
Valuation reports are used for financial purposes to determine the current value of an asset. Making such reports can prove to be incredibly tedious. And that is exactly what our sample report template is here for. You can make a perfect valuation report with the help of this template once you download it in PDF.
6. Valuation Report Format
britishland.com
There is a strict format to be followed when you are making a valuation report. Failing to do so will result in the formation of an inaccurate and wrong report. Eliminate this risk and make a correct valuation report with the help of this report format sample. This template provides a ready-made format of a valuation report that you can follow.
7. Immovable Valuation Report Form
incometaxindia.gov
Immovable property refers to the kind of property item that can not be moved without demolishing or manipulating it. Doing the valuation of such a property fixed to the earth is not easy. But with the help of our report template for immovable property, this will seem like a cake job. Quickly download this template to grab this opportunity.
8. Simple Valuation Report Template
ise.ie
A valuation report is sure an important document. But this does not mean that it has to be overly complicated and elaborate. Allow us to help you make a simple valuation report. All you need to do is download this simple report template and follow it as a guide to making one for your needs.
9. Bank Valuation Report Letter
idfcbank.com
A valuation report is an evaluation of the estate you want to buy to determine its importance. Bank valuation reports are made to evaluate bank assets. Need to make such a report? Use this report template in PDF format to make your task easier and much efficient. Click on the download icon and make changes as per your requirements.
10. New Valuation Report in PDF
rics.org
Valuation reports can be made for any kind of business report purposes such as for assets, property purchase, marketable securities, and others. Are you a rookie at making such reports? Don't worry, once you download our report template, you will be able to make such reports at the snap of your fingers.
11. Valuation Report Example in PDF
fifepensionfund.org
Nobody can make learn to make valuation reports overnight. However, with our report template example, you can get access to a sample report that you use a guide to making your own. This template contains original headings and content and can be easily downloaded on any operating system.
12. Valuation Report of Shares
schandgroup.com
Share valuation is the process of knowing the value of the shares of companies. Share valuation is focused on quantitative methods, and the price of the share varies depending on the demand and supply of the industry. This valuation report template has been specifically designed to make the valuation report for shares. Download it now to make use of it.
13. Simple Valuation Report Format
caa-ahm.org
The best way to measure the market price of your assets is to do a valuation report on them. And to make this task more comfortable for you, we are giving you this valuation template. This template is very simple and easy to use. The template content is fully editable and can be customized according to your needs. You can also make a residential valuation report using it.
14. Formal Valuation Report Letter
tmrs.com
It might be required by your company protocol to make the valuation report from scratch; in other words, the institution might not provide any help. Not to worry because we are here to help you. With this report template, you will be able to make the report quite hassle-free. The template can also be edited to make a real estate project report.
15. Valuation Report Template in XLS
ci.stillwater.mn.
More in Report Templates