Blog Templates
11+ Top Magazine Journal Blog Templates & Themes
In the magazine and periodicals market, it's all about the aesthetics and the hype. It's amazing that magazine journal templates for Blog help you achieve both, and that too in style. With designs that are guaranteed to make the casual surfers stop, click and stare, these Blog Templates are substantially important for ensuring organic traffic to your magazine website. Moreover, they come with all grades of SEO tools so that discerning and long term orientation webmasters can entrench their web magazines firmly in the memories of search engines. These templates are blessed with the best possible and most expansive social media coverage, encompassing Facebook, Twitter, LinkedIn, Instagram, and even country specific and lesser known networks. You can also see Vintage Style Blog Templates.
Deco Mag

Deco Mag is an expressive, visually stunning and neatly structured blog template specifically suitable for magazine and journal websites. It is technically innovative, extremely engaging and modern, and easily customizable too. It has a responsive layout due to which works equally beautifully on all screen sizes, including smartphones and tablets.
Magzima Magazine Blogger Template

Magzima is an innovative, streamlined, and multipurpose blogger template that can be completely customized as per your individual requirements. It is clean and comprehensible, and is flexible enough to suit your particular needs. It has been specifically constructed to offer a one stop solution for all your magazine website creation needs.
BMAG – Magazine Responsive Blogger Template
NewsMagazine Blogger Templates

This one is a best selling magazine journal blog template that is simple to use, install and configure. It comes with detailed documentation that will help you walk through different phases of the development process. You can quickly create a website even if you don't have the least coding skills.
Game Magazine

If you are looking for a fast and efficient blogger template to create a magazine or journal blog, then this GameMagazine template will allow you to create a full-fledged website without even coding a single line yourself. You would just love to use its effectiveness and simplicity to deploy your content module across any sections and pages.
Brown Magazine

100% customizability, responsive layout and beautiful design features are some of the attributes which make Brown Magazine a fantastic choice among webmasters. If you are looking to create a successful and stunning blog website, then try Brown Magazine today. With this template, you will easily show to the world what's on your mind.
Kontify Magazine Blogger Templates

Kontify is one of the best selling magazine journal blog templates available out there. It proves to be an ideal choice particularly for news, blog, magazine and review websites. It is a well-designed theme that is highly customizable. Packed with features and optimizations, it is specifically designed to attract more visitors to your website.
MXfluity Blogger Templates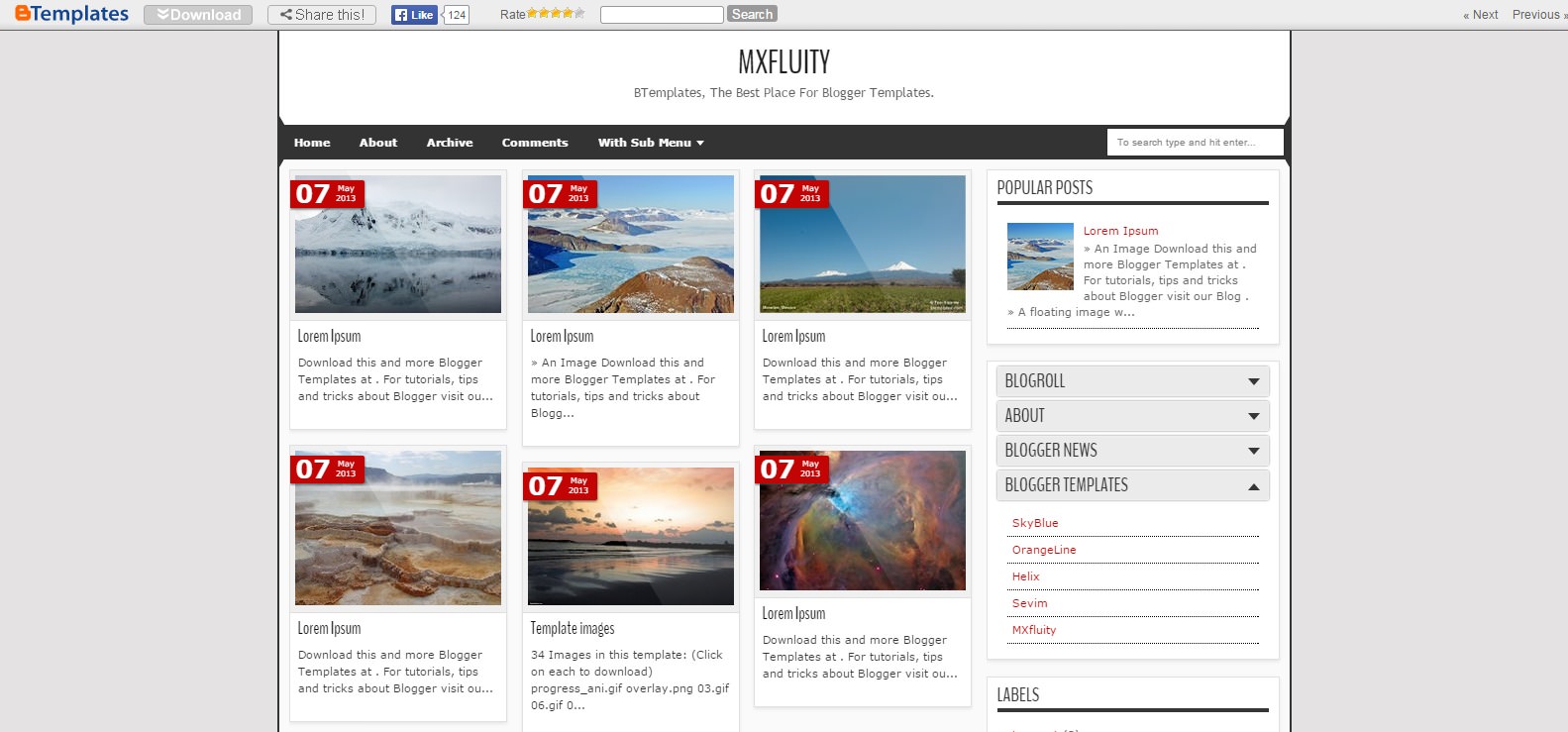 Magazine websites have a tough competition over the web. Thankfully, this template has a whole lot of extraordinary tools and features that you can implement to expand your website's accessibility and capability. Its responsive layout makes it even faster and clearer on small screens, including tablets and smartphones.
SimpleMagazine

SimpleMagazine is a search engine optimized magazine journal blog template that definitely increases your chances of obtaining a good ranking on search engines. It is an innovative and smart template that allows you to create a full-fledged website without any technical and coding knowledge. It is a smartly designed template for any magazine owner or user.
News Magazine Blogger Templates

This flexible and pliable blogger template is particularly constructed to offer an all-inclusive solution to create a modern looking magazine journal blog website. Ranging from corporate and business to personal application, it offers unflinching website creation with smoothness and ease of use. This template is appealing and attractive to engage your target audience.
GameMagazine
Easy publishing and extensive design customization options make it effortlessly easy for webmasters to quickly publish and update new content. Multimedia is a massive contributor towards the success of an online magazine or journal website, and with contemporary templates coming with build in image galleries with advanced transition effects, and video players studded with the commonly used buttons, you are adequately empowered to leverage the same. You may also see Blog Themes & Templates. The world is browsing on mobile phones and tablets, and to ensure that you are relevant and available for your users on the move, you can use responsive magazine and journal templates. Available in layered PSD and other popular formats, these templates lend themselves to easy editing and enhancement, so as to facilitate proper branding from the magazine intending to move online. You can also see Blog Themes & Templates. Enjoy using catchy and cutting edge magazine journal Blog templates for guaranteed success with online readers.
> Conclusion
A magazine journal blog or website that you create needs to have ultimate flexibility and features. It should be easily customizable, and should offer a stylish appearance to your website. Selecting the right template or theme for your magazine blog is important to run a successful one. Select one these top magazine journal blog templates and themes that will be suitable for your awesome blog.