Blog Templates
38+ New Blog Themes & Templates Released in June 2023
Though the blogging started off as a platform for opinion journalism, it has now moderated as the most persuasive form of the essay. They took every opportunity that comes their way and changed from time to time. While the year 2016 has urged the implications in all genres of writing, how can blogging can be a standstill? You May also See Jewelry Blog Templates.
The blog templates and themes those are out in 2016 skins calm and composed themes with the state of art designs. They help you to come up with mind-boggling visual narratives and gives you a sense of organization. You May also See Non Profit Blog Templates.
Business Responsive Moto Blog Template $199
Business responsive Moto CMS3 template is a wierdly responsive theme which is flexible to change it's dimensions as per the device. The theme also possess Google analytics and is well-documented. It fuels your website and gyrates the online traffic.
Multi Concept News Magazine Blog Theme
Responsive WordPress Blog Theme $49
Comely is a HRHD (high resolution and high definition) WordPress Blog Theme. The imagery is so expressive. Lighten up your personal space with this new lantern and let the new energy boosts up your typing and/or writing.
Blog Shop Theme For Creatives $39
Lola is a light weight theme with recreatory imagery. You can use it for your vacation blogs, shopping, and/or portfolios. The theme was designed by our solopreneurs for creative hustlers.
Animal & Dog Food Magento Blog Theme $179
Animally Magento Theme is a perfect fit for those who are into selling pet accessories and vet clinics. The images are so lovelier that animal lovers will immediately connect to them. The theme enables multi language and multi currency facilities.
Responsive Minimal Blog Theme $49
Minimalist approach has now became the most talked about topic in the recent era. Those who want to follow the minimalist approach can use our theme. The responsive feature centerspreads the image to your device screen so that nothing will be concealed.
Masonry Boost Tumblr Blog Theme $9
Tumblr is a platform for extraordinary creative people. The tiny blog and It's dashboard interface allows people to post their works with a two-to-three liner intro. Boost Tumblr Theme brings in the geenie touch to your website. You can even select the fonts from our extensive library.
Hotels Responsive Moto WordPress Template $199
Hotels demand lavish and luxurious themes when it comes to web space. Our Hotel responsive moto cms3 template tempts to try an attempt, especially if you are from hotel industry. Pamper your customer's sensual feelings in a more voluptuous way.
Clean Magazine Blog WordPress Theme $45
Clean Magazine Pro is certainly no way related to the publishing side. The name is probably a misnomer, but if you heads a rowdy music band or running a music instruments store, it strikes the right chords, and you will surely join the bandwagon.
Social Onepage Joomla Template $19
At DORITY Onepage Joomla Template is designed for charity based organizations. If you want to make people aware about topics like save girl child, poverty alleviation etc; then our theme is a foundation stone to build a better world.
Photography Tumblr Blog Theme $19
Fashion WordPress Blog Theme $45
Minimal Responsive Blogger Template $15
Handbag Responsive PrestaShop Blog Theme $139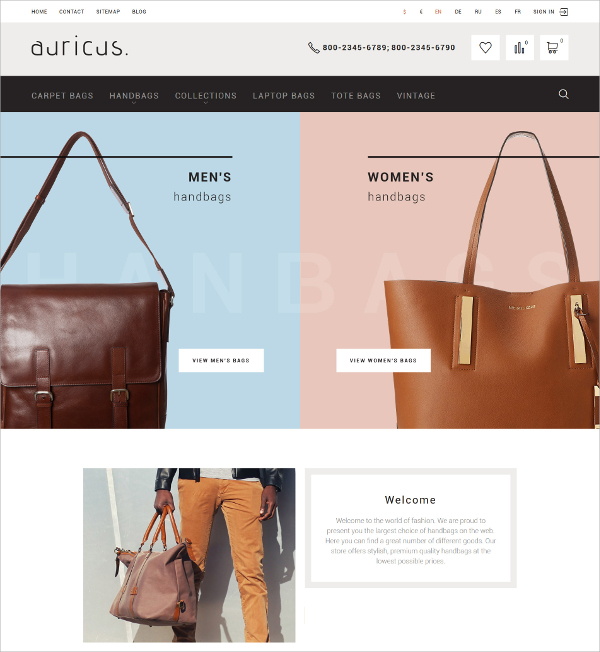 News, Magazine And Blog WordPress Theme $59
Business Responsive WordPress Blog Theme $55
Premium Blogger Theme $15
Medical Equipment PrestaShop Blog Theme $139
Magazine & Blogging WordPress Theme $59
Minimal Recipes WordPress Blog Theme $49
Pet Store PrestaShop Blog Theme $139
Responsive WordPress Blog Theme $44
Photography Blog WordPress Theme $75
Excellent Car Repair OpenCart Blog Template $89
Modern Responsive WordPress Blog Theme $49
Latest Online Fashion Joomla Template $75
Personal Magazine WordPress Blog Theme $59
Responsive Communications Responsive Template $199
Creative Easy Customizable Blog Theme $49
Delicious Food Blog Theme $139
Photography WordPress Blogging Theme $49
Cafe And Restaurant Responsive Blog Template $199
Photography Parallax WordPress Theme $59