Top quality content can be achieved with the help of free responsive Joomla templates since they are a pioneer in enhancing the look of your content management website. They are responsive and have a variety of features with the help of which you can enhance or modify your content. You can also create top quality portfolios with the help of these templates. These are some of the most innovative templates in the business right now. The colors associated with these templates are extremely attractive and you can change them as per your requirements to match the ambience of the website. The trial version is free of cost but for the premium version you can buy the complete package online. These top Joomla templates also have an antivirus integrated in them so that there is no scope of any bugs getting inside them. These bugs are cleaned on a regular basis so that they don't pose any risk of damaging your computer system. The fonts of your content can be displayed in a variety of formats since these templates have a font library inbuilt in them. So what are you thinking of? Just go ahead and make these wonderful best templates a part of your computers and laptops. See More :Joomla Bootstrap Templates
Free Web Hosting Joomla Template
Promote your company stylishly in the online space! Choose this particular responsive Joomla theme to be the backbone of your website. It is wired with credible features and options, and also has an excellent design and appearance. Be it a big company or a business which is just starting out, this theme is apt for both worlds!
Free Responsive Web Design Joomla Theme
This Joomla theme is about responsiveness and fluidity. Not to take away from its great lineup of features which lend this theme a more qualitative aspect. One of the first things which is most striking about this theme is its appearance, it looks incredibly beautiful. If looks matter in your business, this theme should be your target!
Free Responsive Joomla Theme
If red is your favorite color and you're an admirer of Joomla themes, you have to have a look at this theme. Of course this is a Joomla theme and it has all the features and options which you'd expect to find in a Joomla theme! It looks good – classy, we'd say. There's also a demo video attached to walk you through its features and settings!
Free Education School Joomla Template
Are you looking for a Joomla theme for your school website? If yes, consider your search as complete because this particular theme has been designed to cater to school websites. Wired with apt features. This theme is a complete must-have in this category. Downloadable for free and customizable.
Free Pro Website Joomla Template
The free pro website Joomla template is a beautiful dark themed Joomla template that is ideal for photography websites. Click on free demo and find put the different features of the template.
Free Beautiful Joomla Website Template
Free Simple Business Joomla Theme
Free Software Development Company Joomla Template
Free School Pro Joomla Theme
Free Real Estate Website Joomla Theme
Free Casino Website Joomla Template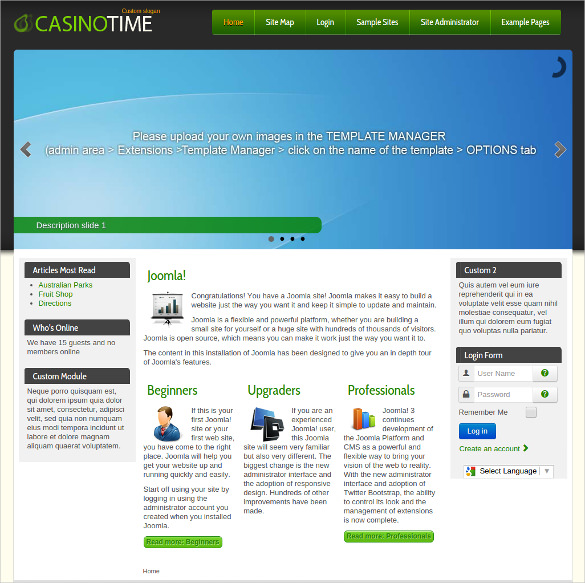 Free Movie Store Joomla Theme
Free Drive Rally Website Joomla Template
Free Responsive Business Joomla Theme
Free Responsive Joomla Template
Free Multi Purpose Joomla Website Template
Free Photographer Joomla Website Template
Free Multi Concept Joomla Website Theme