When you're selling jewelry, the product has to take the spotlight and pop out when using the website. And that's exactly what these themes and templates will do for your e-store. Mange content with ease using Joomla's WYSIWYG editor which is in-built. The preset layouts and modules along with the color and texture pallets will give you a wide range of options to choose from.
Jewelry Responsive Joomla Template $75
This is a 100% responsive Joomla template made especially for jewelry. The main features of this theme include admin panels for better work. There are also functionalities such as blog, forum, gallery which come with this Joomla template to make the site attractive.
Awesome Jewelry eCommerce Joomla Template $39
This is a highly responsive Joomla template which comes in 6 preset colors. It is virtuemart component, therefore you can use a shopping cart. The template also has three Megamenu styles to choose from. The template comes with a number of extensions.
Unique Jewelry Responsive Joomla Template $75
This is a responsive theme preferred by a number of customers for their jewelry sites. The template comes with features such as Gantry framework, and admin panel among other things. It also has the blog function which makes it more effective.
Jewelry Store Joomla Template
The theme is designed in a very elegant way and the products are arranged very harmoniously. It is easy to customize and goes well with virtuemart. The template comes in attractive and fancy colors and thus catches the eye of the customer.
Wedding Jewelry Responsive Joomla Template $75
This is a template which can be customized very easily to suit your requirements. The template has two columns lay out. The main features of this template are that it is responsive, has admin panel and also a blog facility.
Natural Beauty Jewelry Joomla Template
Diamond Jewelry Joomla Template $67
This Joomla template is made especially for diamond and diamond jewelries. It has HTML and JS animation. The template also has other features such as K2 component, admin panel and Gantry framework, along with the functionality of a blog.
Elegant Jewelry Responsive Joomla Template $75
This is a completely responsive Joomla template made for jewelries in specific. There are a number of features which this template contains, such as K2 component, Gantry framework and an admin panel. There is also a blog feature to make the design more attractive.
Beautiful Jewelry Joomla Template $67
This is a jewelry template which is rated quite highly by the customers who have it installed. The coding of the template is JQuery, and it has important features such as an admin panel, Gantry framework along with K2 component.
Luxury Jewelry ecommerce Joomla Template $39
This is a modern responsive Joomla template which has got virtuemart support. This template can be customized by setting the title, logo and slogan of your choice. It comes in 6 preset color styles, along with three types of menus.
Jewelry Online Store Joomla Template $139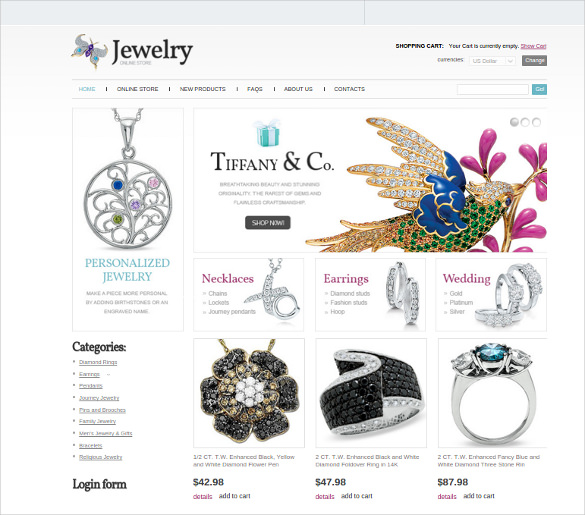 This template is a responsive Joomla template with clean and professional layout. The layout has two columns and is compatible with virtuemart system thereby making the shopping easier. There is an admin panel and online shop facility in this template.
Jewelry Town Magento Joomla Theme $179
If you are looking for a jewelry magento theme then this is the ideal theme for you. The magento platform is very flexible, and therefore, this can be easily used in any type of device. The layout is clean with parallax scrolling system.
Jewelry Showcase OpenCart Joomla Template $89
The design of this template is elegant and fully responsive. There are clean blocks, carousels, and tabs which display the products. There are full width images playing in the background to make the visitor more interested and thus attracting more visitors.
Organization and tagging of products is easy and effortless, also the upgrades ensure you stay up to date with the latest innovative features. The front-end editing can be completely done away with if you're not into the technical aspects. For selling jewelry the layout of the template is important as you will want your products to be the main attraction. There are a number of clean layouts available which are based on Joomla, and some of these are mentioned above.