The beautiful and compact retail Joomla templates are your ultimate requirement to build your retail online presence. Be it a fashion or shoe store, a gift or mobile shop or accessories, setting up a website to showcase and sell your products has never been easier. These templates on the Joomla platform are packed with numerous attractive features and options. You get to monitor and customize the various administrative features such as the layout builders, logo settings and ultimate font controls. You get optimal performance with the built in Java Script and CSS.You May also Visit Retail WordPress Themes.
Retail Apparel Responsive Joomla Template $75
This exciting fashion and retail theme has layout builders and off canvas menu which can display loads of content. You can customize the various presets control such as the header, background and header colour with this theme. The layout builders and off-canvas menu provides a wide portal to display sleek fashion content.
Retail Shope Store VirtueMart 3 Joomla Template $58
The Retail Shope Store Virtue Mart3 Joomla template contains a detailed three home page layout with six colour variations and a mega menu for you to create an ideal retail portal for your online fashion store. This theme is equipped with Virtuemart component and countdown timer along with various other functional extensions and trendy features which you will love.
Retail Fashion Designer Joomla Template $75
If you are a fashion designer and looking for a cool template to showcase and sell your creations online, look no further. This responsive and search engine friendly theme has features such as bootstrap and admin panel. Some of the additional features include alternative module layout, quickstart package, advanced theme options, sortable gallery, quickstart package and modules bundle install.
Book Store Responsive Joomla eCommerce Theme $48
Â>
Retail Apparel Joomla Template $75
This is a modern and elegant online apparel theme which in 100% responsive in design. The block view of the home page guarantees a holistic view of your products in the best possible fashion. Packed with 7 to 15 high resolution photos and images valid for a lifetime and a 24/7 free online support team, you will be completely satisfied with this theme.
Retail Multipurpose VirtueMart Joomla Template $48
Built in Joomla 3.4.8, Virtue Mart 3.0.12 and Helix 3 Framework (with Bootstrap 3 inside), the premium responsive Retail Multipurpose Virtue Mart Joomla Template offers you the best selections in customization. An interesting feature of this template is that you can select the best of layout between all the home page layouts and create a different one for your website.
Men's Retail Apparel Joomla Template $75
If your retail store's forte is men's fashion, you can download this theme to showcase your collection on the web. Packed with advanced theme options and alternative layouts, you can create your ideal retail website with the sample contents, sortable gallery and modules bundle install. Should you need assistance, our 24/7 support team will be glad to help.
Multipurpose Retail eCommerce Joomla Template $58
This is one of the most striking and responsive ecommerce web templates you will come across. Integrated with a dozen of advanced features, the Retail eCommerce Joomla Template can be easily customized to suit your specific business needs. Moreover, you can choose from five distinguished home page layouts and five colour variations.
Retail Apparel Responsive Joomla Template $19
The most interesting aspect of this template is that it can easily adapt to any electronic device with any screen size you might have in hand. The texts and images are flexible and will be rendered correctly on any screen it is displayed on. Therefore, your visitors will not be restricted in terms of their location or the device they use. Thus, greater viewing means greater conversion.
Retail Fashion Brand Online Joomla Template $75
This template with black and white design and large appealing images creates a striking visual impact on the customers and serves as an ideal platform for promoting your fashion labels. Majority of the layout is allotted for images which make for an interesting view. The drop down navigation and prominent banners with discount add to the aesthetic appeal of this website.
Retail Electronics Joomla Template – $48
Based on VirtueMart and EF4 framework, this 100% responsive layout includes unlimited colour layout builder and a robust font setting system. Some of the other highlights of this theme include
A front end theme customizer
An off canvas side bar for displaying any module
Inclusion of extensions for free
JSN Glamo Befits Retail Joomla Template -$59
One of the most special features of this fitted feminine theme is that it is specially equipped with an extended style for RedShop. The modern and attractive design appeals to the customers owing to it's choice of vibrant colours, mobile friendly and clean layout. If you need a high impact web presence for your clothing, fashion or boutique store, this is your ideal theme.
JV Shoes Retail Joomla Theme – $49
This template is one of the newest templates powered by the latest JV Framework 3.3. Although it is primarily designed for a shoe store theme, this fully responsive template looks elegant and luxurious. The catching banners, attractive sliders, scrolling effects and the powerful Hikashop ecommerce components, powered by a top notch support team, will definitely serve your online business interests.
Responsive Retail Jooma Theme – $48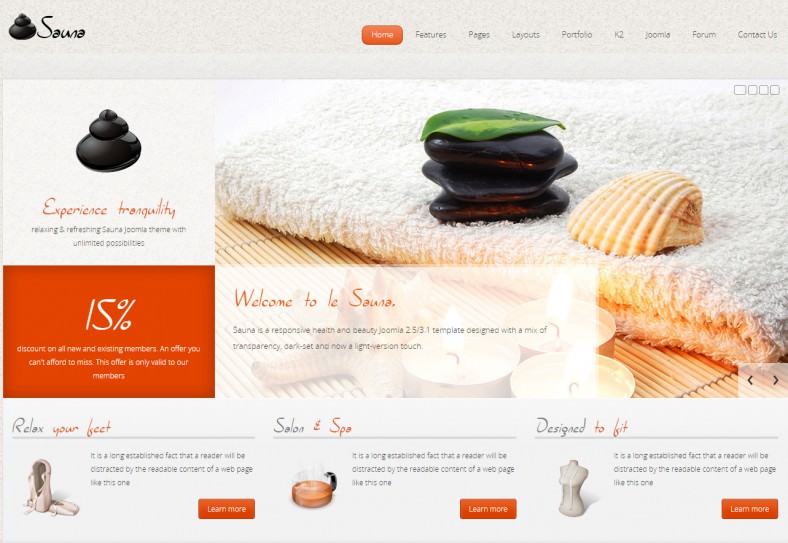 The Responsive Retail Joomla Theme is a health and beauty joomla template with an alternating light and dark layout finished with a subtle matte look. Packed with an intuitive admin option panel, this template comes with dozens of widgets and is built on Warp framework. The K2 Blog and Kunena Forum styling makes this template flexible, agile and modern.
Retail Flow Joomla Template – $59
Give your online retail store a makeover with the Retail Flow Joomla Template. This power packed home page is equipped with sliders and navigation for easy shopping and options to display the newest line of clothing available at the online store. A detailed header renders a neat layout and an overall smart look which makes it easy for your customers to search and shop from your portal.
JSN Force Retail Responsive Joomla Theme – $48
Inspired by the sports style, this full responsive new e-commerce template has the perfect culmination of the VirtueMart and the Joomla Shine. For convenient operation, you can choose from forty plus template parameters arranged into logical groups. The integrated social icons easily display your social channels with specific icons.
Retail Real Estate Joomla Template – $30
The Retail Real Estate Joomla Template is a high quality and responsive template. Packed with quality Joomla extension, the template will make your real estate site stand out amongst all the ones available in the market. The robust home page design coupled with filtered search options make for an easy searching option for your customers.
Retail Fashion Website – $48
With this Joomla theme, you can never go wrong with your online business. The predefined styles in this template offers several colour choices, three homepage layout variations, optimized menus for desktop and mobile viewing. The product display module categories produce striking showcases based on your chosen categories. The two header layout can set for different positions for logo and navigation menu.
JA Bookshop Retail Joomla Template
Ideally designed for online bookstores, the JA Bookshop will boost your sales and bring in a pleasing book shopping experience to your customers. The template is built on the robust T3 framework with Bootstrap 3 and supports RTL Language layout. This feature rich compatible template with thousands of Opencart extensions is available in five colour schemes and eight bonus pages.
Simple Retail Responsive joomla Theme – $48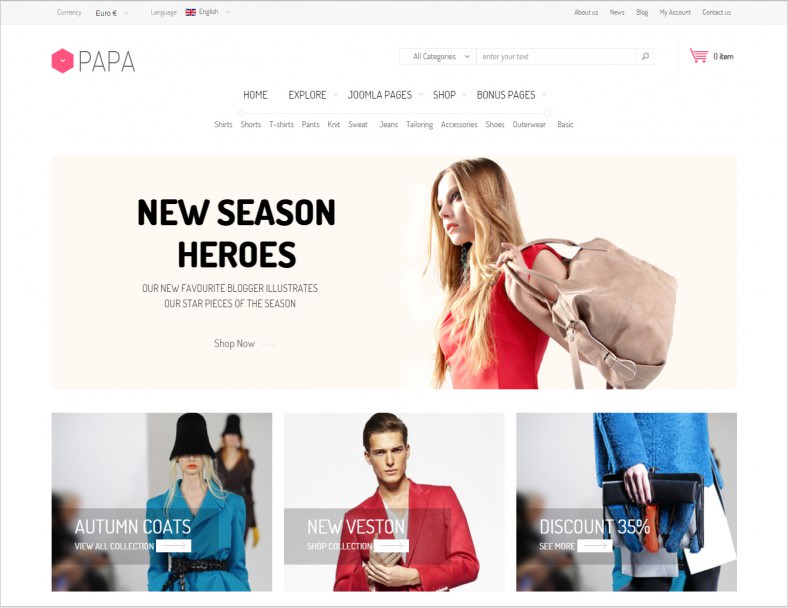 If you are looking for the ultimate solution for your retail online portal especially for fashion, jewellery or wedding website, you can adopt this template integrated with Virtue Mart component. This fully responsive fits well on every web enabled devices as well as mobile browsers. The useful extensions allow you to be in total control of your website.
LVina Erida retail Joomla Template – $48
Powered by JoomShopping component, the Vin Erida is a responsive multipurpose template which is perfectly suited for your business websites, blogs, e-shops, technology or marketing website and other services. The template supports Chrome, Safari, IE and Firefox. What more? It has nine premium extensions with VinaGecko and has multi language and RTL support.