Joomla templates are in vogue these days with the package they come. They have a plethora of features which is user-friendly and easy to implement. Similarly, there are different Joomla radio station template and each of them is loaded with the ultimate unique features. There are Joomla templates meant exclusively for music portals and radios. They are built in with the support for Radiojar. It is a famous radio tool online and it allows the users to set up the radio stations. You May also visit Radio Station Website Templates. Some of these Joomla themes come with magazine styled layouts, and fully customisable styles. So there is no way of two websites looking the same, since there are just too many styling options to choose from. You May also visit Radio Station WordPress Templates.
Best Online Radio HTML Bootstrap Template $16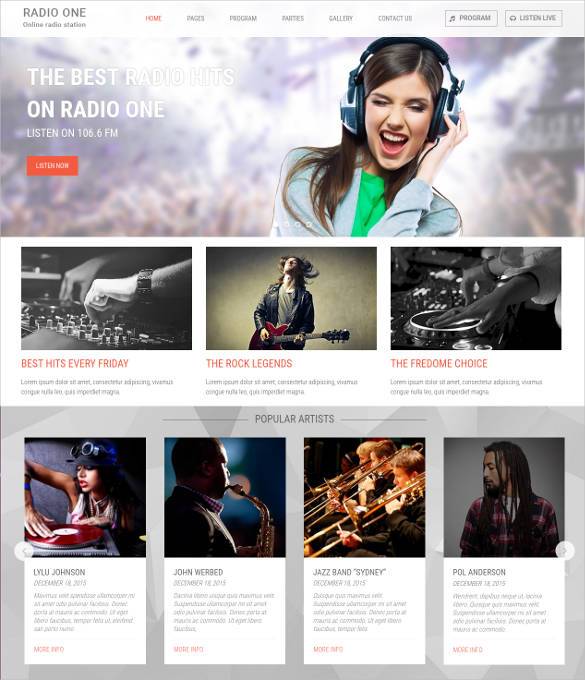 Free Radio v3 Joomla Template
If you like your radio station website to be hip and happening just like the music on it, check out this theme option. This Joomla theme is wired with the best features and details which ensure that your loyal visitors keep coming back for more, and the new visitors don't look elsewhere for music after their first visit to your page.
Online Radio Wave Joomla Template
Top Radio V3 Joomla Template
Be it music news, trends, updates about the industry, you can jam in all this and much more if you pick this particular Joomla theme for your radio portal. For lovers of elaborate radio websites themes, this is the perfect option! You get to list on your website things like: what's new today, our shows, gallery, podcast and contact information.
Free Joomla Modular Radio Template
Free Best Radio Joomla Template
Give your radio website the boost by decking it up with this energetic Joomla theme. Just like the pumped-up music your website offers to the listeners, the theme is pumped up with just the features of the like. You can easily categorize the music into top hits, popular number and top of the charts.
Joomla Template for Radio Wave
Visitors can listen to live music, check out the schedule for coming week and contact their favourite DJs through social networking, via website created using this Joomla template for radio wave.
Responsive Radio Station Joomla Template
Sound Studio Online Radio Joomla Template
Sound Studio – Online Radio Joomla Template enables you to create a website that has high quality sound support, enable user to register and create a profile and watch the latest news & events.
Best Online Radio Joomla Template
Radio FM v2.5 Joomla Template
Radio ST v2.5 Joomla Website Template
Radio Music Station Joomla Template
Some of these Free Joomla templates even come with compete ad blocks, so that you do not constantly have to keep swatting away annoying ads. Users can use these templates to schedule musical events and divide bands and singers on the basis of various categories such as era, genre, etc. Also, most of these DJ Joomla templates are fully responsive ones, so they work seamlessly on all display devices, be it a desktop or tablet or even a smartphone. Apart from these features, many of these templates come with email subscription add ons, which allow you to automatically send emails to registered users about any notification that is new on your website. As far as layouts go, these top Joomla templates vary quite a bit, and some may be too colorful and trendy, while some focus on a more retro look, and there is always some template available that completely and aptly matches the music style of the website.