Nobody likes timesheets. Who on earth would like to sit down and stare at timesheets all day? Honestly, nobody. Timesheets are tiresome and time-consuming to deal with especially when they come in late, illegible, and, most of all, are inaccurately calculated. Nevertheless, it has to be processed or else nobody is receiving their salaries. So to help you deal with the problem, we provide you a variety of Ready-made Simple Timesheet Templates for you to use. Simple weekly timesheet, simple monthly timesheet, simple employee timesheet, simple project timesheet, and even biweekly timesheet, all simplified but accurately made just for you. Professionally written, efficient, 100% customizable, and easily editable in Google Sheets, MS Excel, MS Word, Numbers, and Pages format. Download now and make your work easier.
What Is a Timesheet?
A timesheet is a sample sheet that records the amount of time an employee has spent during work on a particular job or project. Commonly recorded on paper or on a software system, this keeps track and calculates an employee's payroll and is used for billing purposes.
How to Create Simple Timesheet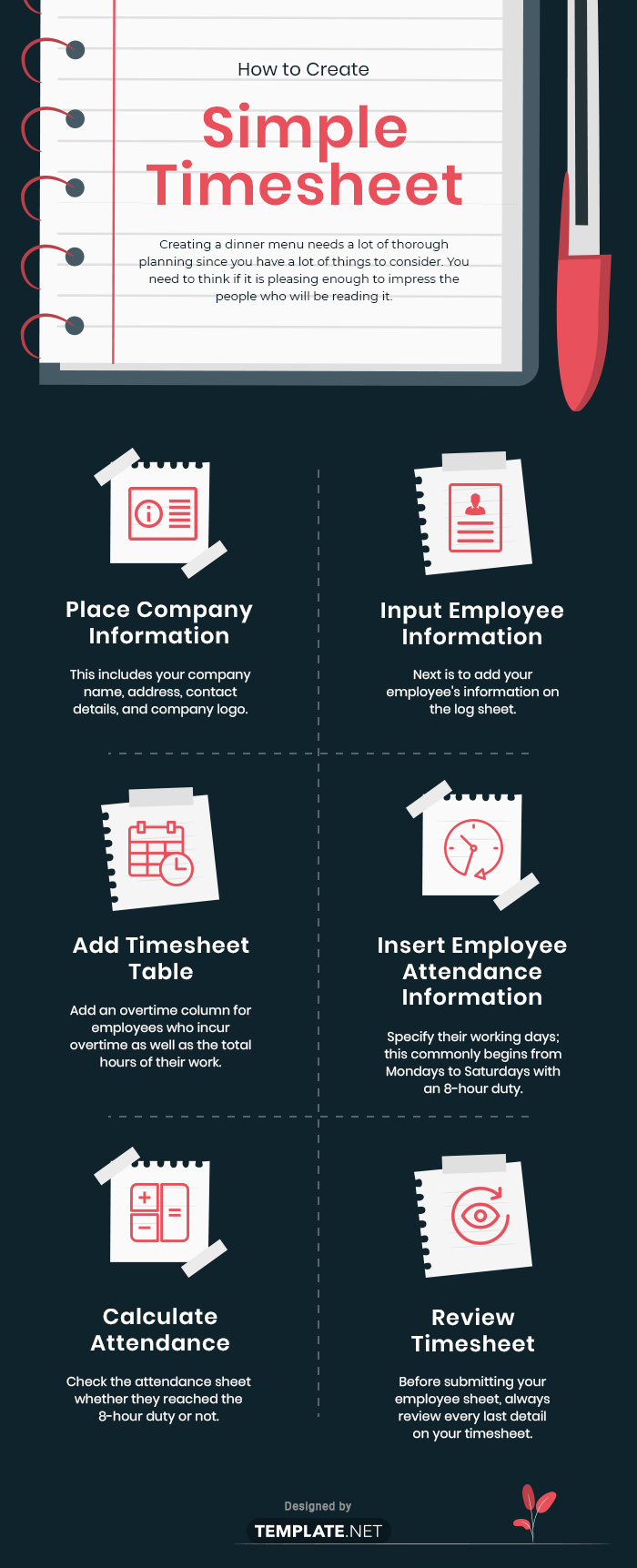 Timesheets are not only created to check an employee's attendance, but it also determines whether resources are allocated properly or not. In addition, it provides a comprehensive invoice to your clients and employees. Having a clear simple sheet and implementing to manage them can provide a resource leveling and a better workflow in your company.
1. Place Company Information
Place your company's information on your employee blank sheet. This includes your company name, address, contact details, and company logo. Adding these information lets your payroll staff identify your company's timesheet and billing. Remember that your payroll is busy and that your company's billing is not the only thing they process.
2. Input Employee Information
Next is to add your employee's information on the log sheet. This composes of their name, identification number, department, title, employee type, as well as their supervisor's name. This is important for the human resource timekeeping staff and the payroll officer assigned on their billing to identify the employee's attendance and salary.
3. Add Timesheet Table
Add the timesheet table for their attendance details such as, their working days, their task description, their duty start and end time with the regular hours of work. Add an overtime column for employees who incur overtime as well as the total hours of their work. There are times when your company requires employees to work at night and graveyard shifts, so if it applies, insert a column for this area as well.
4. Insert Employee Attendance Information
Once things are organized on your basic sheet, proceed to inputting your employee's attendance information. Specify their working days; this commonly begins from Mondays to Saturdays with an 8-hour duty. Provide their task description and their assigned work area. Then count the regular work hours and overtime accumulated for the attendance period and then total everything.
5. Calculate Attendance
In calculating the attendance, there is a specific formula to follow that can calculate your employee's total working hours. Check the attendance sheet whether they reached the 8-hour duty or not. Specify their tardiness and absences, and deduct necessary deductions from their pay. If it happens to be an excused absence, like a leave with pay, then do not deduct that absence from their salary/wage.
6. Review Timesheet
Before submitting your employee sheet, always review every last detail on your timesheet. Since it deals with a lot of numbers, there is a possibility to incur errors in inputting and calculating the information. There have been a lot of instances where salaries and payments are given late to the employee because of billing delays. Guess what caused the delays? Errors on timesheets! Which is why you should always review your timesheets before submitting them to avoid these circumstances.
Read More
Earn 20% commission on every sale from your Share
Bloggers: Publish/Mention Template.net products on your website, blog, Social Media or Via Email & Earn affiliate commission of 20% for every sale