Before, using a sales banner is considered as a traditional form of marketing. However, there are already sales templates that are used to develop modern versions of sales banners. These are now used by businesses to promote their products, offers, services, and/or brand online.
318+ Sales Templates in PDF, Word, Excel, PSD, Google Docs, PowerPoint, InDesign, Apple Pages, Google Sheets, Publisher, Apple Numbers, Illustrator, Apple Keynote, Google Slides, HTML5 - START DOWNLOADING
5 Steps for Creating an Impressive Sales Banner
Digital sales banners are great tools if you want to reach a wider audience. Ensuring that your business can develop an impressive sales banner can allow you to have higher chances of getting new sales leads and becoming more known by your target audience. Listed below are the steps that can guide you in the creation of an effective and efficient sales banner.
Step 1: Develop a Sales Banner Design
Use banner templates or work with a design team when creating the design and features that you would like to use in the sales banner. Having a specific design idea can help you maintain your focus and vision within the entirety of the sales banner development.
Step 2: Come Up with a Sales Message
You have to know the message that you would like to share with your target market. Are you planning to introduce or launch a new product? Do you want your audience to know that you have a big sale event coming up? Are there special discounts that are up for grab? Knowing the purpose of the sales banner can help you create a compelling message that can attract your market when they see your sales banner.
Step 3: Brand the Sales Banner
You have to make sure that the sales banner can be identified as your business'. Using the colors, images, and other branding features that your company is known for can help you brand your sales banner accordingly. Doing this can make it easier for your audience to identify that the announcement written or placed in the sales banner is coming from a company that they trust or looks forward to make a purchase from.
Step 4: Put All The Elements of the Sales Banner Together
Collect or gather all the texts, photos, and designs that you will use. Place them together in the banner format or layout that you have made. Make necessary changes especially when it comes to the sizing and placement of each item so you can come up with a cohesive design and a well-put-together aesthetic.
Step 5: Look Into Your Sales Banner Output
Decide on the final look of the banner. Review your output and ask yourself if you have already realized your design and sales vision. You can also seek the opinions and suggestions of your workmates or team members so you can see the sales banner through other people's points of view.
11+ Sales Banner Templates
1. Product Sale Facebook Ad Banner
You have to make your product sale Facebook ad banner interesting. You have to ensure that the sales banner that you will use as a business can appeal to the Facebook users which you consider as your target market. Being able to do this can help you gather not only sales leads but also new customers who can practice their purchasing power and activities on your business.
2. Holiday Sale Facebook Ad Banner Template
Be particular with the information that you will include in your sales banner. As an example, your holiday sale Facebook ad banner must include information about the items and/or services that are included in the holiday sale; the possible discount that your audience can get from the sale; and other necessary details on how they can avail the sale that you have announced in the banner.
3. Fashion Sale Google Ad Banner Template
Presenting the content of your sales banner in a visually-appealing way can help you command the attention of your audience. There are a lot of banner template samples that you can use if you want to create a fashion sales Google ad banned and other types of sales banners that your business can utilize for its advantage.
4. Furniture Sale Google Ad Banner Template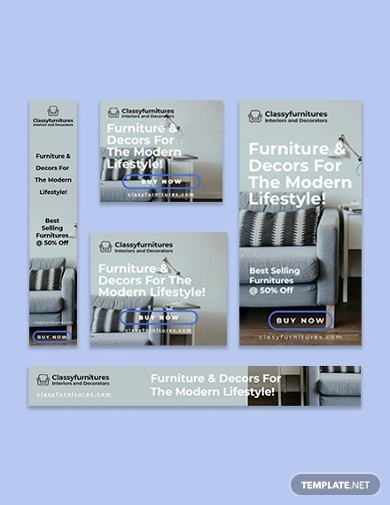 It is essential for your sales banner to present products and/or services that are aligned with the needs of your market. Providing great deals and other interesting offers can also make your sales banner more effective. If you will use a sample banner template when making a furniture sale Google ad banner, make sure that there is a proper area or space in the template that can give a highlight to the product/s that you would like to feature.
5. Product Sale Google Ad Banner Template
When making a product sale Google ad banner, you should not be lost with the design ideas that you would like to materialize. Be specific with how you would like your campaign. Through this, you can come up with a design and format that is most suitable for the promotion of your business product.
6. Mega Sale Banner Template
Download
Sales banner are commonly used for the announcement of sales events. If you plan to make a mega sale banner, identify the proper usage of font styles, sizes, and designs. Ensuring that the most important details of the announcement get the best visual focus can result in the usage of sales banners become more successful.
7. Sale Banners Instagram
Download
Format your sales banners based on the website where you will place it. Proper sizing and formatting matter a lot as these can affect the overall visual impact of your sales banner. As an example, square-shaped banners can be used if you will place them on Instagram where photos and posts are commonly square in shape.
8. Fashion Sales Banner Template
Download
Know the kind of product that you are selling or advertising. Having an impressive product knowledge can make your printable banner templates become more informative. If you are making a fashion sales banner, know the category where the fashion items belong to so you can select banner features and designs that are aligned with the kind of product that you market.
9. Sale Web Banner Template
Download
Ensure that the colors, design items, materials, texts, and information that you will use for a single sales banner look cohesive when placed all together. Your sale web banner template must be organized so you can relay or deliver the exact branding and sales message that you would like your target audience to be knowledgeable and aware of.
10. Sample Sales Banner Template
Download
Usually, a pop of color makes all the difference with the overall visuals of a sales banner. However, you should always remember the branding and imaging of your business so you can select the proper color to use for your banner. Sustaining and presenting the brand that your company is known for in all its marketing and sales tools can help your advertisements and announcements become more memorable.
11. Sales Banner for Website
Download
Making sales banners and product banners for your website is something that you should not overlook. Even if there are already a lot of details about your company and its product or service offers across the site, it is still essential for you to give focus on current sale offers; announcement for future activities; and specification of special deals that are only available for a limited time period.
12. Abstract Mobile Sale Banner
Download
Make your sales banner unique and interesting without losing the purpose of the tool's creation. Aside from having free banners as formatting references, using unique and original designs like abstracts can set your sales banner apart from that of your competitions'. When making an abstract mobile sales banner, make sure that your color palette selection and sizing choices will still translate greatly when the sales banner is viewed on mobile phones.
Since most people are always online on a daily basis, get the most out of the available opportunity and market your business online. Create sales banners for different online pages and social media sites. Are you ready to come up with your own sales banner? You can start by downloading the template samples available in this post.