It wasn't until the late 1800s that people would finally be introduced to true motion picture cameras, thanks to Thomas Edison. The inevitable rise of computers fueled the rise of technology in general, including what we now know as video production, especially when Sony released the first portable video recorder. Soon after, videos could be recorded and stored in disks instead of having them in rolls of film.
And the rest, as they say, is history as colorful as your favorite motion picture. Do you have plans of making it big in the video and film industry? You'll want to start your projects with a written videography contract. Here's how.
5 Steps to Write a Videography Contract
Step 1: Target your market.
One of your first and most important tasks is knowing who your audience is when entering the film industry. Creating a business contract also demand that you get to know the type of market you'll be servicing. Are you going to accept strictly event video projects or are you more for film production? Do you plan to take on a job as a videographer for a documentary film?
Step 2: Get video details.
Knowing your niche makes it easier for you to prepare a budget as well as produce according to the style they want or the result they have been expecting. Although the client may not understand the process behind production, you still need to ask them what should and shouldn't be included in the video. You can give them what they want without compromising your style.
Step 3: Set a budget.
The process involved in videography from pre to post-production will include expenses that aren't limited to recording, editing and completing the video. Make sure you've got your rough estimates right by calculating what you'll make, where your payment for the service is properly accounted for.
Step  4: Outline service specifics.
After setting a simple budget, the client must understand what is included in the service and what its limitations are. Can they make requests? Will they be allowed to demand changes once you give them clips or the unfinished version? List down the parts that you usually film if you're filming an event. The same goes for a video documentary. Better yet, provide a script for the client.
Step 5: Include a privacy clause.
Protect your work at all costs and demand that no part of it should be distributed or reproduced if you haven't receied payment yet. Add a watermark or privacy clause where it's necessary. You also have to be clear about the client's access to the video. Will you be providing copies? What will happen to the original? Will the client have unlimited access if the video is on your website? These are the things you need to define well before finalizing your contract.
8+ Videography Contract Templates
1. Freelance Video Contract Template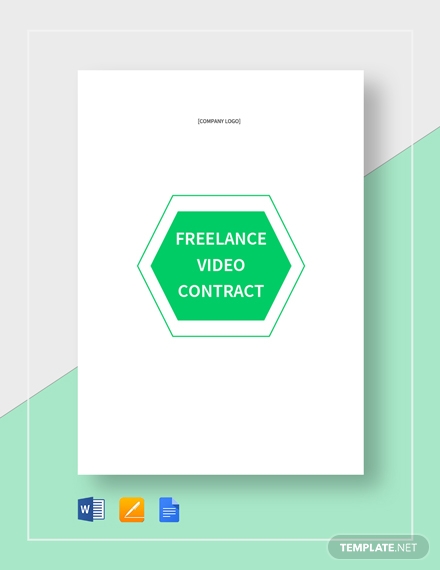 Doing freelance work for video-production? You'll still need a legally-binding contract every time you say "yes" to a videography project so that you can protect your work and get paid for it. Download this Freelance Video Contract Template in any of MS Word, Google Docs and Pages. We guarantee that this document will help solidify your agreement with clients.
2. Video Clip License Agreement Template
Avoid misunderstandings and ugly disputes by writing a clearly-defined contract, with terms that you and the client had discussed. You can also take advantage of this Video Clip License Agreement Template which you'll be able to access easily anytime, anywhere, on our website. Download this template now!
3. Simple Videography Contract Template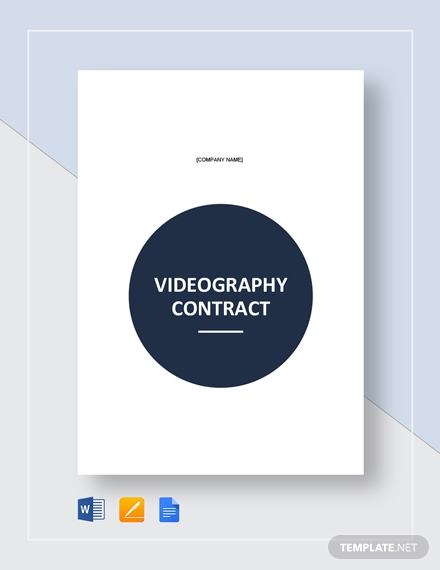 Want a document that establishes your terms and conditions for a video-editing or production task? Say no more! This videography contract sample has all the elements that a legal paperwork requires. Download and customize the file according to the needs of your client. Print the template in any of its available formats!
4. Videography Contract Template
When it comes to agreements with clients, especially for projects that involve skills and video production expertise, there's just no alternative to a written contract. Not convinced? There's only one way to find out. Download this Videography Contract Template in all versions of Google Docs, MS Word and Pages. Hurry up and do it now!
5. Videography Contract Template
Want to make sure that your present and future clients commit to the agreement you made for a videography task? Then what you need is a well-written contract that will hold all parties accountable for what was initially agreed-upon. Get this Videography Contract Template in its flexible formats. Print the file from any compatible device.
6. Video Production Contract
Outline the terms and content of your agreement in a professionally-prepared document. If you're not sure what goes into a legally-binding contract for video production, you can make use of this Video Production Contract Template. Download the file and run it in PDF format. Edit and customize as you see fit!
7. Videographer Agreement Template
Are you currently taking on a videography project? Make it count by providing your client with a high-quality document, written to establish your deal. Otherwise it will be harder to let both parties commit to what was agreed when the deal was discussed. You may download this Videographer Agreement Template then edit and customize it based on the project's needs.
8. Videographer Agreement Form
You'll want a strong document to counter claims of fraud or to simply protect your video content before someone else uses it as their own without permission. Licensing requires a contract and a video production work isn't different. Go ahead and download this videographer agreement form sample to set the terms of your contract with the client.
9. Videography Contract Sample
If you want to ensure the legality of an agreement to take on a wedding video project, you'll need a strong paperwork to protect your interests. Edit, modify and personalize this Wedding Video Contract Template. Print with quality paper for your convenience. After that, you're all set!