A Non Disclosure Agreement (generally abbreviated as NDA) is a legal document – a contract – which is signed between two parties. According to the terms and conditions laid down in such paperwork, the document disallows the parties to share, disclose, reveal or impart any of the information that has been discussed between the concerned parties – the matter could be business and personal. The clauses specified in an NDA are very rigid and in case the agreement is breached, legal action ensues.This is NDA example is commonly used in employment settings, and is signed by an employee and his employer. The NDA specifies clauses wherein both the parties – employee and employer – must make sure to protect the interests and assets of the company – including confidential data in any form. There are various such NDA samples easily available and downloadable online.  You can also see Agreement Templates.

Employee Confidentiality Agreement Word Template
Download

Non Disclosure Agreement Template in Google Docs
Download
One Way Non Disclosure Agreement Template Word Format
mironov.com
Mutual Non Disclosure Agreement Template Free Word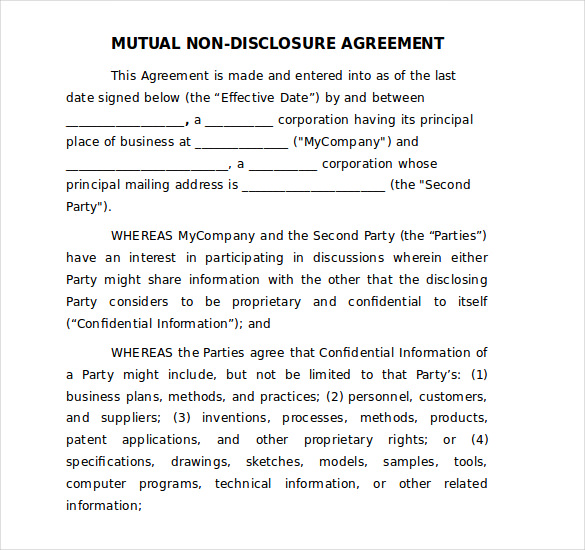 Word Employee Non Disclosure Agreement Free Download
fillanypdf.com
Mutual Non Disclosure Agreement Microsoft Word Template
mironov.com
Military Non Disclosure Agreement Word Free Download
acq.osd.mil
Non Disclosure Agreement Violation in Word Format
mironov.com
Non Disclosure Agreement Breach Word File
patent.no
Non Disclosure Agreement Business Plan Word Template
ilinventor.tripod.com
Non Disclosure Agreement Contract Word Format Free Download
elance.com
Non Disclosure Agreement Form Word File Download
tmt.org
Non Bisclosure Agreement Governing Law in Word Format
hyndmanlaw.com
Non Disclosure Agreement Housekeeper Word Format Download
Non Disclosure Agreement Healthcare Word Format
camdenhealth.org
Non Disclosure Agreement Invention Word Free Download
otm.uic.edu
Non Disclosure Agreement Jurisdiction in Word Format
seqlegal.com
Non Disclosure Agreement Medical Word Format
tasmc.org.il
Non Disclosure Agreement Navy Word File Download
med.navy.mil
Word Non Disclosure Agreement Real Estate Free Download
gerriewatsonccim.co
Types of Non Disclosure Agreements
There are two types of Non Disclosure Agreements and they are either unilateral or bilateral. Unilateral – This is a one way agreement where one party likes to reveal a part of important information to another party but wants the party to maintain secrecy of the information that is provided. Bilateral – This a two way or mutual agreement that abides both the parties to maintain confidentiality of the information that is shared between them. In business joint ventures the information related to design, concept or an invention are most likely to be shared between the both the parties. In such cases this type of agreement comes to existence. You may also see Contract Agreement Template Many NDA samples are available as word files for both these types and they are downloadable. By making use of these word documents a concrete NDA can be prepared by making small changes. You may also see Rental Agreement Template

Important Content to be Drafted in NDA
The NDA should outline the information that needs to be kept confidential by the receiving party and duration of the confidentiality as well. There is no limit to items and content that can be covered under NDA. For example the company can include all the information or data that needs to be protected by the receiving party can be included in NDA. The information relating to client, technology, methodology of the solutions, business processes or strategies, knowledge provided to perform activities and financial matters are some of the commonly used content in NDA. Samples that are available in word document will help for better understanding and using the NDA. You may also see Agreement Templates

The key Importance of NDA
By engaging an employee to sign NDA, it prevents him from disclosing any information related to the company activities or services to its competitors. The employee acknowledges the importance of the information and his duty to keep it confidential. Since NDA is a legal document, any legal proceedings against leak of information by the receiving party can be easily managed in the law of court. The business trade secrets are the most essential information that needs to be protected; by using NDA such a protection can be achieved. Templates of NDA are available in Microsoft word doc formats for download.

Uses and Benefits
NDA provides concrete binding between the two parties related to sharing of information, so that business can be managed in a smooth manner.
A well written NDA brings out clarity of the confidential information on the paper, enabling particularly the receiving party to adhere to the agreement.
By including provisions that deal with violation of agreement makes the receiving party to handle confidentiality with extreme care.
During takeover or merger of business ventures, the NDA is one of the important Word Documents that are legalized, in order to protect business interests.
Dos and Don'ts of NDA
Identify and draft entire list of confidential information and data that needs to be protected and not to be disclosed by the receiving party; see that the list is complete.
Keep the NDA updated and if any new business deals needs to be covered, prepare a revised NDA and get it signed from the receiver.
In the NDA do not divulge any extra information other than the receiving party needs to keep confidential.
Avoid ambiguity in preparing the NDA and try to put words as much straightforward as possible.
The above discussion on Non disclosure agreement brings out its features and importance. To say the least, without NDA no business activities take place. In MS Word 2010 which has better and latest interface, the NDA documents can be prepared and used. Some templates that are available in word format can be copied and pasted in word document.