Brochure Templates
25+ Insurance Brochure Templates
Today, Insurance is a necessity of life. There is an increased need to cover your property, business, health and family against unforeseen and unpredictable risks. Luckily, there is a wide range of insurance plans. Different insurers require unique insurance Agent Free Brochure Templates. These documents enable them to advertise their insurance programs ranging from motor insurance to life assurance. These professionally designed brochures are easy to customize, edit and redesign for your company.You may also see Brochure Templates.
Insurance Tri-Fold Brochure Template
Insurance Bi-Fold Brochure Template
Insurance Agency Bi-Fold Brochure Template
Insurance Agency Tri-Fold Brochure Template
Car Insurance Company Tri-Fold Brochure Template
Car Insurance Company Bi-Fold Brochure Template
Health Insurance Company Bi-Fold Brochure Template
Health Insurance Company Tri-Fold Brochure Template
Insurance Corporate Brochure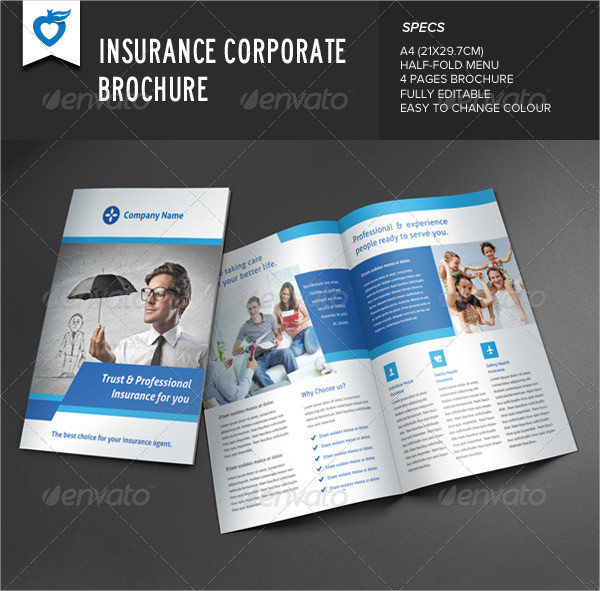 This A4 sized vector Insurance Corporate Brochure contains customizable & editable free fonts and changeable colors. The four-page brochure for advertising your insurance company comes with a half-fold menu, layered CS5, CS & EPS files.
Trifold Insurance Brochure Template
The trifold insurance brochure is an easily editable and customizable template that features US letter size, free fonts, CMYK colors, 300 dpi resolutions, vector illustrations and a print ready format. Its INDD & All files utilize Adobe CS4+.
Trifold Multipurpose Brochure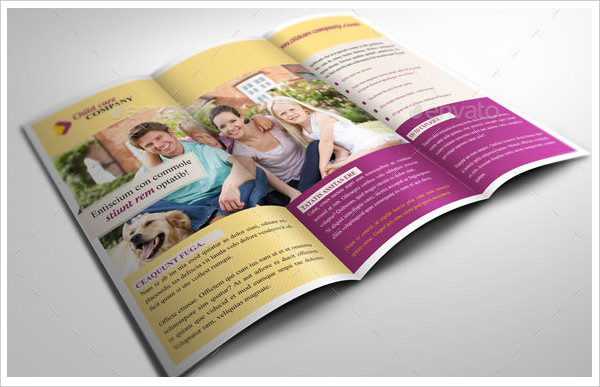 Trifold Multipurpose Brochure prides in its modern design on A4 and US letter pages. The print ready, layered, editable, and customizable file comes in three-color schemes. It features 3 JPGs & InDesign files.
Auto Insurance Brochure
The high-quality tri-fold auto insurance brochure comes as a fully editable PSD file for download. Both of its A4 sized pages are print ready with bleeds, CMYK colors, and safe lines and help file at 300 dpi resolution.
Insurance Agency Brochure Template
The Insurance Agency Brochure Template for professionals comes with free fonts and a help file. It contains layered PSD and INDD files at 300 dpi resolution and CMYK color mode. It is print ready with modifiable fonts and colors.
House Insurance Brochure Template
House Insurance Brochure Template contains professionally separated layers, IDML & INDD files, a support file and free fonts. You can customize its colors, texts and images at high resolution and CMYK using Adobe CS4+.
Health Insurance Brochure
The tri-fold Health Insurance Brochure measuring 11.25 x 8.57 inches contains bleeds at 300 dpi resolutions in its print-ready style. It contains smart images and logos, free fonts, and organized PSD layers that are editable with Adobe CS6.
Life Insurance Brochure
Insurance Companies should delight in this life assurance brochure available in US letter & A4 sized pages. It features changeable shapes, fonts & colors, texts and smart images. It comes with IDML and InDesign CC files editable with Adobe CS4+.
SelfCare Insurance Brochure
The SelfCare Insurance Brochure is downloadable in JPG format measuring 357 X 791 pixels. With this template, you can plan how to offer protection to families against accidents.
Brochure for Ace Insurance
The Brochure for Ace Insurance is an elegant tri-fold template featuring bold green, blue and black colors on a white background. This document is downloadable at high resolution in JPG format containing thumb, links, and embed. You can also see Sales Brochure Templates.
Panel Folded Insurance Brochure
You can download the four panel folded insurance brochure in JPG file format measuring 1250 X 1300 pixels. It prides in high resolution, embeds, thumbs, and links. You can edit its professionally designed layout.
Car Insurance Company Brochure
General Insurance Campaign Brochure
Insurance Agent Tri-Fold Brochure Template
Finance Insurance Brochure
Finally, insurance companies and agencies should freely utilize the insurance agent brochure templates. They come in diverse designs ranging from a single paged, half-fold, double-fold and tri-fold. Their sizes also differ with respect to the number of pages. Therefore, you simply need to select a design that is most suitable for your needs as you successfully advertise your business.