Brochure Templates
21+ Jewelry Brochure Templates
Popular jewelers across the globe keep handy jewelry brochure templates to distribute amongst their clients. These templates provide the necessary information about the jewelers' product line and other relevant data. For this purpose we have a wide range of jewelry brochure templates. These templates are absolutely free of cost and easy to download.
Jewelry Store Bi-Fold Brochure Template
Jewelry Boutique Tri-Fold Brochure Template
Jewelry Boutique Bi-Fold Brochure Template
Printable Jewelry Bi-Fold Brochure Template
For companies who are into jewelry business specializing in high end luxury jewelry items, fashionable items can download this paid jewelry bi-fold brochure template indesign for reaching to the customers. Customize with your brand details and get it printed as brochure.
Jewelry Tri-Fold Brochure Template
If you are into diamond jewelry business, reaching your potential customers and showing what you specialize in and what is uniqueness needs you to design a brochure. Opt for this paid not free tri fold brochure template, customize the content as needed and print it.
Jewelry Brochure/Catalog

The jewelry brochure here shines bright with a super glam picture on the cover page. In regards to inside pages, the left hand side could be used for pictures and the right one will state the text details.
Tri-Fold Jewelry Brochure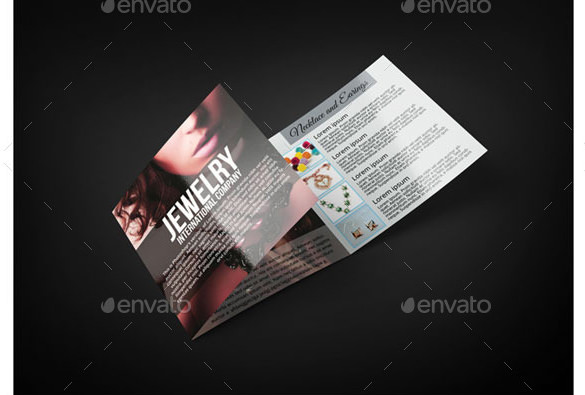 This tri-fold jewelry brochure looks super stylish with a glamorous image on the cover page. The inside pages will enable you to enter image and text details in categorized format.
Jeweler & Jewelry Store Brochure Template

The beautiful solitaire sparkling on the cover page has rendered a classy edge to the overall brochure. The pages inside will allow you to add store information along with lovely pictures.
Jewelry Brochure Design

The entire brochure has an ornate vintage feel to it and adds on a unique value to your overall promotional campaign. The pictures here look like right out of a 1960s photo frame.
Tri-Fold Jewelry Brochure $ 9

If you have a lot of jewelries to feature, this brochure would be great for your treasures. Here you can advertise each of the jewelries with text details accompanied by relevant pictures of each.
Formal Fashions & Jewelry Boutique Brochure Template

The combination of red and black adds on a royal plush feel to the brochure which duly complements the luxury mood of a jewelry boutique. You can add two different colors for text according to importance.
Square Bi- Fold Jewelry Brochure

jewelry company owners can download this wonderful square shaped bi-fold jewelry brochure for designing their own to be kept in their showrooms, to get your clients interested in your designs and specialities. Customize with your details and get it printed for use.
Bi-Fold Jewelry Brochure Template

You can opt for this brochure template free download, if you own a diamond jewelry making company. Customize the template with your content, add your model image wearing your line of jewellery, add your tagline and then get it printed in good quality paper.
Jeweler & Jewelry Store Brochure Template 8.5? x 11?

Applicable for Jewelry store owners, this template which can be edited as brochure templates google docs can be used you with your preference of customization. Add your model image, your company tagline and print this high resolution template to use as brochure.
Jewelry Store Brochure

Designing and creating a brochure for a Jewelry store becomes extremely important as it helps you to convince your potential clients about your designs and uniqueness. Download this fully editable layered template which is not in brochure templates word format and use.
Jewelry and Accessories Catalog Brochure Bundle

For jewelry and fashion accessories manufacturing companies, designing brochures and catalogues makes them to more attractive towards their clients. Download this template which can be saved in brochure templates google drive. Edit and print it for use.
Sky Jewelry Brochure Concept

For owners of high fashion luxury jewelry brands, making a good brochure can lure more customers. Download this extremely creative sky jewelry brochure concept template, customize with your details and get it printed in good paper and then use it.
Jewelry Shop Trifold Brochure Template
Jewelry Brochure

For marketing your beautiful jewelry line create an excellent brochure to be kept in your showroom. Download this free brochure template online, which is fully customizable, edit the colors, images, add your tagline, content and then get it printed for use.
Jewelry Store Trifold Brochure Template

For jewelry store owners, downloading this jewelry store tri-fold brochure template will be extremely helpful. They will be able to design an amazing brochure, which will highlight their unique designs and what they specialize in. Just customize and print for use.
Trifold Brochure

Just like travel brochure templates, download this tri fold jewelry brochure which is extremely stylish. Absolutely apt for luxury jewelry brand owners, It is fully customizable, edit the text content, add your catchy tagline and images as required and print for use.
Jewelry and Accessories Tri Fold Catalog Brochure

Download this jewelry and accessories tri-fold catalog brochure template for your brochure creation to boost your jewelry business. This print ready template is of very high quality, fully layered file, edit the text content, change colors and images and use it then.
These templates allow you to fill in details about the product line, details about the quality of the diamonds, the color of the diamond, details about the gold weight and a variety of other relevant information. These vibrant and appealing jewelry brochure templates are extremely informative for clients.