Plan Templates
5+ Daily Route Planner Templates
For drivers of any kind where they are about to deliver any parcels or to use a particular direction to be able to have their destination met, they can use this daily route planner where they can base their decision on what they should follow when it comes to the most fastest and gainful way a driver can trail into. You can get this in Planner Templates in Microsoft word, excel and pdf file.You may also see plan samples.
Simple Daily Route Planner Template
Daily Route Planner Sample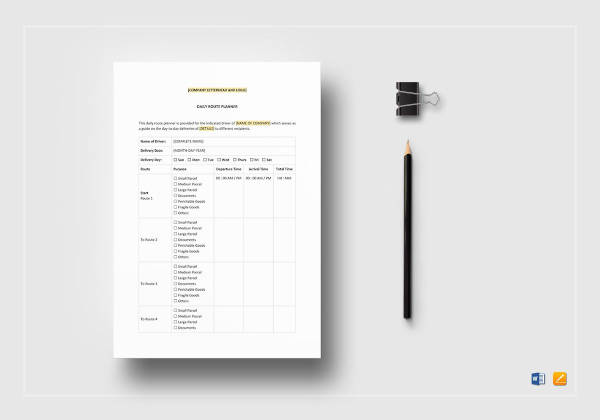 Downloadable Daily Planner Template
Daily Route Planner for Routine Meals
andreadekker.com
Daily Route Plan Template
members.scouts.org
Daily Trip Route Planner Template
mallaigcanoeclub.co.uk
It will serve as a landmark and note reminder when you are confused to what road is to be taken when there is traffic or be in a specific place before the said time. You can embed a simple road map in this planner that will guide your route wherever you are.
Daily Schedule Template
This template lets you create a perfectly organized routine table which would have an easy-to-customise and well-organised layout so as to help you with the tasks assigned to you on a daily basis. The Daily Schedule Template comes with the advanced features that help you to create schedule tables for the upcoming events in a standardized form.
Time Management Daily Schedule Templates
Are you starting with a new work and facing confusions about how to manage your time effectively for accomplishing the assigned task? Well, Time Management Daily Schedule tasks is a wonderful aid that catalogs your task step-by-step and helps you attain your target within an assigned time.
Use and Purpose of Daily Route Templates
Daily Route Planner Templates are basically used to reduce incoherence and turmoil created during carrying out various tasks. Using this template and its amazing features, we can easily plan out the complete task avoiding wastage of time and enhancing the quality of the work. These templates are also used to have a clear idea about your progress in the assigned work at every level in a precise way. You can also see Daily Meal Food Planner Templates.
Why do I Need Daily Route Planner Templates?
Are you going through a chaotic situation, caught up in your task, all disheveled and delayed by hours or maybe days? Then, you must not have tried planning your task on a daily basis. Completing a given job in an impressive and presentable way is not enough. Delay in accomplishing the tasks might ruin your hard work and dedication that you had put in to attain the target. Daily Route Planner Templates are here to rescue you from such tumultuous states.
How Can I Create Daily Route Planner Templates?
You might be just wondering about how you can create such templates. Well, we are here to save your precious time and toil which you will put in creating the templates yourself. The Daily Route Planner Templates are easily available on websites. Just download and install them on your PC or laptop, and get started! You can also see Trip Planner Templates.
You were just wondering which format you will require for using this template, weren't you? Well, don't worry the Daily Route Planner Template is all ready to be used in PDF or DOC format. So, start an organized life and use these templates for creating your own schedules. But, don't just make timetables, do abide by them!