Plan Templates
26+ Simple Test Plan Templates – Word, PDF
A Test Plan Template is much needed when you are about to test the usability of a software application. Like any major event, it's better to proceed here with a planned approach and the test plan enables you to detail your whole sample plan in writing. This way, you will have a clear idea of the whole process, test approach or strategy, and methodology to be required for the testing. In short, the testing plan templates will provide you the route to follow in the process. You can also see more on Test Plan in Pages.
Sample Test Plan
Regression Test Plan Example
Simple Software Test Plan
Test Plan Mind Map Design Template
Printable Software Test Plan Template
Sample Test Plan Checklist Template
User Acceptance Test Plan Template
Test Plan Task Preparation Template
Standard Software Test Plan
Incident Response Test Plan Template
Free Release Test Plan Template
Software Development Test Plan Template
Email Marketing Test Plan Template
Unit Test Plan Template
Agile Software Project Testing Plan Template
utdallas.edu
This professional software test plan template starts with a brief on the purpose and audience of the word test plan and then it goes on to detail about the test approach and features to be tested. The graphical overview helps with an easy readability.
Master Test Strategy Plan in PDF Format
bdonline.sqe.com
This master test plan template comes with all the important aspects to be included in a standard test plan like the test items, the features and functions to be tested, the test strategy to be taken and so on. You can also see more on Software Test Plans in Google docs.
> What is the purpose of Test Plan Template?
The main purpose of a test basic plan Templates is to document the process and activities to be included in the testing phase. It offers a clean overview of the test approach to be taken for the specific project and then would go on to state the test methodologies to be used, the required resources or tools for testing, and also the estimated schedule of testing.
This way, the printable plan helps with a roadmap to be followed while taking up the testing activity. Testing a software is an elaborate affair and there are chances that you can get lost midway. But a test plan format prevents that by showing you the way to be followed right from the start to the end.
Free Usability Test Plan Template
usability.gov
You have a comprehensive book on usability test plan here which includes all the relevant chapters for your convenience like methodology, goals, roles to be played by participants, usability tasks, problem severity, etc. You can also see more on Test Plan in Pages.
Free Security Test Plan Template
clearinghouseforsport.gov.a
You have an elaborate test case template here which begins with preconditions for testing, followed by objective, scope, methodology, tools, deliverables, resources, test cases, rules of engagement in the test and so on. You can also see Daily Plans.
Free Manual Test Automation Project Plan
sqetraining.com
You have a detailed professional test strategy plan template here that embodies all the prime aspects of the testing like the objective, scope, framework standards and procedures, test scripts to be used, etc. You can also see more on Sales Strategy Plans.
Free SQE Test Plan Template
ufjf.br
Free Web Page Document Test Plan
web.vtc.edu
Free Inspection Test Plan Template
docs.neb-one.gc.ca
Free System Acceptance Test Plan Template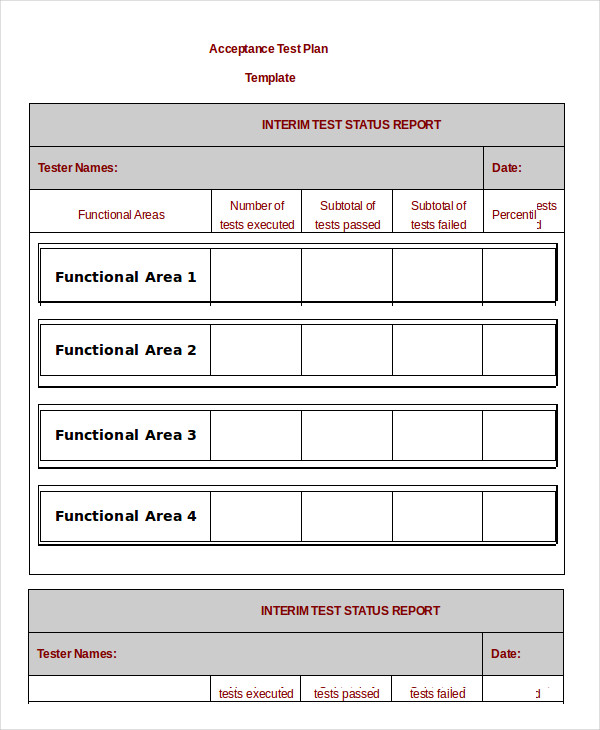 egovernment.tas.gov.au
Free Integration Test Plan Template
cs.drexel.edu
Functional Application Test Plan Template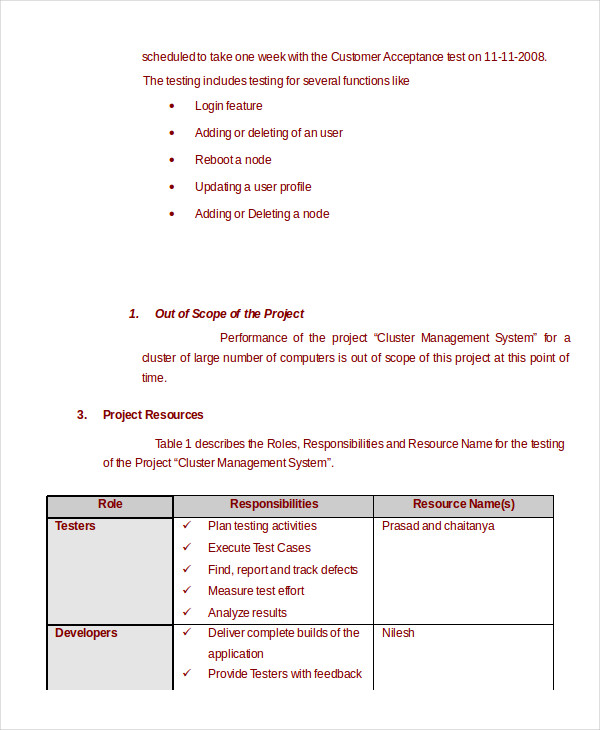 latech.edu
Functional And Performance Test Plan Document
fgov.be
> What are the tips to create a Test Plan Template?
When you are about to create a test plan in google docs template, you must first start with a detailed analysis of the product to be tested. This will offer you a proper idea about its operational features and usability. Then, you will decide upon the scope to be tested as well as what testing approach and testing tools and methodologies you are going to involve in the testing phase. You can also see Lesson Plans.
Besides, you would need to identify the testing type and think about the possible risks that might occur while taking the test procedure. Then, you must keep in mind the test sample schedule samples and estimated testing time while creating the test simple plan.
Do you have to create a test sample planner and are looking for some expert guidance? Well, the templates mentioned above are all that you need here since they offer you a readymade format of a number of test plans- so that you can understand what exactly you need to include in your own test plan. You may see more on Template.net Site.
More in Plan Templates